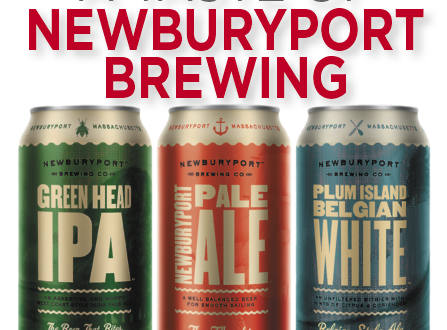 A TASTE OF NEWBURYPORT BREWING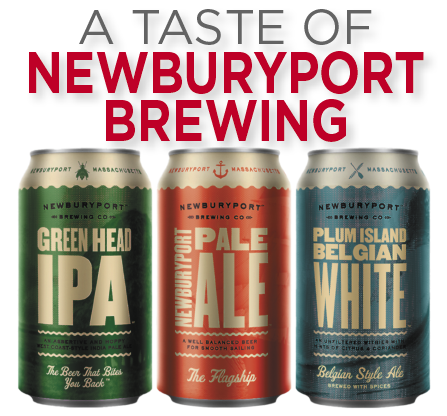 by ANDY CROUCH
The town of Newburyport on Boston's far North Shore, bordering New Hampshire, has long been a popular tourist and vacation destination. With the bluffy beaches of nearby Plum Island on offer, the cozy and idyllic streets of Newburyport's historic downtown district remain filled with bustling bars, restaurants, and shops. But until 2O12, the town did not have its own brewery. Visiting local spots such as The Grog, beer lovers would likely be ordering an Ipswich Original Ale, something from Smuttynose, or maybe even a Harpoon IPA. That was until two musicians and home brewers got together.
Chris Webb and Bill Fisher played together in a local funk band. Their shared passion for music, beer, and entrepreneurship eventually led them to open one of the fastest growing breweries in the country. Tourist destinations have long been ripe for smaller craft players ready to slap the local name on a tap handle to attract the attention of locals and travelers alike. Newburyport followed that model, in a location without any competitors at the time, and it worked well. Out of the gate, Newburyport enjoyed explosive growth, quickly rocketing up to 5OOO barrels of production. In 2O18, Newburyport and the Ipswich Ale Brewery joined forces for logistical and marketing purposes, bringing together one of the oldest and most storied of the Commonwealth's breweries with one of its most promising third wave operators. Newburyport uses excess capacity at Ipswich's brewery to produce some of its line of beers.
The brewery has adopted the local slang word, "Yeat!", interpreting it as Cheers or Salut. You will see the word on cans of the brewery's beer and in the tap room. In addition to its core and fairly traditional lineup of beers, Newburyport also produces a session IPA and a hazy IPA, along with a straightforward and highly quenchable lager and some small batch beers as well. The tap room at Newburyport Brewing is lively, brimming with locals and tourists alike. True to the co-founder's history, live music is a staple, and the brewery also holds larger, outdoor concerts for more mainstream acts. The brewery's beers are reasonably straightforward interpretations of classic styles, all well-designed and brewed. Let's take a look at a selection of Newburyport Brewing's lineup.
GREEN HEAD IPA
Newburyport Brewing Company
Newburyport, Massachusetts
alcohol by volume 7.2%
Nbptbrewing.com
Long one of the most prominent beers for Newburyport, the Green Head IPA at first would seem an unlikely name for a local beer. For those who have not experienced the feeling, the bite of a so-called greenhead horsefly is like a searing shot of pain wherever it tags you. They roam throughout Plum Island and antagonize beachgoers in certain spots throughout warmer months. Tagged as The Beer That Bites You Back, Green Head is an assertive and decidedly bitter West Coast style India Pale Ale in an era where hazies are all the rage.
The beer pours a lightly rich amber orange hue with a solid dollop of off-white foam on the crown. The aroma immediately hits with fresh hops, earthy at times, but also filled with fruit notes, including tangerine and orange. Light pine notes last throughout along with some light toasted biscuit and sweeter malt hints over a light floral grassiness. The flavor pops with citrus fruit notes, including tangerine and grapefruit, over a substantial bready malt base. Far from the absence of bitterness that so defines the hazy New England style India Pale ale category, Green Head's back end brings a wash of earthy bitterness, long and consistent, commonly found in the West Coast IPA style. The true joy is in the interplay between the earthy and fruity hops and the sweeter, caramel, or biscuity malts. AVAILABLE FROM Atlas Distributing, Burke Distributing, Colonial Wholesale Beverage and Commercial Distributing Company.
NEWBURYPORT PALE ALE
Newburyport Brewing Company
Newburyport, Massachusetts
alcohol by volume 5.5%
Nbptbrewing.com
Instead of chasing the latest trends, many older New England breweries (and I offer this with a grain of salt as) Newburyport Brewing is less than a decade old, continue to rely on drinkability and ease of access as their lodestars. With its slightly hazy golden amber color and its solid white cap of foam, the Newburyport Pale Ale is a classic take on a classic style. A tight blend of sweet, citrusy hops layered over an aroma of biscuity and toasted malt defines this pale ale. As with many of Newburyport's beers, malt is not given short shrift here and instead plays a leading role in the brewery's take on this traditional style. Reminiscent of the New England pale and amber ales of the early days of craft brewing, Newburyport Pale Ale offers some lightly piney and citrusy hops that give way to a medium bodied presentation of biscuity and lightly sweet malts. Balanced out by solid carbonation levels, all the forces work together to achieve the common good. A pleasing experience throughout, no one element fights for your attention, everything just works in harmony. AVAILABLE FROM Atlas Distributing.
PLUM ISLAND BELGIAN WHITE
Newburyport Brewing Company
Newburyport, Massachusetts
alcohol by volume 5.4%
Nbptbrewing.com
Named after the famed nearby island popular with locals and vacationers alike, the Plum Island Belgian White is an unfiltered witbier that is one of the best in New England. Perhaps the secret star of the Newburyport portfolio, the Belgian White is a true to form representation of the classic style. Winner of a bronze medal at the 2O16 World Beer Cup, this witbier pours with a slightly darker orange hue than you might expect for the style along with a little less pure haziness. The aroma is where this beer shines the brightest. It includes a quick flick of citrusy hops, which quickly give way to the tell-tale coriander and wheat malt notes, some zesty, spicy yeast hints, a layer of grainy wheat, and another round of lightly sweet pilsner malt. There are touches of clove, orange, and lemon in both the aroma and the corresponding flavor. The sweeter, bready malt backbone balances well against the slightly peppery and clovey yeast notes. AVAILABLE FROM Atlas Distributing, Burke Distributing, Colonial Wholesale Beverage and Commercial Distributing Company.