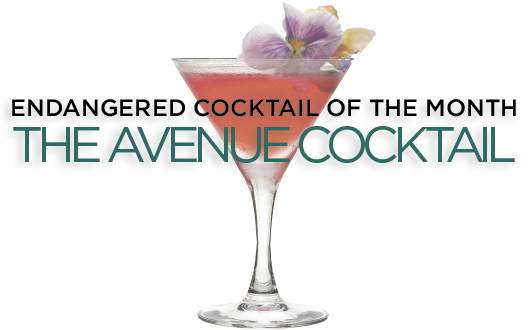 ENDANGERED COCKTAIL OF THE MONTH – THE AVENUE COCKTAIL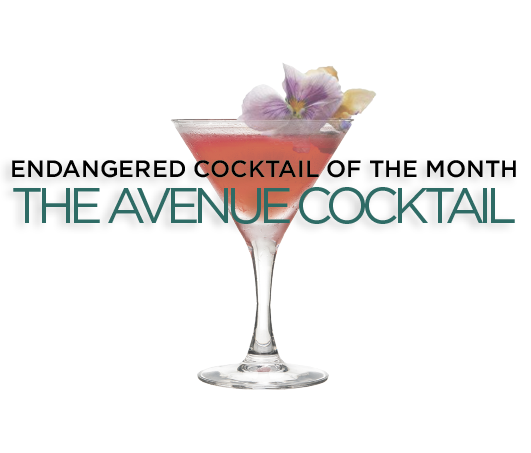 by PINK LADY
It's National Bourbon Heritage Month! We've been raising a glass to endangered cocktails since 2OO7, the very same year Congress passed a bill calling for the celebration of bourbon as America's "Native Spirit" with unanimous approval. We'll drink to that!
Bourbon is all the rage these days and there is no shortage of great whiskey drinks, both classic and modern, where you can swap in bourbon for a delicious tipple. But this month we wanted to offer something that hasn't found its way to ubiquity yet: The Avenue Cocktail. We learned about the delicious Avenue Cocktail from "Dr. Cocktail" himself, Ted Haigh. His Vintage Spirits and Forgotten Cocktails is a must-have for your cocktail bookshelf, and Haigh himself is one of our earliest influences.
The Avenue Cocktail recipe was first published in the Cafe Royal Cocktail Book in 1937 and credited to W.G. Crompton. Compiled by William J. Tarling and published by the UK Bartender's Guild, the book was meant to offer then-modern recipes by the members of the guild to freshen up the "monotonous repetition of Martini, Bronx, Manhattan, and White Lady Cocktails" always on rotation at cocktail parties of the day: "All, I grant, very good cocktails indeed, but just as dull as continuous dinners at which the same soup, fish, meat, and sweet are served," Tarling writes. "Therefore I ask my readers to try the modern cocktails."
Tarling was the UK Bartender's Guild president, and the book was published as a fundraiser, with royalties to be split evenly between the guild's Sickness Benefit Fund and the Cafe Royal Sport Club Fund. Less than 25 copies are said to have been printed, making the original an extremely rare find. Don't worry: a facsimile edition has since been printed, and a digital edition is easy to find online. Thanks, Internet!
And thanks to the 1937 UK Bartender's Guild and cocktail archaeologist Ted Haigh for turning us on to a delicious drink to toast our American Native Spirit!
THE AVENUE COCKTAIL
ADAPTATION FROM VINTAGE SPIRITS AND FORGOTTEN COCKTAILS
BY TED HAIGH
1 OUNCE of bourbon
1 OUNCE of Calvados
1 OUNCE of passionfruit juice or nectar
1 DASH grenadine
1 DASH orange flower water
SHAKE in an iced cocktail shaker,
and STRAIN into a cocktail glass.
GARNISH with a carnation boutonniere.
Cin-Cin!