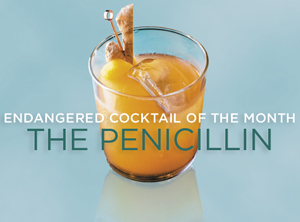 ENDANGERED COCKTAIL OF THE MONTH-THE PENICILLIN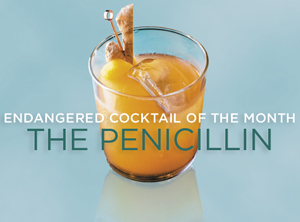 by PINK LADY
Start poking around in the annals of classic cocktail history and it won't take long to recognize a theme: many of the greatest inventions in cocktails were originally medicinal. The Gimlet was born on the high seas to prevent scurvy. Gin and tonics proliferated to combat malaria. Italians developed an entire rainbow of liqueurs at the turn of the 2Oth century, originally to aid digestion, but which star in their most iconic cocktails. Negroni, anyone? To your health, of course!
The Penicillin is a modern classic that borrows a page from "It's medicine!" marketing. The drink was created by Sam Ross, an Australian-born bartender, while working at the New York City speakeasy that started it all, Milk & Honey. He developed the drink while experimenting with Compass Box whiskey, which was then new to the market, and riffing on the Gold Rush, their best-selling take on a whiskey sour made with honey syrup.
Ross didn't think much of the drink at first, as he recounts in Robert Simonson's A PROPER DRINK. Nine months later, a server at their sister concept, Little Branch, recommended he make them for a table of guests who'd ordered "Bartender's Choice": "She said I should put a Penicillin out because every table needs to experience one of them. It wasn't until she said that, that I was like, Oh, maybe there's something there."
Anyone with roots in the British Isles knows that whiskey and honey are served to soothe, especially if you're under the weather, and in the U.S. at least, ginger is a go-to for settling an upset stomach. Ross's drink might not be antibacterial, exactly, but a well-made Penicillin Cocktail is bound to cure what ails ya'. Even if your ailment is just the end of summer blues.
PENICILLIN
BY SAM ROSS, 2OO5, MILK & HONEY, NYC
2 OUNCES of blended Scotch
3/4 OUNCE of honey-ginger syrup
3/4 OUNCE of fresh lime juice
1/4 OUNCE of Islay single malt Scotch
COMBINE blended Scotch with honey-ginger syrup and lemon juice and shake with ice. STRAIN into a rocks glass over one large cube. FLOAT Islay single malt scotch on top. GARNISH with candied ginger.
HONEY-GINGER SYRUP
COMBINE 1 CUP honey with one 6-inch piece of ginger root, peeled and sliced, and 1 CUP water. BRING to a boil. REDUCE heat and simmer for 5 minutes. REFRIGERATE overnight, then STRAIN, discarding solids.
Cin-Cin!