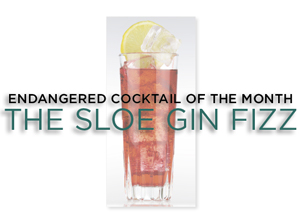 ENDANGERED COCKTAIL OF THE MONTH – THE SLOE GIN FIZZ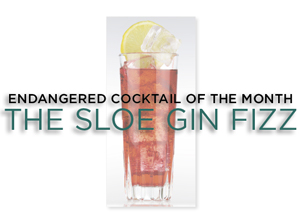 by PINK LADY
Drinks like the Sloe Gin Fizz are why I got into this "endangered cocktail" game. If you're looking for a great "did you know . . ." story to bore the vodka-soda crowd at the Fourth of July block party this month, this drink is for you. Presumably you've heard of sloe gin. Perhaps you were of drinking age in the 197Os, and have drinks like the Sloe Comfortable Screw to blame for the hangovers of your youth. How unfair: Sloe gin is simply a mild mannered liqueur made in Britain from sloe berries, the blue-ish black fruit of the Blackthorn tree. They are famously astringent and tart on their own, but in England the fruit finds its way into tarts and jams, and of course, into the eponymous gin-based liqueur.
According to the folks at Sipsmith gin, the blackthorn bushes sprouted with abundance following the Enclosure Acts of the 17th century, which transformed common lands into private properties. Blackthorn hedgerows proved to be effective natural fencing, and a "waste not, want not" attitude turned their plum fruit into yummy treats traditionally enjoyed around Christmas time. As for the sloe gin of the 197Os, that was a sad, syrupy American imitation. As with many endangered cocktail ingredients, cheap, mass-produced versions turned this liqueur from a viable mixer to a cloying harbinger of hangover, one that is easily avoided today by choosing one of the high quality brands available in the U.S. from Sipsmith or Plymouth.
Sloe gin liqueur made its way into American drinks in the early 2Oth century, presumably as a riff on the then-popular fizz. The Sloe Gin Fizz requires no egg white to be lusciously frothy, and is a quite refreshing low alcohol sip, making it perfect for day drinking in the hot July sun. The Sloe Gin Fizz also has a pretty reddish hue, which could be easily dressed up for any red, white and blue-themed parties you might be planning, if you're into that sort of thing.
SLOE GIN FIZZ
1.5 OUNCES of Sloe Gin
1 OUNCE of lemon juice
3/4 OUNCE of simple syrup
TOP with club soda
SHAKE all non-carbonated ingredients with ice.
STRAIN over new ice into a Collins glass.
TOP with club soda.
GARNISH with a lemon slice and cherry.
OPTIONAL add a few fresh blueberries and toast
the USA!