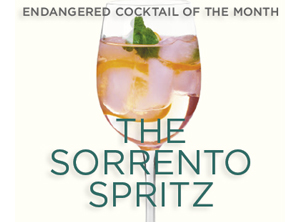 ENDANGERED COCKTAIL OF THE MONTH: THE SORRENTO SPRITZ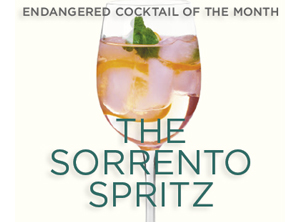 by PINK LADY
Prior to the pandemic, in the "before times", I had the lucky privilege of escorting groups of Americans to Sorrento once a year. We stayed for a week in a former convent that is now a guest house carved into the cliffs above the Gulf of Naples. For me it was a working vacation: I taught yoga in the morning and meditation in the evening, and our guests were invited to fill their afternoons as they pleased, traipsing through the ruins of Pompeii, painting en plein air, touring Capri, or learning about local delicacies like bufala mozzarella and limoncello. It's nice work, if you can get it.
We were tourists in the Italian south, but most afternoons we fortified ourselves with spritz, a drink born in the north but now popular nationwide. All of the cafe menus in our village of Sant'Agnello, even the one in our former-convent guesthouse, offered at least two kinds of spritz: the famous Aperol Spritz, and a similar tipple made with regional limoncello.
Sorrento is famous for its sweet potato-sized lemons, which make American grocery store lemons look like small, anemic golf balls. Their Sorrentine cousins have thick, fragrant skin that imparts flavor into limoncello in just a few short days, a process that takes weeks with our homegrown harvest. Lemon-based sorbetto, limonata, and pastas are the local fare.
Even at our convent bar, if your drink was called a "spritz" it cost 2-3 euros more than the other higher proof, more complex drinks on offer. But that spritz-y tourist upcharge was one we happily paid. La Dolce Vita isn't about counting coins, after all, it's about living. We'll get back there someday; until then, there's the Sorrento Spritz.
SORRENTO SPRITZ
3 OUNCES of Prosecco
2 OUNCES of Limoncello
1 OUNCE of Club Soda
BUILD ingredients as listed above in a large wine glass filled with ice.
GARNISH with a lemon wheel and a sprig of mint.
Cin-cin!