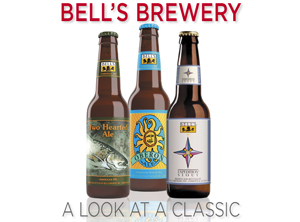 BELL'S BREWERY – A LOOK AT A CLASSIC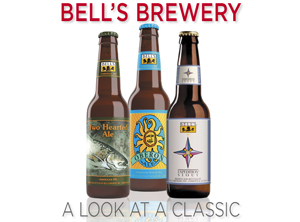 by ANDY CROUCH
Bell's Brewery started from the humblest of origins, with a few hundred bucks provided by founder Larry Bell's mother. With the money, he opened a homebrew supply store in 1983 called the Kalamazoo Brewing Supply Company. Two years later, he graduated to selling his own beer, starting with the still-in-production and classic Great Lakes Amber Ale. Brewed on a 15-gallon soup pot, the beer now called Amber Ale launched Bell's into a nearly forty year long adventure in helping to define American beer as something more than homogenized light lagers. From the simple origins, Bell's has developed into one of the nation's largest craft breweries. Along the way, Bell's created classic events, such as Eccentric Day, and released several style defining beers. In contrast to several other large craft breweries, Bell's has been slow and methodical in rolling out its distribution to a near national audience.
TWO HEARTED ALE
Bell's Brewery, Inc.
Kalamazoo, Michigan
alcohol by volume 7%
bellsbeer.com
Of the handful of old, stalwart brewery flagship beers to emerge from the 199Os, Bell's Two Hearted Ale remains perhaps the most celebrated among hard core beer geeks and novices alike. First brewed in the 198Os as a pale ale, the beer eventually transitioned in 1997 into the version we love today. Named after the Two Hearted River in Michigan's Upper Peninsula, this beer is a love letter to the Centennial hop, which it comprises 1OO percent of the hop additions to the beer. It remains Bell's best selling beer, having overtaken Oberon in 2O13.
The success of Two Hearted has inspired two spin-off versions, one heavy, one light. Double Two Hearted, a substantial Double India Pale Ale, ramps everything up a bit from the nearly perfect base model. Weighing in at 11 percent alcohol by volume, Double Two Hearted involves two and half times the amount of Centennial hops that Two Hearted employs and results in a strongly citrusy and big malt experience. On the other end of the spectrum, Light Hearted Ale, Bell's lower calorie offering released in 2O2O, dials everything back a bit. At a tiny 3.7 percent alcohol by volume, and adding Galaxy hops to the mix, it remains a very light sipper with a fraction of the flavor, but only 11O calories. Neither quite captures the beauty of the original but they offer their own charms to their respective audiences.
The beer pours with a slightly hazy off-orange appearance, with a sticky off-white head. The aroma is where Two Hearted shines brightest, exploding on the nose with huge, sweet cotton candy like notes cascading over orange and grapefruit notes and a solid pale malt balance. The flavor is a near perfect mixture of playful and assertive candied hop and malt flavors, mixed with citrus and bitterness, but all remaining in perpetual balance. Unlike any other beer that I have ever had, drinking Two Hearted often results in an oddly euphoric physical and mental response. Within a few minutes, your mood lightens, life brightens, and a warming sensation comes over you. The wash of sweet cotton candy hops mixed with grapefruit and a teasing touch of sweet pale malt creates a true stunner of a beer. At 7 percent alcohol by volume, it remains in that spot between regular India Pale Ales and Double India Pale Ales, but remains completely drinkable. One of the classics of American craft beer.
OBERON
Bell's Brewery, Inc.
Kalamazoo, Michigan
alcohol by volume 8.5%
bellsbeer.com
Most breweries would be satisfied to have but one cult classic in their portfolio but Bell's is no ordinary brewery. While Two Hearted captures a lot of the public's attention, Bell's Oberon is a worthy competitor for the brewery's most beloved beer. Once its unofficial flagship, this wheat ale masterfully mixes smooth wheat malt character and light fruit notes. Originally released as Solsun, Bell's rechristened the beer as Oberon in 1996. Oberon remains a summer seasonal, available from March to August, and its relative scarcity contributes to its outsized reputation.
Pouring with a hazy orange yellow hue and a nice off white head, Oberon beams with a pleasing mixture of crisp wheat, slight cracker and bread, and understated fruit and spice hints. There is a fluffy character to the body, transitioning to a quick flip of citrus and fruit before descending into a blend of cracker and bready malt. Bell's does not use additional spices or ingredients to achieve Oberon's notes of lemon zest and orange peel mix with spice and zesty, peppery notes for a dry and snappy finish. Medium to light-bodied in character, always crisp and refreshing with a pleasant bite of carbonation, Oberon is the classic, style defining summer wheat beer.
EXPEDITION STOUT
Bell's Brewery, Inc.
Kalamazoo, Michigan
alcohol by volume 10.5%
bellsbeer.com
The conventional wisdom may be that Imperial Stouts are best consumed during bleak, cold winter months but I have found the reverse to be true. Having an Imperial Stout as a night cap, even during the warmest of days, is an oddly refreshing experience. And while Bell's did not invent this powerful and dark style, it has nearly perfected it with the Expedition Stout. First brewed in 1989, Expedition Stout is indeed one of the earliest versions of the style that you will find in the United States. Bell's has long had a thing for stouts, having once regularly brewed ten different stouts in the month of November alone.
Pours with a completely jet black and impenetrably dark color, allowing no light to pass through, and a substantial tome of dark tan foam. The aroma is big and bold, filled with bittersweet chocolate, and a complex array of rich fruits, caramel, espresso, and alcohol. A full-bodied experience, Expedition Stout delivers a wash of creaminess over mild carbonation resulting in a slightly velvety finish. The flavor explodes with a quick wash of chocolate, then caramel, fruits including figs and prunes, and finishing with a mocha-like dryness. The alcohol makes several appearances but never overwhelms. Each sip of Expedition exits the stage with a wisp of bitterness that cleanses the palate for the next encounter. A highly drinkable Imperial Stout from a brewery that helped develop the style in the United States. Bell's counsels that Expedition can age over years, growing in complexity with each passing month.
BELL'S BEERS ARE AVAILABLE FROM COMMERCIAL DISTRIBUTING COMPANY.