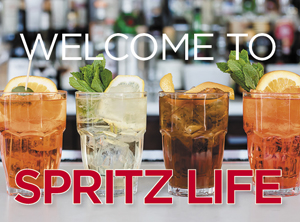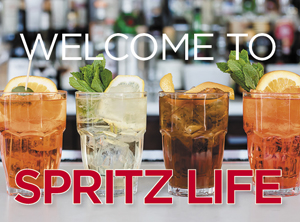 by KIRSTEN AMANN
Today, the spritz is one of Italy's greatest exports, an iconic drink in its homeland and one of the ten most ordered drinks in the United States. How did we get here, and more importantly, what can it do for us in Massachusetts?
WATER INTO WINE
In its simplest form, the spritz originated as little more than watered down Italian wine. In ancient Greece: "it was considered gauche to drink wine without first mixing it with water," unless you were Dionysus himself, write Talia Baiocchi and Leslie Pariseau in their book, Spritz. Many centuries later the drink receives a name, derived from Spritzen, the German verb "to splash." Austrians in what is today Italy's northeast found the regional wine to be too strong or too bitter, and added a splash of water to suit their tastes. Whether these Austrians were drinking there during Habsburg rule in the 19th century or when the region was later occupied by Austrian soldiers during World War I is up for debate. "We see this a lot with Italian products being too bitter for other palates," says Anne-Louise Marquis, National Portfolio Brand Ambassador for Campari America, the company that owns Aperol: "For example, with the Americano, which adds soda water to mitigate bitterness." In the 1910s, when the soda siphon became a must-have tool in the Italian bar, the spritz found its fizz.
In some parts of the world, the U.S. in the 1980s for example, this simple formula of wine, ice, and club soda is where the story ends. But to talk about the global phenomenon that is the spritz, we must talk about Italian bitters, which were originally developed as medicine in the coffeehouses and cafes of the mid-19th century. "The cellars and back rooms of these cafes became de facto labs manned by maître licorste or specialiare," write Baiocchi and Pariseau, "an alcoholic alchemist of sorts tasked with, among other things, mixing formulas for bitters, both proprietary and from established recipes." These elixirs were still considered medicine but also became embraced as a leisure beverage, useful for stimulating digestion before a meal (aperitivo) or aiding it once complete (digestivo).
The iconic Italian brands we know today, like Campari and Martini & Rossi, got their start in these back rooms, and the beautiful advertising campaigns they designed to drive demand helped transform these bitter medicinals into a chic tipple. By the 1920s taking an aperitivo before a meal was de rigueur in northern Italy, with a rainbow of red, orange, and yellow Italian bitters brands available. Splashing a bit of the locally produced bitter into spritz became common practice, a provincial sort of spritzing that lives on in Italy today.
P.A.S.S. THE APEROL SPRITZ
Spritz life as we understand it today (or #spritzlife if hashtagging is your thing) is a story that has something for everyone: beautiful Italian beach-goers, the magical realism of Venice, the influence of modern wine-making, good glassware, and most of all, good timing. The soda siphon may have made the spritz fizz, but Prosecco would make it sparkle: "With the advent of the tank method, the majority of wines coming out of the region were sparkling…and exported in greater quantities," write Baiocchi and Pariseau, "carving out a bigger culture of sparkling wine consumption in Venice and surrounding cities, including the area's beach resorts." Improvements in the Charmat method developed Prosecco into a global wine in the 1970s and 80s, and in the mid-1990s, "It was here on the beach that the spritz met Prosecco."
"I think the presentation in the wine glass is one of the most important additions," says Daniel Warrilow, Italian Portfolio Ambassador at Campari America and colleague of Marquis. Choosing stemware for the spritz first took off on the beach, and is now a foundational part of how Warrilow and Marquis teach bartenders to make the drink. "People perceive it more as a wine-based drink than as a cocktail," says Warrilow: "Presentation in a wine glass says this is something light, good for day drinking or sipping in the afternoon, vacation."
The early Venetian spritzes were most likely mixed with Select Aperitivo, a local brand, and garnished with both an orange slice and an olive but Aperol, originally made in nearby Padua, had a marketing team that was quick to seize the mood and the moment: "While the spritz had been the most popular aperitivo drink in the Veneto and many parts of Friuli and Alto Adige for decades," write Baiocchi and Pariseau, "it's not until Aperol began marketing the spritz in the 1990s that it went from being a mostly local ritual to Italy's most popular cocktail."
"It's more than just a drink, it's a whole vibe, it's a whole mood," says Marquis, and nearly 30 years into Aperol's robust marketing campaign, it seems like "people really want to be a part of that." Today Aperol Spritz is a global phenomenon. "We have been incredibly dedicated to teaching people one recipe, in the correct order," says Marquis, which is: "Fill a balloon glass with ice and start with Prosecco first, a 'pillow of Prosecco'; then Aperol because it is more dense and it will naturally float to the bottom. After you layer the Aperol, splash soda water on the top." Marquis and Warrilow's teach a simple acronym to help you remember the order forever: P(rosecco), A(perol), S(plash) S(oda.)
SPRITZ OF A DIFFERENT COLOR
Spritz may mean one thing to an Italian or an Italian-inspired restaurateur, but in the hands of American mixologists and marketers, spritzing is more nebulous. The white wine spritzer had a moment here in the 1980s, and though technically no different from the Austrian spritzen of the past, it rose to popularity predominantly as a diet cocktail alongside other 80's health and fitness fads. Today, similar offerings are repackaged to follow modern health and wellness trends: "Low-alcohol beverages, while aligned with the moderation trend, generally tend to be more popular among consumers looking to explore specific health and wellness traits — such as low-calorie, low-sugar, and natural ingredients," assessed the IWSR in April 2021. A kaleidoscope of hard seltzers, wine products, and canned cocktails are available in Massachusetts today, many of which use spritz in their marketing.
For restaurateur Sean Woods, spritz is less about red or orange Italian bitter components and more about effervescence. At his acclaimed Worcester restaurant Deadhorse Hill, Aperol Spritz tends to sell itself: "If people come in wanting an Aperol Spritz, they're going to ask for one, and when their friend sees it, they'll order one too. I've never had an Aperol Spritz on the menu because I've never had any trouble selling an Aperol Spritz," says Woods. He is a big proponent of adding bubbles to cocktails, and his Sunday Spritz, made with rye whiskey, Aperol, house grenadine seasoned with orange blossom and rose petal, lemon juice and topped with sparkling wine, makes recurring appearances on the menu. It's a gorgeously-hued take on spritz life.
For Ryan Lotz, Beverage Director of Traveler Street Hospitality, spritz is a linchpin of the menu at their Italian concept, Bar Mezzana in Boston. "We generally have three or four on the menu," he says. Aperol Spritz is standard, as well as the signature Mezzana Spritz, which swaps Aperol for Campari and peach liqueur. Lotz finds inspiration in the rainbow of Italian bitters brands: "There's a whole world of them, it's actually a little bit baffling how many of them are available, even in Massachusetts." While the drink won't lower your bar costs that drastically, Lotz says, "you also have to consider you can make ten spritzes in the amount of time that it takes to shake a cocktail." Which is exactly what a bar owner might want in a drink they can sell by the hundreds per night.
Both Lotz and Woods also take liberties with their sparkling wines: "Especially as a tip for the trade I recommend trying to find a decent quality Cava, which is what we use at Bar Mezzana," says Lotz. He finds the drier Spanish wines a better price point and more versatile, as "your options for how you add sugar are then completely up to you." Woods similarly chooses his sparkling wine after assembling his base ingredients: "I let what cocktail I'm making dictate whether to use Cava, Prosecco, etc. I'm just looking for what the drink calls for," he says, to make it spritz-level perfect.
SPRITZ-LIFE TO GO
Spritz parameters may be faster and looser in the off-premise, but for Boston-based Bully Boy Distillers, their canned Grapefruit Spritz was a way to introduce drinkers to their Amaro: "It takes our Amaro and adds grapefruit-forward flavors as well as orange, lemon and a hint of cherry to create a bright and juicy flavor profile and a fizzy taste," says Andy Gelb, Operations Manager at Bully Boy Distillers. Gelb thinks some sort of bitter liqueur is an important characteristic in a spritz, and though it was born in Boston, the Bully Boy Grapefruit Spritz has Italy in its heart: "We wanted to create something that would be a good introduction for folks that shows how versatile Amaro can be. Our goal is to evoke the feeling of sipping a cocktail while overlooking the Italian Coast." Grapefruit Spritz is a seasonal offering, and Gelb says the consumer response has been "fantastic — lots of folks are excited that spritz is back for the season, and plenty are curious to try it for the first time."
SPRITZ LIFE WILL HEAL
US ALL "I've forever wished that Americans would embrace aperitivo hour in the same way that Europeans do. It's my favorite part of travelling in Italy," says Lotz. What's not to love about clinking glasses of spritz in a piazza in the golden hours of the early evening? "You just stop and your day slows down, it's such a threshold," says Lotz. "Your day is over, you hit the aperitivo, and that's your threshold into your non-work related evening." For Marquis and Warrilow, teaching people about aperitivo is an important part of the job. "It's such a special, cultural tradition in Italy, this idea of gathering with friends before dinner and celebrating the beginning of the night, versus happy hour, which is the end of the day. To me the Aperol Spritz is really about that moment, when you gather, and just set the mood for the rest of the evening," comments Marquis.
But spritz life is about more than food and drink; it's also about the dream Americans have of Italy: "When people are traveling in Italy and posting their Aperol Spritzes, people at home are like 'I want one of those so badly,'" says Warrilow. The drink is visually stunning, low ABV, photo friendly, and "a celebrity darling," says Marquis; big name fans like Taylor Swift and Zoey Deutch post about their spritzes on social media, and the #aperolspritz hashtag has over 1.6 million posts on Instagram. "When people see their friends posting about Aperol Spritz, it's like the sunshine from across the world is literally coming to them," says Warrilow. And as we emerge from what has been a dark time for so many, those rays of Italian sunshine have an exceptional glimmer.
After the second world war in Italy, "People were homeless and hungry and at each other's throats," writes cocktail historian David Wondrich in The Daily Beast, and the mood was the same (or worse) across most of Europe. "But after wandering incredulous in the ruins for a time, the Italians did something unexpected," he writes, "They started celebrating." La Dolce Vita, an idea of Italy which feels universally understood, came to be in this postwar period. Over 75 years later, that sweet life of clinking glasses, cafe culture, Vespas and beauty, the Italy of our American dreams holds true.
As vaccines roll out across the world, and we begin to take cautious steps towards a more public life, perhaps we can let the spritz be our guide. "Aperol Spritz is all about gathering. You're never drinking spritz alone, it's always meant to be shared,' says Marquis, a moment to pause at "the threshold" between day and evening and connect. This promise of gathering, connection, and al fresco glass-clinking, whether in an Italian piazza or an American backyard, is Spritz Life. After a year filled with social isolation and so much uncertainty, as we come together to connect again, perhaps the spritz can heal us all.