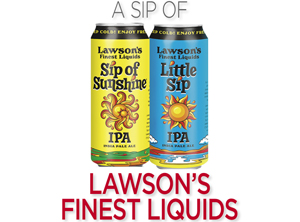 A SIP OF LAWSON'S FINEST LIQUIDS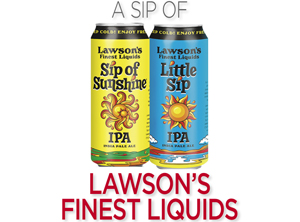 by ANDY CROUCH
As the United States begins to emerge from quarantine related to the coronavirus, beer industry stalwarts are busy discussing what the future will hold for the category. From board rooms to bar rooms across the country, everyone from chief executive officers to bar backs is wondering how and when we will emerge from the specter of COVID-19 related shut downs. Will customers come back right away or adopt a wait and see approach? Will outdoor dining remain the most viable option until some later date? Will seltzer continue its tear at the expense of beer? Are lager styles going to continue their slow, steady rise to consumer preference? Will consumers forgo drinking in bars, restaurants, and tap rooms for the comfort and less expense of having a beer at home on their couch? While we can only venture guesses about these questions and others (except for seltzer, which is for sure going to remain on absolute fire), one thing we can say with certainty is that India Pale Ale is likely to continue to reign in the world of craft beer. This month we are taking a closer look at one of New England's most famed breweries – Lawson's Finest Liquids in Vermont – and a few of its signature hoppy beers.
Sean Lawson started brewing in a tiny shed in the backyard of the home he shared with his wife, Karen. Originally from New Jersey, Sean slowly built a reputation for brewing beautiful ales in his tiny one barrel system. As visitors started appearing and interest grew, the Lawsons grew their operation to a seven barrel system. The people kept coming and Sean hit on some India Pale Ale recipes that helped revitalize the New England brewing scene, which has developed a solid reputation for India Pale Ales. This was not always the case in New England, where IPAs long meant a messy mix of sweet malts and underwhelming British hops. Then Sip of Sunshine changed everything. This higher octane IPA solidified the Lawson reputation and catapulted the brewery into consideration for one of the world's best. It is all a little surprising considering the extraordinarily humble roots underlying the brand.
The home in Warren, Vermont, that the Lawson's used to live in when brewing in the seven barrel system has been turned into an Airbnb that you can visit. The welcome package contains a range of Lawson's Finest beers. And right next door is the little red shed where brewing still happens, perhaps even during your stay. The Lawsons moved their brewing operation a short distance away to Waitsfield and opened a much larger brewery, along with a popular taproom and retail space.
SIP OF SUNSHINE IPA
Lawson's Finest Liquids
Waitsfield, Vermont
alcohol by volume 8.O%
lawsonsfinest.com
The beer that made all of this possible, Sip of Sunshine, is contract brewed at Two Roads Brewing in Connecticut, which allows for greater distribution throughout Lawson's network. Often mistaken for a New England style hazy IPA, Sip of Sunshine is firmly rooted in West Coast tradition. It pours with a largely clear deep golden and slight amber hue and a dollop of two fingers of frothy white foam. The aroma is redolent of a multitude of fruits, ranging from lemon zest, tangerines, orange, mango, with a touch of pine and malt sweetness. The flavor continues with bursts of citrusy fruit over a solid but often surprisingly light base of sweeter pale malts. This medium bodied beer drinks shockingly and dangerously smooth for an 8 percent alcohol IPA. Inspired by the original Double Sunshine IPA, Sip of Sunshine is not advertised as a double IPA but could be considered on the lighter end of that spectrum. With its striking yellow can and beaming sun, the brewery's flagship beer easily stands out as it hides in the back of your local retailer's cold box. And it remains a cult favorite despite enjoying wider distribution.
LITTLE SIP IPA
Lawson's Finest Liquids
Waitsfield, Vermont
alcohol by volume 6.2%
lawsonsfinest.com
Lawson's offers a sometimes confounding lineup of beers. As I've noted, Sip of Sunshine promotes itself as a regular old IPA despite its alcohol heft. Little Sip follows suit. Despite its name, Little Sip is not, I repeat, not a session beer. At 6.2 percent alcohol, Little Sip finds itself in an odd wheelhouse between lower ABV sessions, which usually clock in under 5 percent, and popular hazy IPAs, which often hit 7 percent or above. Described as a "little cousin" to Lawson's flagship, Little Sip was formulated at the Seven Barrel Warren brewery and is produced in Waitsfield now.
It pours with a light golden hue and hints of haze under a substantial brace of slightly off white head, which leads into some fine lacing down the glass. The aroma peaks with clean citrus and floral notes, ranging from citrus such as pineapple and grapefruit, along with bready sweet malts, and a slight dank quality. The flavor follows with layers of fruit, grapefruit, melon rind, mango, and pineapple, over a slight bready malt base, and finishes quick, clean, and dry, with slight bitterness through to the end.
For those who are interested in reducing their alcohol intake, Lawson's does offer a line of delightful lower ABV beers under its Super Session brand. Each is designed to be a lighter, refreshing version of the bigger offerings, all without sacrificing the hop character of those beers. Lawson's produces each Super Session offering with the same base and specialty malt recipe but features a different single hop varietal. The series, which is presently at number 8, has celebrated Citra, Amarillo, Sorachi Ace, Centennial, Galaxy, Cashmere, Idaho 7, and Mosaic hops, in order or release.
For those looking to enjoy Double Sunshine or Triple Sunshine, a trip up to Lawson's Finest Liquids in Vermont should be high on your list of post-pandemic travels. And for those who need a quick break from the brewery's lineup of excellent hoppy ales, its easy drinking Scrag Mountain Pils (4.8 percent alcohol by volume), inspired by the Czech style, is available to accompany Lawson's hoppier offerings.
LAWSON'S FINEST LIQUIDS ARE AVAILABLE FROM ATLANTIC BEVERAGE DISTRIBUTORS.