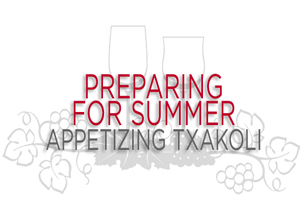 PREPARING FOR SUMMER-APPETIZING TXAKOLI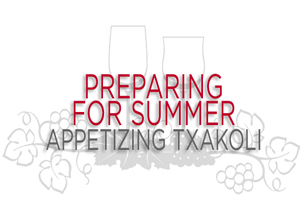 by HARVEY FINKEL
Grapes grown cool make wines for the hot days of summer. We want to drink dry wines light in body and alcohol that have retained lively acidity with our summer seafood and other dishes that lie lightly. Such wines are hard to grow in Basque Country (Pais Vasco), are hard to spell hereabouts, but are coolly easy to drink.
I refer to Txakoli, also called Txakolina or, more phonetically, Chakoli (accent usually on first syllable), from the cool, windy, wet northwest coast of Spain, mostly white, once also red, occasionally pink. Although Txakoli has been known in the Pais Vasco for centuries, the name, indicating farm or homemade wine, reveals its perceived disposition. After threatening extinction, the genre achieved resurrection in the late 20th century, and after modernizing its technology, is now thriving. The predominant white is a popular and appropriate aperitif and company for the region's esteemed seafood and other light fare, including the local tapas, here called pintxos. The red occupies a small niche. The rosé (nicknamed "ojo de gallo") is largely exported to the US.
Many of the vines are grown on coastal terraces, trained as high pergolas, keeping them off the moist ground to avoid fungal infection. The dominant white grape variety has been termed Hondarribi Zuri, the former after the town of that name, the latter meaning "white." But according to Robinson, Harding, and Vouillamoz's magisterial Wine Grapes, this is actually a mysterious mixture of Courbon Blanc, Crouchon, and Noah, the last an American hybrid. Other varieties, among them Folle Blanche, Petit Manseng, Gros Manseng, Sauvignon Blanc, Riesling, and Chardonnay, may be added. Red Txakoli is made from Hondarribi Beltza (beltza means "black"), parent-child relation of Cabernet Franc. The rosé is a blend.
Txakoli typically now is fermented to complete dryness at controlled temperature in stainless steel, aged for some months on the lees in steel, and bottled to retain some evolved carbon dioxide. Malolactic fermentation is prevented. The finished wines usually contain between 9.5 and 11.5 percent alcohol and enough naturally dissolved carbon dioxide to give it a spritz, especially after the traditional pour from a height of eight inches. Conventionally, the wines are consumed within a year or two, though some advocate more age for specific lots.
WINE NOTE
TXAKOLINA 2018
BODEGA GAINTZA $19
White wine made from estate Hondarrabi Zuri 85 percent, Gros Manseng 10, Hondarrabi Beltza 5, grown on 40-year-old vines in clay/limestone soil on bluffs 75 meters above the Cantabrian Sea in the Getaria subregion of Spanish Basque Country. Gaintza means "on top of." 11,100 9-liter cases produced. Distributed hereabouts by Ruby Wines.
Pale. Aroma and taste evoke citrus. Light and lively, with a subtle attractive tingle of retained carbon dioxide.