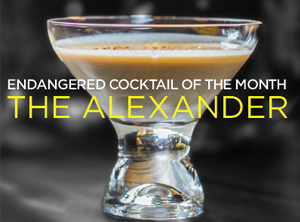 ENDANGERED COCKTAIL OF THE MONTH-THE ALEXANDER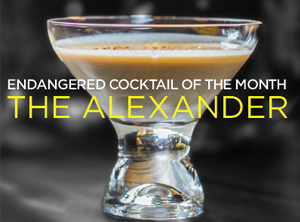 by PINK LADY
Sweet-toothed tipplers have no shortage of options in today's beverage world. From candy-flavored vodkas to cinnamon and peanut butter "whiskies" to creamy liqueurs, the list goes on. To try a silky sweet dessert drink from a bygone era, we suggest reviving the Alexander Cocktail.
You've probably heard of the Brandy Alexander, and readers of a certain age may have even sipped their share in the drink's 197Os heyday. Pre-Prohibition formulae call for gin as the base, however, complemented by creme de cacao and cream in equal proportions.
So who the heck was Alexander? As is usually the case, there are a few stories. An early recipe (with gin) appears in Hugo Ensslin's 1916 book Recipes for Mixed Drinks. Historian Barry Popik places the drink in Philadelphia a year earlier, when the head bartender at The Racquet Club created "The Alexander" in honor of Philadelphia pitcher Grover Cleveland Alexander. He was saving it to serve during the World Series, (which Philadelphia lost to the Boston Red Sox.)
A 1929 column by Walter Winchell credits the drink to bartender Troy Alexander, who prepared the recipe at the Rector Hotel in New York so he could have something white-hued to serve at a big dinner celebrating "Phoebe Snow". She was a fictional character and the star of an ad campaign for the Delaware, Lackawanna, & Western Railroad promoting their clean-burning, anthracite-powered railway cars: "My gown stays white / from morn till night / Upon the Road of Anthracite". The ads pictured Phoebe riding the rails in a white dress for nearly 7O years.
The drink got a brandy glow-up in 1937 in the Cafe Royal Cocktail Book – Coronation Edition by W.J. Tarling. Was he the first to make this riff? We may never know. My all-time favorite introduction to this recipe comes in Shake 'Em Up! A Practical Handbook of Polite Drinking By Virginia Elliot & Phil D. Strong, a 4th edition copy of which I inherited from my grandparents. Penned "in the twelfth year of Volstead, 193O", it's a snapshot of Prohibition-era drinking, and the authors are forthright about the challenges the Noble Experiment posed to making great cocktails.
The Alexander shows up in the "For Virgins" section: "Tender young things, who have just been taken off stick candy, prefer complicated pink and creamy drinks which satisfy their beastly appetite for sweets and at the same time offer an agreeable sense of sinfulness." The recipe below is from the late Gaz Regan, and adjusts proportions for a more spirit-forward experience ­— even the gin version gets Gaz's stamp of approval, which means it will be just as worthy of your time as its brandied cousin.
BRANDY ALEXANDER
BY GAZ REGAN
1 1/2 OUNCES of Cognac
1 OUNCE of dark crème de cacao
1 OUNCE of cream
GARNISH grated nutmeg
ADD Cognac, dark crème de cacao and cream into a shaker with ice and SHAKE until well-chilled. STRAIN into a chilled cocktail glass or a coupe glass. GARNISH with freshly grated nutmeg.
Cin-cin!