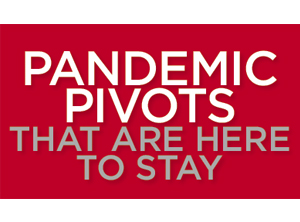 PANDEMIC PIVOTS THAT ARE HERE TO STAY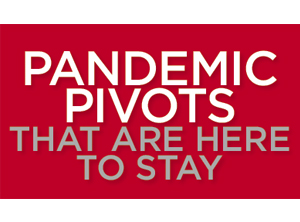 by KIRSTEN AMANN
Nothing could have prepared restaurateurs and retailers across the state for the disruption the COVID19 pandemic would cause to their businesses. "I had 2O years of knowledge and experience in this industry rendered more or less useless literally overnight," says owner-operator Lauren Friel of Rebel Rebel wine bar and Wild Child book and wine shop in Somerville. When it comes to problem-solving, small business owners are exceptionally agile. After a year of pandemic pivots and with an uncertain timeline for a return to normalcy, what do Massachusetts beverage industry leaders consider their best innovations?
WINE AT YOUR DOORSTEP, ORDERED AT MIDNIGHT "It's not even a pivot anymore, it's a new business model" says Hadley Douglas of The Urban Grape, a wine shop she owns with her husband TJ in Boston's South End. Their award-winning retail model arranged inventory on a progressive scale based on body rather than by grape varietal or region, much like a restaurant wine list. The staff helps guide customers in their selections in the space, teaching them about wine in the process. But what happens when the unique brick and mortar store and service style that built your brand is shuttered? "We had to really think outside of the box and outside of our store," says TJ. Citing entrepreneurship and their non-traditional paths to wine retail, TJ and Hadley were able to get creative quickly: "We had a whole business plan for the pandemic written by March 11th," says TJ, while state officials were still scrambling. They beefed up delivery operations and their ability to process orders remotely, finetuned their online ordering system, and were able to get the word out to anxious customers right away through email marketing and social media: "Need Wine? Let UG Bring it to You."
For Ken Gordon of the Waltham-based Gordon's Fine Wines & Liquors chain, developing their existing delivery platform into a more robust operation was an important early pivot. The company "already had a great ecommerce platform established," says Gordon, "But we couldn't just rely on this to make up for the lost foot traffic." They had been working with Drizly since the company launched in Massachusetts, "which was a huge driver early on in the pandemic. We expanded our delivery capabilities and the range of where we could deliver to using their next day delivery option." This opened the door for Gordon's to start working with referral websites like Thirsty, Cocktail Courier, Reserve Bar, and Drink Works. Stepping up their delivery infrastructure "was a great solution and a giant step for us . . . this part of our business is here to stay. This is the new wave in our industry and we are looking forward to seeing where it goes from here."
"I think what the past year made us realize is that customers needed convenience," says Hadley. "They want one-click shopping, product bundles, ways to learn, a great website experience, and to be able to shop from home and have it delivered. We have to give our customers a great online experience that feels like they're in our store because so many customers just don't want to come into your brick and mortar anymore, they either live too far away or they're shopping at midnight." And those midnight shoppers are spending money: "We get so many orders at one o'clock in the morning," TJ says. "And people are shopping. We'll see the orders and be like, 'did someone really just buy $1OOO worth of wine?' And it's because this was convenient for them. We didn't offer that convenience pre-pandemic."
RAISING A GLASS REMOTELY
All of The Urban Grape in-store and in-office wine tastings were canceled in the span of 24 hours last March, inspiring a quick pivot to virtual experiences that has "been absolutely incredible. And it's not going anywhere," Hadley says. Guests receive their wines or cocktail ingredients in a sleek box with a "Save the Date" card and Zoom link. "Companies have now realized that they can have great corporate-wide experiences and no one has to be in the same room," says Hadley. Past clients include big companies like Google and smaller local law firms, in addition to free weekly Clink Progressively wine and cocktail classes with winemakers from all over the world. "It has truly democratized being able to learn about wine," Hadley says. "People feel comfortable, they're at home, people feel safer asking questions typing them in the chat. It's just the wave of the future."
INTO THE GREAT WIDE OPEN
Science tells us we are safest outside in the fresh air, but what is a restaurateur to do when their entire model is based on their indoor space? "For Tanám, we have one table and ten seats. A lot of our concept was really focused on creating an intimate indoor setting that allows you to escape from the world outside, even down to the way our soundproofing was designed," says Kyisha Davenport. The worker-owned Somerville coop is known for narrative cuisine and a dining experience like no other: pre-pandemic, guests sat at one big table, often alongside perfect strangers, and dined communally over courses that tell a story through food and drink. The IMPROPER BOSTONIAN described dining at Tanám as "unique and uncommonly moving for a restaurant experience: fascinatingly eclectic, delicious food underpinned by an extraordinary level of human connection." And the space was the stage: "We're in the middle of Bow Market, it's busy, it's loud, there can be thousands of people there at a time. If you close the door to Tanám it shuts out 95% percent of that noise," says Davenport.
From a pre-pandemic operational standpoint, the team felt that they couldn't handle smaller tables. "Our concept was focused on intimacy, and we were really concerned that people wouldn't feel that same vibe when we shifted outdoors," says Davenport. But it turns out, "all the couples were just waiting for their moment. The folks who don't have a group of friends they can come in with, for whom it's "just me and my lover forever and ever,'" came out in full force last fall. Retaining a sense of intimacy was no issue: "There's a section of the patio that's just under the stairs and we have these cool, old school rattan wicker chairs. It has this lovely, sexy, earthy vibe," that guests clamor for. As Tanám prepares to reopen their patio, Davenport says she feels "encouraged to really embrace outdoor space, openness and fresh air," and up the ante with patio design.
"I absolutely see year-round outdoor dining sticking around," says Lauren Friel whose Rebel Rebel wine bar and Wild Child book and wine shop are also located in Bow Market. "We saw folks coming out in 14 degree temperatures without complaint, and there was a sense of braving the outdoors being part of the fun — I don't think people will forget that. It became another layer of the bonding experience dining exists to cultivate." We New Englanders do love to drink by a fire.
At Trina's Starlite Lounge in Somerville, the pandemic patio gave owner Josh Childs a chance to show proof of concept to the community. Childs had presented the idea of opening a patio in years past, but a handful of his neighbors weren't into it. "I hope that we've executed it in such a thoughtful way that there will be zero neighbor opposition to reopening," says Childs, "we really haven't had a complaint about it." Like Davenport, Childs feels great joy seeing folks in the fresh open air: "It felt a little bit like we were in Europe last summer. All these places were open and the city was walking friendly; my hope is we may see some of the past restrictions [on outdoor dining] eased permanently."
Taking the business outside has also had successful retail applications. In August the Urban Grape Wine Counter debuted outside the entrance to the store, allowing customers to enjoy the Urban Grape retail experience, modified for safety and social distancing. "I'm not kidding, I sent TJ a picture of Lucy's [from Peanuts] five cent psychiatry booth," says Hadley. He was skeptical at first, but took the idea and ran with it, working with Ryan Merry Designs to create a beautiful custom-made counter with the store emblem overlaying louvered wood. Post pandemic, they will use the modular counter, which can be customized with corporate logos and signage, for events. "It just upped our event game," TJ explains. "It's the difference between a pivot, and creating a new revenue stream."
COCKTAILS AT HOME
"Who would have thought in 1997 when I was making those raspberry fizzes at Silvertone that I would someday be bottling and carbonating them to sell them to-go?" says Childs. "If somebody had told me that then, I would have laughed them out of the room." He, like many owners and operators, hopes this once impossible dream becomes a permanent fixture of restaurant takeout. For Tom Schlesinger-Guidelli of Alcove in Boston, offering things like mixers and ice for guests to make drinks at home pre-dated COVID19. "I had always thought beverage-focused restaurant programs were leaving this on the table," he says. "I remember sitting in the office trying to explain the idea to my GM at the time and my bar manager [pre-pandemic] and them both saying 'okay, I don't really know that this is gonna work, but we'll do it because you're asking us to.' And then sure enough it ended up being a significant part of our business." A Bar Cart section on Alcove's Caviar to-go page sells pellet ice, Kold Draft ice, lemon juice, lime juice, simple syrup, and was already up and ready to go last March. "That was a really easy shift for us, and we did a ton of non-alcoholic mixers right out of the gate."
At Blossom Bar in Brookline, operations director Will Isaza and owner Ran Duan created a non-alcoholic drink mix program within a week of the stay at home orders that was so successful, they were able to fully hire back their staff: "We went from telling everyone that they didn't have a job to calling everybody back within three days," says Isaza, which was a huge boost for staff morale. Blossom Bar Mixers were an overnight success: "Close to 4O% of the sales after that first week were returning people. They were just crushing the mixers at home and getting bottles and sometimes cases, finishing them, then coming back for more. I think within the first week we did a little over 15OO units, which was insane for us." Their two-person operation quickly became a fully staffed effort, with three shifts a day for production, staffing and administrative operations. The restaurant itself was transformed into a packing and shipping facility and remained that way until Blossom Bar could reopen for dining in June.
Ran Duan led marketing efforts that featured beautiful cocktail photography and brand assets, promoted exclusively through social media. "Ran knew that people were already on their phones extensively [pre-pandemic] and were going to be exponentially more," says Isaza. They invested in targeted ads that geo-tagged different parts of the city, made the link to order easily accessible and streamlined so that within a few clicks, customers could place their order for mixers, and later for glassware, fancy garnishes, beautiful ice, or even a full kit. "It wouldn't have been as popular if we were limiting people to pre-sale only, or you couldn't order spur of the moment," says Isaza. The Blossom Bar team thought the mixer business would wane once cocktails to-go were approved, but it "didn't slow down at all" says Isaza. "People were so enamored by the ability to make drinks at home they didn't really care that we could make full cocktails here." With the restaurant now open for in-person dining, mixer operations are scaled back, but will remain part of the permanent business model. "It would just be silly for us to not keep doing them," says Isaza.
For Childs, the past nine months feel like validation of the notion that cocktails to-go can be executed successfully and safely in Massachusetts: "I don't think it turned into 'all of a sudden we're on Bourbon Street,'" he says. The cocktails to-go consumer may be a totally different customer than the retail shopper: "I have regulars I've been waiting on for 15 years who are retired, a little bit older, and don't feel safe dining in the restaurant. They want us to mix their Negroni's for them because they've been having us mix Negroni's for them for 15 years," says Schlesinger-Guidelli.
HOLIDAY MEALS
Schlesinger-Guidelli's most successful pivot was one that took him by surprise: holiday meals. Last April, when he was swiveling weekly with new efforts to drive revenue and keep customers engaged, the Alcove team put out an Easter menu: "We did ham, duck, different sides like mac and cheese, potato gratin, salad, etc. It ended up being the busiest day we had the entire time we were shut down. This was the first time that we had done a preorder on anything, and it ended up being a huge day for us." For Fourth of July they created picnic baskets complete with red checkered tablecloth, which led to weekend picnic baskets all summer. Since then, Alcove has produced holiday menus for Thanksgiving, Christmas, New Year's Eve, and Valentine's Day. "I don't think that we'll ever not do this again. We had 65 turkeys on Thanksgiving, and they were hot and ready to serve."
EXTRAORDINARY POSSIBILITIES
It's been an extraordinary year, and like all of us, these owner-operators are eager to get back to normal: "I always joke that I have completely exhausted any creative ideas that I've had in the restaurant business," says veteran restaurateur Josh Childs. Each of these restaurateurs and retailers have demonstrated remarkable resilience. A year into having their business models turned upside down and shaken around, much like a snow globe, their offerings sparkle in a whole new way.