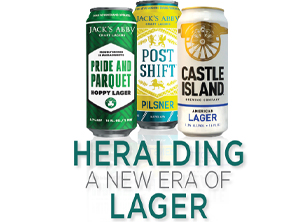 HERALDING A NEW ERA OF LAGER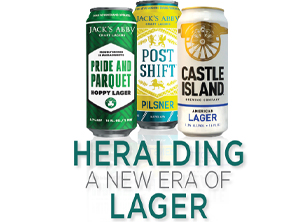 by ANDY CCROUCH
Craft beer fans, myself included, have long been heralding a new era of lager. We have preached the gospel of quality lager. We have proselytized the charms and character of pilsners, bocks, and dunkels. We have through sheer force of will tried to make lager a thing. And it may just be working. Once shunned by craft beer enthusiasts and brewers alike, lager is growing in popularity. A small number of breweries around the country focus exclusively on lager but hundreds, if not thousands, more routinely brew at least a few basic, entry level styles for their clientele. As this movement towards lager beer started to progress, breweries often failed to treat this time consuming, labor intensive style with the attention and respect it deserved. Many of the resulting beers were rushed, contained off flavors, or were poor versions of the attempted styles. Over time, however, consumers either weeded out these bad actors or the brewers lost interest in their poor performing beers. And consumers discovered a newfound respect for many lager styles. Today, even cutting-edge, hip breweries such as Tree House and Trillium now regularly brew pilsners and other lager beers throughout the year. While the time of lager is not quite upon us in the way some of the faithful might hope, we are buoyed by its increasing acceptance in polite beer circles. Here are a few great lagers being brewed right here in Massachusetts that you should consider suggesting to your customers.
PRIDE AND PARQUET HOPPY LAGER
Jack's Abby Craft Lagers
Framingham, Massachusetts
alcohol by volume 5.7%
jacksabby.com
Brothers Jack, Sam, and Eric Hendler co-founded the independently owned and operated Jack's Abby Craft Lagers at a time when lager beer was hardly growing in popularity. The eponymous Jack runs the brewing operations, formerly having brewed at the Canal Street location of the Boston Beer Works near the Boston Garden. From its earliest days, Jack's Abby (named after Jack's wife not a Belgian abbey as is often the basis for misspelling), focused on producing lager beers on the hoppier side of things. The brewery was an early entrant into the so-called India Pale Lager or IPL style and its newest release, Pride and Parquet, fits right into that mold.
The new beer represents a big step up for the fast-growing brewery. Pride and Parquet, as the name suggests, is the brewery's collaboration with the Boston Celtics, for whom Jack's Abby is now the official craft brewery. The brewery's staff worked directly with the Celtics, including them in the first pilot batch brew, and working with them on the striking packaging design. Pouring it from the sixteen ounce green and white tall boy can emblazoned with the Celtics' logo, the beer pours a lightly hazy golden hue with a light white head that quickly subsides. The aroma is a bit of an unusual mix of recently developed hops — Cashmere, Trident, and Lotus — over a lightly sweet pale malt. There is a deep biscuit character and earthiness, hard to distinguish whether from the hops or yeast, lightly tropical and only a little bit American in character, gearing away from European noble varieties. The flavor starts with a slight wash of sweeter pale malts before transitioning to a long, lingering earthy hop flavor and residual bitterness that glides through to the finish and beyond. Despite being nearly six percent alcohol by volume, Pride and Parquet drinks on the lighter side, with only the considerable bitterness keeping it from being dangerously smooth. In a time when so many beers veer far away from bitterness, Jack's Abby embraces it with this hoppy lager. AVAILABLE FROM Atlantic Beverage Distributors.
POST SHIFT PILSNER
Jack's Abby Craft Lagers
Framingham, Massachusetts
alcohol by volume 4.7%
jacksabby.com
While Jack's Abby has been brewing lager beers for more than a decade, often with a more American than European influence, its Post Shift Pilsner hued closer to the original models. Brewed with all German malts and Hallertau Blanc hops, Post Shift is a clean yet assertive and overall delightfully delicious beer. Post Shift pours with a light pale yellow color, with some slight haze, and a substantial white head of foam. The aroma is redolent of bright German pilsner malt, with notes of toast, dough, grain, and a light zesty and earthy hop. The flavor is clean and crisp, with a soft malt base of lightly biscuity and toasty malts that give way to a spicy and at times grassy noble hop character that continues through the finish without becoming overwhelming on the palate. The mouthfeel is on the lighter side of medium, leaving this beer refreshing and easy to consumer. For a more robust and hop-filled experience, try the Dry Hopped Post Shift Pilsner, a specialty in the brewery's kellerbier series. AVAILABLE FROM Atlantic Beverage Distributors.
AMERICAN LAGER
Castle Island Brewing Company
Norwood, Massachusetts
alcohol by volume 5.2%
castleislandbeer.com
While Castle Island Brewing took its name from the South Boston landmark, it made a name for itself brewing flavorful and often hoppy American ales, including Keeper, Hi-Def, and a line of rotating double India Pale Ales. In recent years, Castle Island has branched out to include a lineup of solid lager beers, including its Festbier and Mosaic Pils. But tops among its lager offerings is the clean, cool sipper known simply as American Lager. A winner of a silver medal in the America-style lager or Malt Liquor category at the 2O18 Great American Beer Festival, Castle Island's year-round lager offers drinkers a respite from its hoppier offerings. American Lager is not a new wave, Americanized version of a pilsner, filled with tropical, style inappropriate hops. Instead, it is a clean, crisp, easily drinkable, and straightforward lager. It pours with a light straw hue and a touch of residual haze. The aroma is filled with a mild honey sweetness and biscuity notes with the lightest tinges, apparently from the Rakau hops, of blueberry. The flavor is commensurately light, with pils base malt shining through amid lightly grassy hops and a light pervasive sweetness. A light bitterness balances out the breadier malt elements and the lighter bodied lager finishes reasonably dry. AVAILABLE FROM Atlas Distributing, Burke Distributing and Colonial Wholesale Beverage.