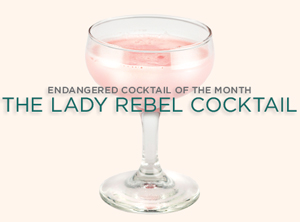 ENDANGERED COCKTAIL OF THE MONTH – THE LADY REBEL COCKTAIL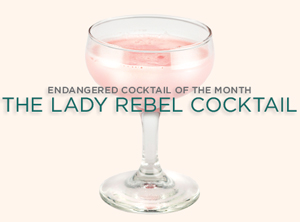 by PINK LADY
St. Patrick's Day gets the lion's share of cocktailing attention in the U.S. in March, but have you heard of International Women's Day? It's March 8th, which means you can A) raise a glass to badass women in your life and in general and B) get your cocktail shakers going a full nine days earlier than Paddy's Day — you're celebrating!
The March 8th holiday is one I didn't even know about until I was a young adult, but in other regions of the world, it is celebrated heartily. I first learned about it from an ex-pat friend who was living in Italy, and where it is customary to present women with yellow mimosas, and for women to gather for gals-only dinners and parties. In Poland, Women's Day is similar to American Mother's Day; in Pakistan, it's a day to commemorate the struggle for women's rights.
The holiday itself has ties to Socialist movements of the early 2Oth century, and came to be in the U.S. after an important protest in February 19O8 galvanized 15,OOO women to the streets of New York, marching for voting rights, shorter hours, and better pay. Similar strikes were ongoing for a year, and the Socialist Party of America declared National Women's Day to be February 28, 19O9. Women's Day went global in 191O at the 2nd Annual Working Women's Conference in Copenhagen, when Clara Zetkin, a German campaigner presented the idea as a day to work internationally towards universal suffrage. It was unanimously approved by the 1OO delegates from 17 countries in attendance. In 1975 the day received official sanction from the U.N. and has been an officially sponsored holiday ever since. The 2O21 theme is "Women in leadership: Achieving an equal future in a COVID-19 world".
We're raising a glass to these lady rebel fore-broads with a Lady Rebel Cocktail from the 1957 edition of Mr. Boston!
LADY REBEL COCKTAIL
1 OUNCE of rye or bourbon
1/2 OUNCE of Apricot Flavored Brandy
1/2 OUNCE of White Creme de Cacao
1 OUNCE of Sweet Cream
1 TABLESPOON of Grenadine
SHAKE well with cracked ice and
STRAIN into a 4 ounce cocktail glass.
Cin-cin!