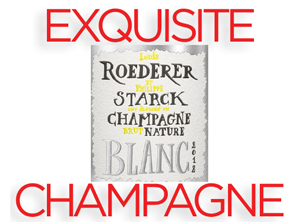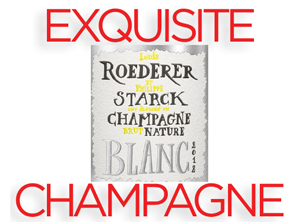 by HARVEEY FINKEL
Today we'll discover the second of the pair of exquisite effervescent wines we began with in this space last month, this one from Champagne, the paragon of sources of such pleasures. It is no surprise that the Brut Nature is a product of Louis Roederer, a grande marque house of unsurpassed integrity and quality, perhaps largely because it owns an unsurpassed grand sweep of vineyards and because it is run by wine people, not business people.
The Champagne province is located near the northern limit of wine cultivation, approaching the 50th parallel of latitude. This creates an aspect and a mean annual temperature (11˚C) making ripening difficult. The climate is under the oceanic influence of the Atlantic, with continental tendencies, providing an evenness of temperature throughout the year and steady precipitation, effectively stored by the chalk subsoil deposits left by an ancient ocean. The presence of forests stabilizes temperature and maintains moisture, and the marginal temperature keeps acidity high, a requirement for good sparkling wine. Champagne receives less sunshine than Burgundy. Winter and spring frosts are a danger.
Roederer has been a family company since its founding as Dubois Père et Fils in 1776 in Reims by Nicolas-Henri Schreider, who enlisted his nephew, Louis Roederer, in 1827. He took over when his uncle died in 1833, changing the name to his. This first Louis Roederer concentrated on assembling sourcing vineyards, an unusual practice at that time. His son, the second Louis Roederer, secured the imperial Russian market, and some of the US's too, and created the iconic Cristal, the first Cuvée de Prestige, then a sweet Champagne, for the Russian court in 1876. It would not become generally commercially available until 1945. In the 1920s, Léon Olry-Roederer laid the basis for what later came to be called Brut Premier, the company's flagship wine, constituting 70-80 percent of production. From 1933 to 1979 his widow, Camille, joined the pantheon of Champagne's imposing veuves. She was succeeded by her grandson, Jean-Claude Rouzaud, enologist and agronomist, who consolidated the vineyards. Since 2006, Champagne Louis Roederer has been run by Jean-Claude's son, Frédéric Rouzaud, the seventh generation. Jean-Baptiste Lécaillon is cellar master, Johann Merle the vineyard manager.
Roederer owns and farms 240 hectares of grand and premier cru vineyards, 410 diverse, distinct parcels across all three classic districts of Champagne: Montagne de Reims, Vallée de la Marne, and Côte des Blancs. They are sufficient to supply three-quarters of the annual production of 3.5 million bottles. The plots are cultivated, harvested, and vinified plot by plot, then nurtured through artful blending and patient aging. Some of the fermentations are conducted in stainless steel, some in oak. The finished products contain an unusually high proportion of reserve wines. They are exported to more than 100 countries. In Massachusetts, we are regaled with a choice of Brut Premier, Carte Blanche, Brut Vintage blanc and Rosé, Blanc de Blancs, Brut Nature Blanc and Rosé, Cristal, and Cristal Rosé. I have particularly favored the Brut Premier, Blanc de Blancs, and, when poured for me, the Cristals over the years. Through its marketing arm, Maisons Marques & Domaines, Roederer controls a dazzling array of producers of still and sparkling wines across the globe.
LOUIS ROEDERER ET PHILIPPE STARCK CHAMPAGNE BRUT NATURE BLANC 2012
is an unusual product for Roederer. It initially appeared in the 2006 vintage, then again in the 2009 iteration, and was made, both as blanc and rosé, in 2012, enabled by the quality of the fruit, particularly the Pinot Noir. All these are hot, sunny, ripe vintages, necessary for such a wine in the biodynamically farmed Cumières vineyard plots. It will likely next appear out of the 2018 vintage. It is composed of 55 percent Pinot Noir, 25 percent Pinot Meunier, and 20 percent Chardonnay, all grown during the superb 2012 season in the cool calcareous clay sloping soil on the south-facing north bank of the Marne River, in the Côteaux de Cumières. All its ten hectares of parcels were harvested, pressed, and vinified together, not Roederer's usual practice. There was no malolactic fermentation, no dosage. It spent five years on the lees, then six months resting after disgorgement before any was released. The US has been allotted relatively little. Retail bottle price is $93. Roederer is making much of the package, having collaborated with noted designer Philippe Starck on all three vintages. To me, the individually boxed Champagne looks modern, minimalist, uncomplicated, perhaps fresh and juvenile, but it is the wine that counts.
Lovely nose. Gentle mousse. Clearly red-grape informed in flavor, and designed to escort food. Very dry, even if full of fruit. All this converges in the long finish.
Louis Roederer Champagnes are distributed in Massachusetts by Ruby Wines and by United Liquors.