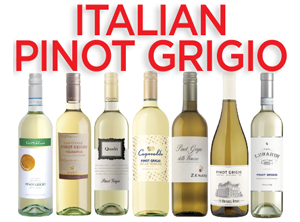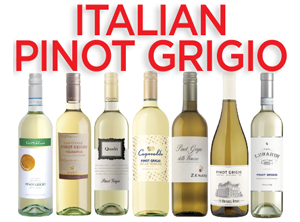 by SANDY BLOCK, MW
Pinot Grigio won't go away. Ignored by critics, disdained by sommeliers and most wine professionals as boring, damned with faint praise ("mild, fresh, clean"), it still captures a sizable share of the wine drinking public's purchasing dollar. What accounts for the unusual staying power of this Northeastern Italian white wine whose origins we trace to France, where it still thrives in Alsace, as Pinot Gris? At its best Pinot Grigio is a crisp all-purpose comfort zone wine with hints of mineral and low key citrus fruit. Its enduring popularity attests to the fact that not all of us want complexity or dramatics in our wine, at least not all the time. And, the fact that a substantial percentage of the consuming public wants to spend less, in some cases much less, than $2O for an everyday white wine, especially in today's economic circumstances. Aperitif wine, pop wine, lacking in personality, inoffensive, there is a swarm of condescending terms swirling about the popularity of Pinot Grigio, but it cannot be denied, the wine checks off the boxes for a lot of consumers.
If we grant that Pinot Grigio has legitimacy, despite lacking much in the way of "terroir expression" except maybe at the upper tier of its price category, and we respect that the people who choose to drink it know what they like and what they want to spend, despite the efforts of the wine community mobilized to enlighten them to "trade up," we can explore the wines on the market and choose whichever deliver the best quality for their moderate price. As almost always, blind tasting is the ultimate test. The following selections are all "branded" blended wines, not expressions of a single estate, or products of a family's dedication to quality, but they do stand out from the vast ocean of Pinot Grigio available in the deep value under $15 (and in some cases about $1O per bottle) retail category, most of which tastes inoffensive at best. They are listed in ascending order of preference. The reality is that all are serviceable, they're all made essentially the same way (early-harvested, fermented cool over a period of weeks in inert containers, blocked malo-lactic, and given several months of lees contact) and although they're not interchangeable parts you won't be disappointed with any if you're looking for a wine whose chief characteristics are its refreshing, lively and bright nature. For more spice and intensity, you would have to spend more, and seek out wines from Friuli, or designated as originating in one of its pedigreed sub-zones, such as Colli Orientali. A note about the IGT delle Venezie designation that is the predominant one in this group: it represents either a merchant's blend of grapes from among more than one region (for example, Trentino and the Veneto), or a wine made from grapes that exceed yield (tonnage per acre) restrictions to qualify for DOC.
TORRE DI LUNA PINOT GRIGIO, DELLE VENEZIE IGT, 2O19
Pale and luminous in color, this wine has a melon, apple, and pear aromatic personality. It's juicy, dry and lightly tart, with a lingering lemony persistence on the finish. This would be an excellent choice to perk up a cold seafood salad, or raw oysters or clams on the half-shell. AVAILABLE FROM MS Walker.
SANTI "SORTESELE" PINOT GRIGIO, VALDADIGE, 2O19
From grapes grown in the Adige Valley, this wine has a florally scented note, and a pleasant yeasty aromatic fragrance reminiscent of apple pastry. Its smooth texture and clean, slightly peachy fruit tastes very pleasant, and form a lovely background for more assertive spicy dishes. AVAILABLE FROM MS Walker.
QUADRI PINOT GRIGIO, TREVENEZIE IGT, 2O19
A very delicate white on the palate, this has a yeasty, herbal, floral mix on the nose. On the palate, it's ripe, with pear, and apple, satisfying weight, and a note of crushed river stones that adds vibrancy. This is fine as an aperitif, particularly with salty d'oeuves, like smoked salmon, or any dish incorporating capers. AVAILABLE FROM United Liquors.
CAPOSALDO PINOT GRIGIO, DELLE VENEZIE IGT, 2O19
This has a strong fruit expression, with hints of baked apple, apricot, and even a tropical element. It also has an intriguing mix of herbal scents, including cilantro and tarragon. With good weight and crisp texture, it finishes with a snap of green apple. An excellent aperitif, it also complements green salads that are dressed lightly with vinaigrettes. AVAILABLE FROM Horizon Beverage Company.
ZENATO PINOT GRIGIO, DELLE VENEZIE IGT, 2O19
This wine, made by a renowned producer of Valpolicella and Amarone, has always shown well in blind tastings. It's a classic of the grape variety, with floral, yeasty, orange rind scents, and a round texture. There is a little mineral to balance the weight, and a tart citrus finish. Delicious with fish sauteed in olive oil. AVAILABLE FROM Boston Wine Company.
ST. MICHAEL-EPPAN PINOT GRIGIO, ALTO ADIGE, 2O19
A high vibe Pinot Grigio from high altitudes in the Adige Valley, and a perennial favorite. This is fragrant and delicate, with a heady whiff of white flowers, and a lightly toasty character. It has good weight, and a tart mineral-etched finish. A great example of why Italian wines made at cooperatives should not be dismissed, or assumed to automatically take a back seat to single estate wines. This has enough weight and personality to complement broiled medium textured flaky fish like haddock or flounder. AVAILABLE FROM Classic Wine Imports.
CASA LUNARDI PINOT GRIGIO, DELLE VENEZIE IGT, 2O19
Produced by a cooperative winery in the Soave production zone, this silvery light Pinot Grigio has a smooth, round soft texture that is really lovely, particularly as it's balanced by a gentle minerality. The creamy, lush notes offset delicate peach and apple fruit notes. Ideal with pasta in an olive oil based sauce. AVAILABLE FROM MS Walker.