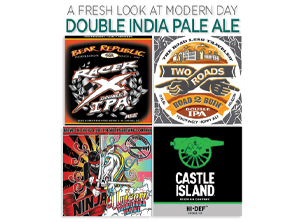 A FRESH LOOK AT MODERN DAY DOUBLE INDIA PALE ALE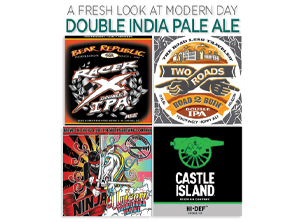 by ANDY CROUCH
Double India Pale Ale is what happens when you leave a perfectly respectable style in the hands of fanatical American brewers. Once referred to as Imperial IPA, a borrowed reference from the strong stout style, these outsized IPAs once exploded with a tongue melting cacophony of hops, alcohol, and malt. These atomic hop bombs started on the West Coast and quickly spread across the country. Deep orange or amber in color, the aromas pop with juicy, citrusy floral American hops, boom with boozy alcohol hints, and give off strong, sweet malt notes. Double IPAs, or DIPAs as they are often referred, now tend to offer less intense hop bitterness and flavor but remain slightly above average in alcohol levels when compared to regular IPAs. With that said, the standard ABV level for many American IPAs in the past five years has ticked substantially upwards, swinging away from the five or six percent sphere and heading into seven percent territory. Especially in the era of the hazy IPA, differences between regular IPAs and DIPAs continue to erode. The best examples of the modern DIPA style avoid a one-sided hop onslaught or the tendency to become pale malt booze bombs while managing to remain drinkable and flush with hop aromas and flavors, a difficult task when juggling massive ingredient amounts.
RACER X
Bear Republic Brewing Company
Cloverdale, California
alcohol by volume 8.3%
bearrepublic.com
One of the oldest school Double India Pale Ale producers, Bear Republic Brewing Company was founded in 1995 in northern California. Its much-heralded Racer 5 set the standard for the West Coast-style IPA. In the more than twenty years since its founding, Bear Republic has experienced plenty of ups and downs. In late 2O14, the brewery announced that it would pull out of many markets, including Massachusetts, due to water issues at its brewery. In late 2O19, the company closed its original brewpub, located right in downtown Healdsburg. When it left the state, owner Richard Norgrove said that at its first opportunity, Bear Republic would return to Massachusetts. And indeed it finally did. Racer X is a relatively mild-mannered looker that pulls you near with a light copper color and a moderate white head. But the first sniff widens your eyes, opens your nasal passages, and fills you with an intense burst of fresh cut American citrus fruit. A waft of sweet pale malt, thankfully far from cloying, unlike many Double IPAs, balances the robust hop aromas of Cascade, Columbus, and Centennial. The aroma translates beautifully to the body, where a dizzying array of fruit and hop flavors vie for your attention, all while the pale malt acts the schoolmarm over the glorious liquid spectacle. Fresh, zesty hops contribute a lingering bitterness to the middle and finish, all nuzzled by a warming alcohol presence. Over the years the alcohol level has bumped up a bit, leaving even more warming for your winter months. Available from Atlantic Beverage Distributors.
ROAD 2 RUIN
Two Roads Brewing Company
Stratford, Connecticut
alcohol by volume 8%
tworoadsbrewing.com
Brewmaster Phil Markowski has long been known as one of the nation's top brewers of Belgian style and influenced beers. He has written books about Farmhouse Ales, mastered saisons, and produced beautiful sour beers. Markowski's talents, however, have been underappreciated when it comes to his production of hoppy American beers. His Road 2 Ruin, a Double India Pale, boasts a lot of the numbers equivalent to a big, brawny DIPA but it remains easily drinkable and lighter on the palate than many similarly situated bruisers. This DIPA is brewed with a light malt backbone in contrast to some boozier versions and is hopped with all American varieties, including Cascade and the lesser appreciated Magnum, Palisade, and Summit. The aroma is redolent of bright citrus fruits, including grapefruit and sweet orange, pine, over a light grainy malt base. The flavor follows with a wash of citrus fruits, with bits of pith and peel mixed in, followed by a rinse of sweet and even lightly toasty malts. Additional characters include a bit of earth and spice from the hops and some light warming booze on the finish. A somewhat subdued and thereby perhaps more drinkable Double India Pale Ale, Road 2 Ruin remains a tempting beer. Available from Atlas Distributing, Burke Distributing, Colonial Wholesale Beverage, Commercial Distributing Company and Merrimack Valley Distributing.
NINJA VS. UNICORN
Pipeworks Brewing Company
Chicago, Illinois
alcohol by volume 8%
pdubs.net
Pipeworks Brewery Company was one of the country's early nano brewers. Founded in 2O12 by a pair of young, passionate beer geeks, the releases were aggressive and full-flavored. From the beginning, Pipeworks's beer names have been creative and their art game colorful. Ninja vs. Unicorn is a great example. Bearing frenetic imagery of, indeed, a ninja battling a colorful unicorn. According to the brewery, "Ninja vs. Unicorn celebrates the epic battle between two of the biggest hop-heads of lore." The beer pours with a light golden hue, covered by a loose lid of off-white foam. The aroma fills with a mixture of pale and crystal malts, with touches of grain and bread, before plunging into a lengthy diatribe on ripe and juicy fruits, including grapefruit, orange, and tangerine. The body is reasonably light, clean, dry, and full of easy-drinking fruit flavors over a simple malt base. A touch of grassiness appears over citrus bits. The faintest hints of sweetness occasionally raise their heads up only to depart amidst a breeze of citrus and light pine. Available from Nightshift Brewing.
HI-DEF
Castle Island Brewing Company
Norwood, Massachusetts
alcohol by volume 8.4%
castleislandbeer.com
Seeing its debut in late 2O17, Castle Island's entrant into the Double IPA category is a delightful banger of a beer. It pours with a cross between golden and orange color, a touch hazy, and with a sustained cap of white foam and subsequent lacing. The aroma fills with a playful mixture of pine, orange, mango, and cotton candy and sugary, sticky notes, over wafts of alcohol. Brewed with Warrior, Citra, Mosaic, and Idaho 7 hops, the flavor tilts towards the sweeter side of the spectrum, with piney, tropical, and citrusy hops dueling it out in the background for attention. Available from Atlas Distributing, Burke Distributing and Colonial Wholesale Beverage.