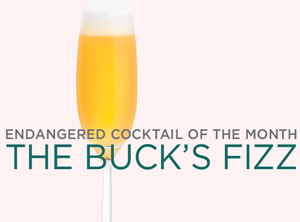 ENDANGERED COCKTAIL OF THE MONTH – THE BUCK'S FIZZ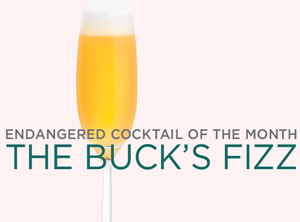 by PINK LADY
Back in December I was co-presenting a virtual cocktail and wine event, when a guest asked me "who invented the Mimosa?" I told them to give me a minute, as I was certain I'd covered the origin story of this beloved brunch libation. I clicked away at my keyboard through past columns, certain I'd have the answer in 6O second or less. There was unfortunately nothing there.
As the guests were a few cocktails into the evening, the conversation had already moved on, but my inattention to this foundational sparkling cocktail bothered me. In 14 years of cocktail writing, why have I ignored the Mimosa? It is the reigning queen of bubbly drinks, has a Prohibition-era origin, and given its simplicity and popularity, I suspect this drink will outlast us all.
Before there was the Mimosa, there was a drink known as the Buck's Fizz, so we'll start our journey there. The Buck's Fizz is believed to have been created in 1921 at the Buck's Club in London by bartender Pat McGarry. The club itself was established just a few years earlier in 1919 by Captain John Herbert Buckminster. Finding the existing gentleman's clubs London had to offer at the time to be too stuffy, he and his cronies sought to create a younger vibe with a good American style bar.
A few years later in Paris, Frank Meier is believed to have created the Mimosa, a similar marriage of Champagne and orange juice, though the ratios, glassware and build differ. The Buck's Fizz is 2 parts bubbly, one part OJ served in a flute, while Meier's Mimosa is equal parts and served in a wine glass with ice. Though Meier almost always gets the credit for the Mimosa, he does not claim it as his own creation in his book The Artistry of Mixing Drinks, which came out in 1934. So, who really knows who the creator is?
However you get there, the mixture of Champagne and orange juice is a delight, and since Valentine's Day falls on a Sunday this year, why not start the celebration at brunch? Nothing says brunch like a bubbly and OJ!
BUCK'S FIZZ
3 1/3 OUNCES of brut Champagne, chilled
2 1/3 OUNCES of freshly squeezed orange juice
POUR half the Champagne into a chilled flute
ADD orange juice
TOP with remaining Champagne
Cin-cin!