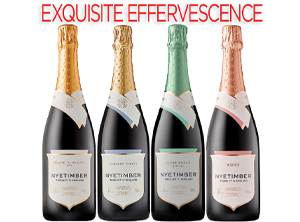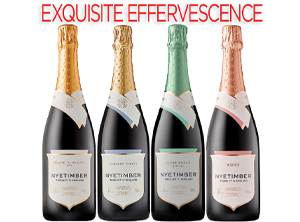 by HARVEY FINKEL
I have lately enjoyed two sparkling wines for which the word "exquisite" was coined. Neither is of a run-of-the-winery genre. Both deserve wider renown, and you deserve to know about them.
The first of the pair, addressed today, comes to us from England, not noted for its ease of ripening high-quality grapes. Its cool temperatures and abundant rain had led to more tears than joy among farmers trying their hands at viticulture until they caught on to sparkling wine production, which requires less-ripe fruit. English vinous effervescence was first produced in 1976, but it needed Nyetimber's smashing success, starting in the early '9Os and never wavering, for the genre to achieve worldwide recognition. Global warming must have helped.
The historic Nyetimber estate is located in the tiny, picturesque village of West Chiltington, West Sussex, in southeastern England, within ten miles of the Channel. It maintains ten vineyards in Sussex, Hampshire, and Kent, growing traditional Champagne varieties Chardonnay and Pinots Noir and Meunier. Named in the Domesday Book of 1O86 commissioned by King William the Conqueror, the property has a rich and complex history. "Nitimbreha" referred to a newly timbered home or a timber plantation. Among its owners was Henry VIII's chief minister, Thomas Cromwell, who, after having been granted the property by the king, arranged Henry's marriage to Anne of Cleves, his fourth wife. Henry's carnal displeasure with Anne led, in 154O, after six months of wedded unbliss, to the annulment of the marriage and the dismissal and death of Cromwell. As compensation for her lost majesty, Hank settled Nyetimber on Anne. Among subsequent owners was a nephew of financier/banker J.P. Morgan.
The Nyetimber sparkling wine estate was established in 1988 by Stuart and Sandy Moss, Americans who defied convention by planting vines in England. She was Nyetimber's first winemaker. Champenois winemaker Jean-Manuel Jacquinot consulted from early days until 2OO7. Their first vintage, 1992, established Nyetimber's place in the pantheon. The estate was bought by English songwriter Andy Hill in 2OO1, then acquired in 2OO6 by the current owner and chief executive, Eric Heerema, a Dutch heir and businessman. He has expanded the vineyard holdings and facilities, building a modern winery in nearby Crawley, which has more adequate road access. Since 2OO7, Cherie Spiggs is head winemaker, assisted by her husband Brad Greatrix, who is in direct charge of vinification. They are Canadians trained in Australia, who has worked across the globe. When asked what changes they had wrought, they mentioned allowing selective malolactic fermentation and eliminating ullage during winemaking. Ben Kantsler, an Australian who has worked in France, is the manager of the vineyards. Nyetimber's heritage, therefore, may be considered English-German-American-French-Dutch-Canadian-Australian.
The vineyards are densely planted on south-facing gentle slopes. The soils are green-sand and chalk. West Sussex is as sunny as the UK gets. The late fall and winter rains fill the chalk aquifers. The cool climate enables slow ripening to achieve desired levels of sugar and acidity, complexity and finesse. The latitude, average temperature and rainfall, topography of the South Downs, and the chalky soil are enough like Champagne that some Champagne houses, perhaps feeling threatened by climate change, are exploring vineyard development hereabouts.
Nyetimber had planned by this year to be producing up to two million bottles annually from more than 74O acres of vines, all estate-grown Champagne-method sparkling wine. Ten percent of production is exported, mainly to the US, Japan, and Scandinavia, emphasizing the visibility afforded in top-end restaurants, hotels, and bars. Available in Massachusetts are Blanc de Blancs (more below), Classic Cuvée, Demi-Sec, and Rosé. Nyetimber wines are distributed in Massachusetts by M.S.Walker.
WINE NOTE
NYETIMBER BLANC DE BLANCS 2O13 $84
Not made every year, and when it is, only about 5-1O percent of production. A cool spring and late budding in 2O13 was followed by a warm and dry growing season and harvest. All Chardonnay, from West Sussex and Hampshire. Nose and mouth delicate, understated, complex. Elegant cushioning mousse. A little yeast, a little lemon, balanced fruit and acidity. Very long in finish, which has a pleasant bitter wisp at the end. Very high class.