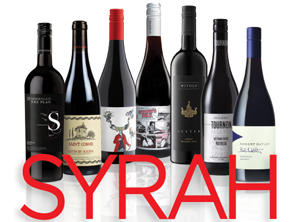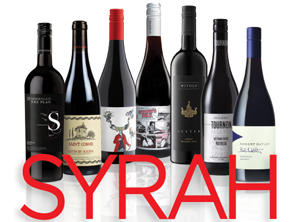 by SANDY BLOCK, MW
Syrah occupies that hazy and crowded middle ground of red grape varieties somewhere between the grace and finesse Pinot Noir often flashes, and the powerhouse intensity of Cabernet Sauvignon. It's no lesser of a grape variety than these two acknowledged superstars. Held back only by lack of current fashionability, and the public's confusion over its identity, it has all the attributes of its two more popular rivals: ability to express terroir, ability to age, adaptability to diverse winemaking and maturation techniques, dispersion throughout the world, ability to elevate a blend seamlessly without taking over, and wide versatility with food. In fact, in several of these ways it surpasses either Pinot or Cabernet.
Why is it so comparatively inexpensive? Consumers don't understand what it is, or still mistakenly associate it with cheap, mass produced and tasteless swill, a hangover from the vast ocean of Australian Shiraz that once swept the US market, but has long since receded. Old images die hard, in wine as in other cultural manifestations. The message to the wine drinking public should be clear, though: if you're a red wine drinker and you like spice, and you like some tannic bite but not a lot, you'll probably enjoy Syrah. Good examples invariably taste savory and assertive. Syrah is also usually at a comparatively bargain price. So much so that I would characterize it as the smart choice.
The following Syrahs are all outstanding and boast a great price value rapport. No two are alike in expression, some are a little on the red fruit side of the spectrum, some show blueberry accents, and some are black berries all the way, but what they share is a jammy, peppery personality and moderate astringency that plays well with medium texture meat and fish dishes.
MCGUIGAN "THE PLAN" SHIRAZ
SOUTHEAST AUSTRALIA, 2O16
Shiraz accounts for about 5O% of the red wine produced in Australia. It was also called Hermitage up to the late 198Os, but since that name is a French AOC, this was dropped. This is absurdly good and ridiculously cheap for the quality, one of the best $12 retail reds I've tasted all year. It's a large production blend from miscellaneous vineyards in New South Wales, Victoria and South Australia, but since when is that a crime? Blind tasting never lies: it's got a seductive bacon fat and smoke-like aromatic profile that draws you in, and juicy tart fresh red berry notes that linger. No tannin to speak of, this would be good with a little chill to accompany a wide range of dishes from green salads, to spicy umami laden Asian or Latin fare, to roast chicken. AVAILABLE FROM Ruby Wines.
CHATEÂU DE SAINT COSME
CÔTES DU RHÔNE, 2O19
It doesn't say Syrah on the label, but that's what it is, 1OO percent varietal, which sets it apart from most wines in the appellation that contain a little bit of the grape mixed in with a majority of Grenache, Cinsault and some Mourvedre. It's higher voltage than most Cotes du Rhone, with amped up tannin and spice. Raspberry like, floral and toasty (despite not even a bit of oak treatment), it's on the medium bodied savory side of the spectrum. Lovely balance, dark berry fruit flavors, exotic licorice notes. AVAILABLE FROM Classic Wine Imports.
ROD MCDONALD "MISTER" SYRAH
HAWKES BAY, 2O19
Yes, the North Island of New Zealand also makes fine Syrah, lighter in body and lower in alcohol than most versions, but very potent in every other relevant way: aroma, palate profile, and finish. This smells like autumn: dried leaves, wood-burning fires, red berry compote. There's a tart, very earthy, black pepper mélange of flavors with hints of cocoa and more than a hint of tannin. This will age, but it's a good accompaniment right now, if decanted for a half-hour, with hearty stews and slow-cooked meat dishes. AVAILABLE FROM MS Walker.
FIRST DROP "MOTHER'S MILK" SHIRAZ
BAROSSA VALLEY, 2O18
From ground zero of Australia's wine industry, and its most prominent wine-producing valley, Mother's Milk is a longtime favorite and blind tasting winner that hits the high notes this vintage. It's rounded and silky, with a coffee mocha note that draws you in, but then well-structured tart red cherry notes that keep it from being cloying. Aged in old neutral puncheons, it has charm, savoriness and a hint of pipe tobacco, and very moderate tannins. This is a delicious quaffer, but also a fine backdrop wine to support stronger food flavors. It also strikes me as a wine that will keep developing for at least three years. AVAILABLE FROM Horizon Beverage.
MITOLO "JESTER" SHIRAZ
MCLAREN VALE, 2O18
My perennial blind tasting winner, Jester hails from McLaren Vale, a marquee district whose moderate oceanic-influenced climate, and extended hang time, build structure and balance to tame the tendency of Shiraz to get very ripe very quickly on the vine in warmer zones. This is the product of a cooler temperature-controlled fermentation to preserve structure and fruit. Aged mostly in older French oak, it's all about density and dark wild berries accented by tobacco on the nose. It's supple, ripe, richly fruity and with clove and black pepper notes. Mouth-coating and intensely concentrated with medium round tannin, this is a great duck or turkey accompaniment. AVAILABLE FROM Classic Wine Imports.
CHAPOUTIER "TOURNON" MATHILDA
VICTORIA, 2O18
Michel Chapoutier is a giant of the Rhône Valley, a biodynamic producer who excels throughout the Rhône, but particularly in the north, the home of Syrah. His Australian project shows these impeccable French bloodlines. The aromatics are cooked wild berries, plums, and root vegetables, all the way. The velvety fruit comes in on the palate, but it never dominates the earthy notes. Ripe, with moderate acids, and soft tannins, this has all the layering and boldness of a polished St. Joseph. A New World wine with an Old World attitude. AVAILABLE FROM Boston Wine Company.
ROBERT OATLEY SHIRAZ
MCLAREN VALE, 2O17
Back to this cool coastal South Australian district for something a bit different. Oatley's Shiraz is all about violet, blueberry, leafy notes. It's smooth, juicy and intriguing on the palate, maintaining freshness while not tasting insubstantial. There's also a gamey, leathery grace note that adds palate appeal. A more complex wine than you'd expect from the moderate price tag. AVAILABLE FROM Baystate Wine Company.