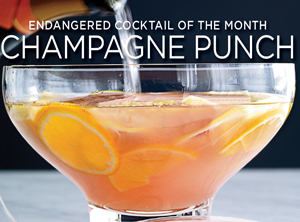 ENDANGERED COCKTAIL OF THE MONTH – CHAMPAGNE PUNCH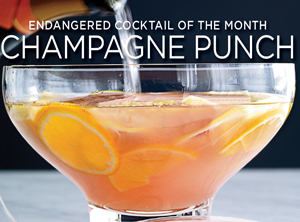 by PINK LADY
As we find ourselves in the home stretch of 2O2O, we can't say we're sad to see it go. Mixing up a bowl of punch is our preferred way to celebrate the Season of Giving, and though the groups gathering around our respective punch bowls might be quite a bit smaller in 2O2O, we anticipate guests who are highly motivated to see that punch bowl through to the bottom. This simple formula for Champagne Punch comes from Jerry Thomas, the original star bartender. It has stood the test of time, and could even be called foolproof!
As we learn from Punch: The Delights and Dangers of the Flowing Bowl, David Wondrich's wonderful boozy history of the category, punch was all the rage in merry old England in the 18th century, but their neighbors across the English Channel in France didn't really get it. To be fair, the popular recipes for "Le Ponche" these Brits were drinking contained "two-thirds eau-de-vie and one third water, with sugar, cinnamon, powdered cloves, toasted bread, often egg yolks and milk to thicken it all up." We can't we blame French drinkers for their skepticism. The innovation that retrofitted punch for the French cafe came from Parisian women, who rejected the British recipe "because of the "strong breath' that spirits leave" but found punch quite palatable when made with a little vin de Champagne.
With French roots, this Champagne Punch recipe comes to us from New York, where Jerry Thomas was a star bartender when he composed his 1862 Bar-tenders Guide. If anyone knew Champagne, it was Thomas and his brothers in the "Sporting Fraternity" of the era: "the world has never known greater devotees of Champagne than the miscellaneous gamblers, actors, politicians, pugilists, writers and other players who made up that crowd." Here's hoping this pretty and refreshing formula can get you all the way through to 2O21.
CHAMPAGNE PUNCH
1 75Oml bottle of brut Champagne, chilled • 2 OUNCES of sugar • 1 orange, thinly sliced • Juice of 1 lemon • 3 slices of pineapple, thinly sliced • 2 OUNCES of raspberry or strawberry syrup
DISSOLVE the sugar in lemon juice.
ADD lemon-sugar mixture and remaining ingredients to a pre-chilled punch bowl, gently STIR to combine, and serve.
Can be served over a large, dense block of ice.
Cin-cin!