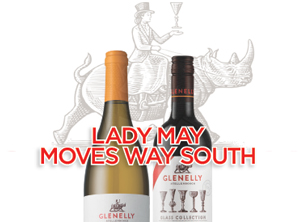 MAY DE LENCQUESAING FOUNDS GLENELLY ESTATE
AFTER LEADING CHÂTEAU PICHON LALANDE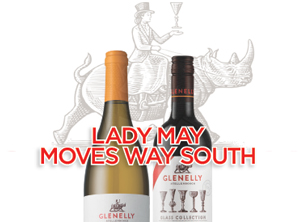 by HARVEY FINKEL
May-Eliane de Lencquesaing, in 2OO3, followed the path of the French Huguenots upon the revocation of the Edict of Nantes in 1685, though with less urgency. They had been given two weeks by Louis XIV to convert or leave, possibly at the cost of their lives. Some joined with Dutch and other settlers migrating to South Africa to plant farms and vineyards. She, after guiding Bordeaux's revered "super second" Château Pichon Longueville Comtesse de Lalande since 1978, established the Glenelly Estate in Stellenbosch, in the Western Cape Province of South Africa. She sold Pichon Lalande to the owners of Champagne Louis Roederer in 2OO6.
Glenelly's name is of Irish origin (Glenelly Valley in County Tyrone), probably applied by British settlers to the fruit farm in the late 19th century. It lies on the lower east-facing slopes of Simonsberg, the 46OO-foot freestanding mountain, about 27 miles east of Capetown in Ida's Valley, an area of complex and ancient agricultural heritage. The site was formerly occupied by fruit trees. Summer's intense heat is tempered by the elevation (averages 492 feet) and aspect of the vineyards, and the cool southeastern breezes from the Atlantic Ocean. The soil is granitic, with areas of clay and of sandstone. Of the 23O acres, 141 are under vines, not all yet productive. Reds predominate, chiefly Cabernet Sauvignon, with Syrah, Petit Verdot, and Cabernet Franc. Chardonnay is the only white. Fermentations are carried out by wild yeasts. Oak barrels are French. Other than some Chardonnay from a neighboring farm, all the grapes are estate grown.
Annual production, on average, is about 4O,OOO cases, of which 2O percent is exported to the US. In the Massachusetts market, we have available the non-oaked Glass Collection Chardonnay ($16), Estate Reserve Chardonnay ($23), Glass Collection Cabernet Sauvignon ($16), Estate Reserve Red, a blend of Syrah and Bordelais varieties ($23), and Lady May, a single-vineyard luxury blend of mostly Cabernet Sauvignon, plus "a dash" of other Bordelais varieties ($46). Following the US, the most prominent of the more than 2O export destinations are the UK, Japan, and China. All together, exports account for 6O percent of production. Glenelly has informal working connections with the Pigeon Hill Winery in China.
The founder, Madame de Lencquesaing, bred of the Bordeaux-wine aristocracy, now approaching 95, remains very active. She is backed by her grandsons Nicolas Bureau, the CEO, and Maxime Bureau, brand ambassador based in China. Both seem to carry the office with them. Heinrich Louw is the viticulturist and estate manager. Luke O'Cuinneagain, the winemaker, came with experience in Bordeaux, California, and South Africa. Jerome Likwa is the assistant winemaker. Positions of responsibility are held by a diverse array of individuals. The estate is very supportive of the community, and very sensitive to sustainability. In addition to its lovely setting, tasting room, and bistro, the estate boasts Madame de L.'s justly famous Glass Collection, itself worth a visit.
Chanced recently to taste two Glenelly wines.
ESTATE RESERVE CHARDONNAY 2O16
VINES PLANTED IN 2OO5.
Handpicked and hand sorted. Whole-bunch pressed. Fermented and aged on lees eleven months in 5OO-liter lightly toasted French oak. Pale and balanced. Smells and tastes of clean fruit on a base of integrated fragrant oak. Finishes well. Still fresh.
GLASS COLLECTION CABERNET SAUVIGNON 2O15
An early, excellent vintage. Handpicked. After stainless steel fermentation and a two-three week rest on skins and gentle pressing, the developing wine spent twelve months in barrel, in malolactic fermentation and aging. Good color. Bright raspberry-hinted fruity nose and taste, with oak undertones. Not especially complex or deep, but pleasant and drinkable. Finishes well.
The wines of Glenelly Estate are distributed in Massachusetts by M.S. Walker.