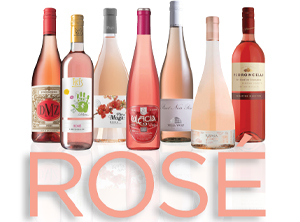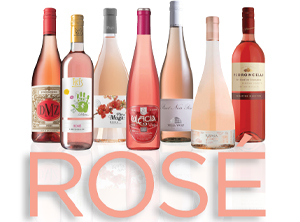 by SANDY BLOCK, MW
There was a time, and not so long ago really, when wholesalers and retailers were adamantly against stocking Rosé in their warehouses or having much if any left on their shelves, after Labor Day weekend. "Rosé Season" ended abruptly in the fall, and perhaps it was a self-fulfilling prophecy, but sales dropped to almost zero in the months when we gravitate towards stews, roasts, and heavier fare in general. That's changed. There's still a dip in Rosé drinking when cool weather sets in, but my numbers indicate something along the lines of 6O to 65% as opposed to an almost 1OO% drop off. We're becoming more full-on European in this regard, with Rosé now a viable year-round option.
Overall, Rosé consumption in the US has increased severalfold in the last five to six years, despite a very low single digit rate of growth in the general wine market. Why? As opposed to previously negative associations with cheaply made often sugary pop wines, Rosé's attained the status of a fashion statement. Not serious or stodgy, but cool, and crushable. People like to flaunt their pink wine in public. But unlike hot red or white wine categories, trade up to even the most sought-after Rosé bottling is not a budget buster. Three other not-so-shocking theories I've advanced recently that seem to be driving Rosé sales: pink wine looks great on Instagram; in general it's less expensive to produce (no aging, no barrel purchases, no costly concrete eggs) and therefore helps keep every party along the production chain cash flow positive; and as we all grow lazier, you generally don't need to go find a corkscrew to open a bottle.
Just as in the world of red, white, and sparkling wine, not all Rosé is created equal. The range of color is actually extreme in this category, from very pale onion skin, to vibrant purplish pink. Hue reflects the pigmentation in the skins of the red grape varieties that are used (for example, the difference between Cabernet Sauvignon or Cabernet Franc and Grenache or Pinot Noir), as well as the duration of skin contact during crushing and fermentation. What every self-respecting Rosé should not have is tannin. This is why the wines taste so good chilled: you get red grape flavor, but it's also refreshing. One myth about Rosé is that you have to drink it up within a year after the vintage. While there are only a handful of examples I've ever tasted that actually improve dramatically with age, there's no problem drinking certain well-structured properly stored pink wines up to three years after the harvest.
A final word of introduction about quality: it's been going up, at the same time that it's been going down. Now that Rosé is taken seriously and commands a fair price, there are producers who are making it, not as a byproduct, but as one of their star attractions. But, now that it's easy to sell, and some of the market is not very discriminating, there's been a large influx of new Rosé on the market that tastes very diluted and dull in character. Why? Because they can be. In other words, if enough stores and restaurants see that anything labelled Rosé will sell, and sell quickly, that's what they will stock: anything with Rosé on the label.
The following are recent blind tasting winners, and are all outstanding:
DEMORGENZON "DMZ" ROSÉ, STELLENBOSCH, 2O19
This is a charming Rhône blend produced at high altitude vineyards in South Africa, with a bright juicy fruit quality. It has inviting notes of watermelon, strawberry and black pepper, and finishes dry and spicy. There is a strong herbal influence from the 2O% Cinsault and 2O% Mourvedre. Very savory. AVAILABLE FROM MS Walker.
KRIS "LIMITED RELEASE" ROSÉ,
VENETO, 2O19
Pale, orange pink in color, from northern Italy, this Rosé features strawberry blossom, cherry, basil and thyme notes with refreshing acids. Cool-fermented, and made from Corvina and Rondinella (traditional Valpolicella and Amarone varieties), it's a fresh, round and balanced Rosé, with a relatively soft and low key personality. Bone dry, and charming! AVAILABLE FROM Boston Wine Company.
FLOR DE MUGA ROSADO, RIOJA, 2O19
As in most Southern European countries, Rosé is a way of life in Spain. This is a majority Garnacha, which has been dwindling in acreage in Rioja, losing ground to the inexorable march of Tempranillo. It also has some white grapes (3O% Viura); a wine made this way in Spain, mixing red and white varieties, is called Clarete. It's macerated on the skin for several hours, then fermented very slowly at cool temperatures in small wooden vats over a period of a few weeks. Pale pink, with hints of copper, it has a round texture, with charming cherry and tobacco notes. AVAILABLE FROM Classic Wine Imports.
ULACIA ROSÉ, TXAKOLI GETARIA, 2O18
From the windy Bay of Biscay in another part of Spain, the Basque region, this also a combination of red and white grapes, in this instance two local grapes. The red, Hondarrabi Beltza, and the white, Hondarrabi Zuri, combine to fashion this brightly spritzy light to medium pink wine with savory vegetal notes, sharp cranberry flavors and a zesty mineral finish. It's low in alcohol and features a bright palate-tingling CO2 spritz. AVAILABLE FROM MS Walker.
ERNST LOOSEN, VILLA WOLF,
PINOT NOIR ROSÉ, PFALZ, 2O19
Something really exciting is happening with Pfalz Rosé made from Spatburgunder, or as it's known elsewhere Pinot Noir. This has a medium salmon color, an aroma of tangerine, and stony minerals. It's tangy on the palate, with juicy orange and lemon zest flavors. Climate change appears to have impacted average ripeness levels in Germany and its ability to produce more flavorful red grapes in what were previously marginal vineyard areas. Average quality of other German Rosé I've tasted has also been very good the last few vintages. AVAILABLE FROM Classic Wine Imports.
SUSANA BALBO, "SIGNATURE" ROSÉ,
UCO VALLEY, ARGENTINA, 2O18
From ultra-high Andean foothill elevations up to 4,OOO feet, this is produced by one of Argentina's star winemakers in a very engaging style. 6O% Malbec and 4O% Pinot Noir, both very lightly pressed, it shows a lively earthy character, round smooth texture and notes of strawberry and red cherry. Gentle and mellow, with lingering tangerine, berry and hints of mocha. AVAILABLE FROM Horizon Beverage Company.
PEDRONCELLI DRY ROSÉ OF ZINFANDEL, DRY CREEK VALLEY, 2O18
And the winner: an American estate bottled Zin-based pink! Who would've thought? Made from grapes originating on rocky Dry Creek Valley soils, this is really lovely. Medium pink, it has an engaging floral perfume, mixed with notes of honeydew and fresh berries. Round, bright and spicy on the palate, this latter-day pink hued Zinfandel has a good juicy intensity, raspberry-like flavors, and some lingering mineral notes. In this case, at least, what's old is new again! AVAILABLE FROM Classic Wine Imports.