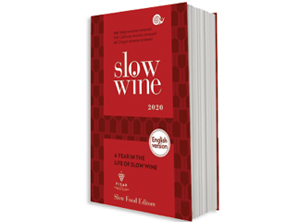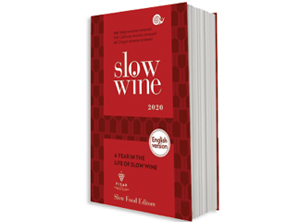 by HARVEY FINKEL
Slow Wine is a part of the Slow Food movement ignited in 1986 by a demonstration against the proposed construction of a McDonald's at Rome's beloved Spanish Steps. Carlo Petrini and colleagues notched it up afterwards, so that following its official establishment in Paris in 1989, Slow Food's message resonated across the globe to become an international reaction against the depredations of burgeoning fast food.
The Slow Wine facet became manifest with the 1993 publication of the well-received ITALIAN WINES in association with publisher Gambero Rosso. Divergent visions led to divorce, with Slow Wine publishing its own wine guide independently, starting in 2O1O. The new edition of the English version was recently released, during a 1Oth Anniversary Slow Wine National Tour: SLOW WINE 2O2O, edited by Giancarlo Gariglio and Fabio Giavedoni (Bra, Italy: Slow Food Editore, 2O19, 384 pp, $25 trade paper).
Based on Petrini's founding principles of "good, clean, fair," over 6OO wineries from Italy, Slovenia, California, and Oregon are considered and judged on "wine quality, history and adherence to terroir, value, environmental sensitivity and ecologically sustainable methods of practice," Numerical scores are not used. Each winery is allotted a half-page, with succinct paragraphs describing its people, vineyards, and wines, and its viticultural practices are listed. Many are prefaced by an overarching editorial comment. The comments and judgments appear sound and useful, though I find the categories of approval blurringly indistinct. An exception to the good sense of most of the reviews is that of The Eyrie Vineyards in Oregon. The late, great David Lett must have been set atwirling by "medium long sexy finish" and "funk wrapped candied fruit."
Next year's edition promises to include eastern American wines. The guide also needs to survey a greater proportion of the wineries in each region.