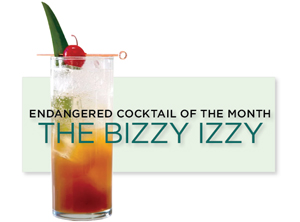 ENDANGERED COCKTAIL OF THE MONTH-THE BIZZY IZZY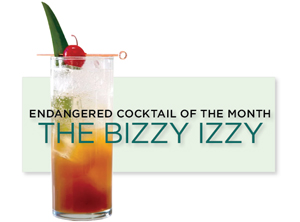 by PPINK LADY
While we were in quarantine, we noticed even greater attention being paid than usual to "national" drinks holidays. A new cocktail seemed to pop into our newsfeed every week, encouraging celebration via stylized photos and socially distant happy hours: National Daiquiri Day (July 19), National Whiskey Sour Day (August 25), National Martini Day (June 19.) We wondered: "Who comes up with all these holiday's? Who gives them the right?" With National Bourbon Heritage Month, we know exactly who deemed September the month to celebrate America's Native Spirit writ large: the U.S. Senate.
On August 2, 2OO7 the U.S. Senate unanimously passed a bill presented by a Kentucky Senator declaring September National Bourbon Heritage Month. Huzzah! This month, we're raising a glass to a delicious bourbon cocktail created by Tom Bullock, the first African American bartender to publish a cocktail book, The Ideal Bartender, which debuted in 1917 just 3 years before Prohibition. We mentioned Tom last month, and his Bizzy Izzy cocktail is a perfect refresher to bid adieu to the hot summer months, especially if your September evenings are barely any cooler than your August ones were.
Tom was born in Louisville, Kentucky in 1872, the son of an ex-Union soldier and former slave. He worked his way up from bellboy to bartender at Louisville's Pendennis Club, eventually settling in St. Louis. Bullock served wealthy and famous guests at the St. Louis Country Club, where he was renowned for his irresistible Mint Juleps. One among these, George Herbert Walker, the grandfather and great-grandfather of modern Presidents George H.W. and George W., penned the foreword to his cocktail book. Published as it was so recently before Prohibition, Bullock's Ideal Bartender is believed to share a real snapshot of southern drinking culture before the craft was put on a 13-year pause.
You have all month to celebrate Bourbon – Cheers to Bourbon and to Tom Bullock!
THE BIZZY IZZY
ADAPTED FROM FOOD & WINE
1 1/4 ounces of Oloroso Sherry
1 ounce of Bourbon
1/2 ounce of Demerara syrup
1/2 ounce of fresh pineapple
1/2 ounce of fresh lemon juice
3 ounceS of soda water
Combine all ingredients except soda water in a cocktail shaker with ice. Shake vigorously to combine, then STRAIN over new ice in a Collins glass. TOP with soda water and Garnish with a maraschino cherry and pineapple frond.
Cin-cin!