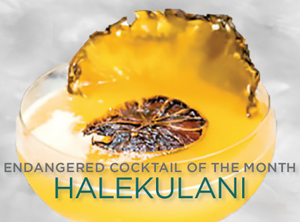 ENDANGERED COCKTAIL OF THE MONTH – HALEKULANI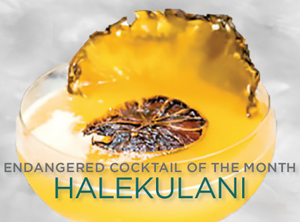 by PINK LADY
August in New England provides some of the loungiest days of summer, and with 2O2O being what it's been so far, we are leaning into it. We've found the perfect reading and drinking companion to guide us through, Tiki: Modern Tropical Cocktails, by Shannon Mustipher.
Mustipher is a spirits educator and rum expert based in Brooklyn, New York, and the first African-American author to publish a drinks-making guide in over 1OO years. The last was written by famed barman Tom Bullock and published in 1917, The Ideal Bartender. So yes, it's been a while. Mustipher helmed the bar at Glady's Caribbean in Brooklyn before they shuttered this June due to the financial stress caused by the COVID-19 pandemic. Her program was renowned for its variety of rums and rhums, and cocktails that Mustipher developed to be "bright, crisp, and nuanced drinks" that showcased "rum as an exemplary mixing spirit." Her book is a collection of hits from the bar, foundational drinks, classic Tiki recipes, and adventurous originals. Look for a cameo by Boston's own Brother Cleve, The Fogcutter — Brother Cleve Remix!
Tiki: Modern Tropical Cocktails is perfect for lounging because it is as lovely to behold as the drinks are to sample, with Mustipher's background as an artist evidenced in her recipes. Tiki is a famously complex cocktail genre, but these recipes are both exacting and approachable. So, you might crack the spine while sitting on the lanai thinking "I'll just sip something neat or make a Daiquiri" and find yourself making avocado oil-washed mezcal or homemade banana milk in good time. It's August in New England, what else do you have to do? (Even a long to-do list is easy to ignore in August.) The Halekulani was first served at the House Without a Key Bar at the famous Halekulani resort in Waikiki, Hawaii. "Think of it as a punchier Whiskey Sour, with additional flavors of fruit and spices to add a beach resort flavor," Mustipher writes. This is a drink you might want to make in volume, to ensure you have to move from your hammock or lounge chair as little as possible (don't worry, there are instructions included for just that very purpose.)
HALEKULANI
1 1/2 ounces of overproof bourbon
1/2 ounce of Demerara syrup
1 bar spoon grenadine
1/2 ounce of pineapple
1/2 ounce of fresh orange juice
1/2 ounce of fresh lemon juice
1 dash Angostura bitters
Garnish Dehydrated pineapple wedge,
Dehydrated citrus wheel
Combine all ingredients in a shaker with cubed ice. Shake and fine strain into a chilled coupe. Garnish with a dehydrated pineapple wedge and dehydrated blood orange or lemon wheel.
Cin-cin!