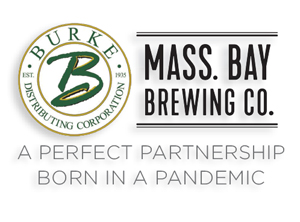 BURKE DISTRIBUTING CORPORATION and MASS BAY BREWING COMPANY-A PERFECT PARTNERSHIP BORN IN A PANDEMIC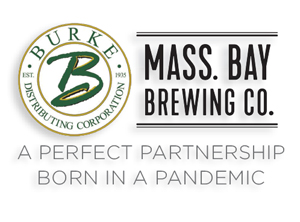 by KIRSTEN AMANN
In the beverage alcohol business, where deals are developed face to face and closed with a firm handshake, can a decision about who distributes your products in your biggest market be reached in a socially distant way? For Burke Distributing Corporation and Mass Bay Brewing Company, the answer is a resounding yes.
"Except for a meeting pre-COVID in February just to get to know each other better, mostly everything else happened over computers," says Bill Burke, President of Burke Distributing Corporation. "We've gotten pretty good at these Microsoft meetings now." Good enough to ink a deal for the distribution rights for Mass Bay Brewing Company, whose brands include Harpoon, UFO, Clown Shoes, Arctic Summer, and City Roots Cider. Burke began delivering their products on June 22nd.
"When I tell people that we got a big deal done in the middle of COVID, they are impressed," says Dan Kenary, CEO and Cofounder of Mass Bay Brewing Company (MBBC), speaking to the uncertainty of this moment and the challenges facing business owners, large and small. "It would have just been so easy to walk away and say 'let's talk next year.'" So, to Kenary, the sale of their distribution rights feels serendipitous. "It makes me feel so much better about this partnership because it was born during this time."
At a time when "business as usual" is anything but, the new partnership between Burke Distributing and Mass Bay Brewing Company will allow both companies to lean into what they do best. "We started 34 years ago, and for most of our history we've been self-distributing," says Kenary. Known publicly as Harpoon Brewery, they received Brewer's License OO1 in 1987, becoming the first brewery in Massachusetts in over 3O years at the time. In the nearly three and a half decades since their flagship Harpoon Ale first hit the shelves, the landscape has changed: "The number of licenses has gone up, the competition has gone up, it's just become a more complex business."
In addition to local competition, MBBC has continued to innovate and grow their own product line: "We've got a lot of momentum behind certain brands," says Kenary. "Harpoon IPA has new packaging that just came out, Rec League is on fire, Arctic Summer has new packaging and branding with closer ties to Polar Beverage than ever before, and Clown Shoes has record sales in the off-premise. There's a lot of stuff that's really working well." As the portfolio has expanded, distribution has become more complex.
"What became very clear," says Kenary, "was that strategically, we're going to be successful in the craft beer world based on our ability to make great beer, hard seltzer and cider, and brand and market it well – not our ability to deliver kegs and cases. That's something that Bill and his team do better than anybody else in this market."
The family owned Burke Distributing Corporation has earned its spot as one of the great beer distributors in the state. Founded in 1935, shortly after Prohibition ended, Burke has been servicing the state for 85 eventful years. In that time Burke has been the second largest single-location distributor in Miller's network, one of the first distributors for Mike's Hard Lemonade, and early adopters for a then-unknown product called Red Bull. More recently, the company has kept pace with current craft beer trends and also built a formidable spirits portfolio. "I've been a longtime admirer of Bill, his family and his business," says Kenary, "so I thought, if we can get a partnership going, that would be a wonderful thing."
For customers, the new partnership with Burke and Mass Bay Brewing will only streamline the ordering and fulfillment process for the products they know and love. "It's great for the customer because it's one less person they have to meet with," says Bill Burke. "One less check that they have to write, one less delivery they have to worry about taking, and that's all good for them." Especially now, when every day can reveal a new hurdle as Massachusetts business owners navigate reopening the economy. "We have a strong portfolio," comments Bill, "and this is another way for us to work with customers to bring them everything that they need, and a bit more one-stop shopping."
Internally, acquiring distribution rights for Mass Bay Brewing Company's beloved brands has felt like a vote of confidence in the Burke Distributing Corporation business: "Our employees see us all of a sudden acquiring these great iconic brands from Harpoon, who've entrusted their baby to us, right in their home market," Bill comments. It's a boon to the company, a sign of continued success, and of more good things to come.
Culture fit was important for Mass Bay Brewing Company as they considered the deal, according to Kenary, who feels a kinship between the family-owned Burke Distributing Corporation and his employee-owned operation. Handing over the Mass territory, home to the flagship original brewery, beer hall, and their biggest market, is a very big deal: "Boston is our crown jewel and has been since we started the company. It's been our focus, it's a large percentage of our sales, and we have incredibly deep roots here." As their conversations about partnership evolved across video conferences, Kenary's admiration for Burke Distributing deepened both his trust and his confidence. "This is a very, very big deal to the employee owners here, and the more we've gotten to know the Burke team, the better we feel about it."
"For us, we're excited to get involved with Dan because we totally respect the company," says Burke, "they've got great brands and we knew that it would be a great addition for us, especially during this time frame with COVID happening." The products align well with Burke Distributing's portfolio and will be served by the company's reputation for top notch customer service and agility in a changing marketplace.
"It's been great getting to know each other. I think we've hit it off strong right from the beginning," says Bill Burke. "Conversations are easy to come by."
"And that's without even being able to have beers together," says Kenary. "I mean, that's even more amazing in our industry."