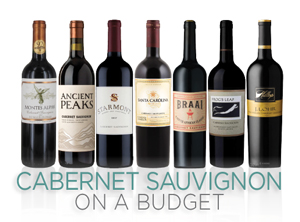 CABERNET SAUVIGNON ON A BUDGET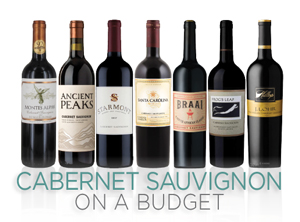 by SANDY BLOCK, MW
Despite the rise of so many formerly unfamiliar varieties and delicious blends, Cabernet Sauvignon remains king of red wine. It's got a bold character by nature, with some rough edges, and therefore not everyone's first choice, but that's the reason so many of us to continue to view it as the benchmark against which other reds are measured: its power and intensity. If you want a wine to complement hearty dishes, there's none more consistently reliable.
As prices for most Cabernets from the classic districts of Napa and Sonoma have skyrocketed out of the everyday affordable range and into the "collectible" category for most consumers, interest in the variety has only increased. "Cabernet Sauvignon" functions as a trusted brand. And the good news is that although this variety requires a specific climate (sunny and hot, but not too hot; not warm enough and the wine is herbaceous) and soil profile (rocky, well-drained) defining where it thrives, it finds many homes dispersed quite widely throughout the world. Cabernet is also not a grape that automatically tastes washed out and diluted at somewhat higher than optimum yields. One of the reasons that costs can be more reasonable is that the less concentrated the harvest, the less (if any) expensive new oak barrels are required for aging to soften and balance the fruit, and the more quickly the wine can be released for sale. Another reason relates to the more moderate cost of acquiring and tending grapevine acreage in different parts of the world, particularly once you venture beyond the aristocratic appellations. Bottom line: if you search carefully there's always relatively concentrated, even delicious Cabernet Sauvignon on the market for a reasonable price.
As readers of this column over the years no doubt already know, my perspective is that blind tastings provide the ultimate test; they don't lie, and especially when looking for value they provide the most reliable test of preference, if not quality. The following standouts may not have the most impressive labels, but for casual quaffing they offer excellent price value rapport and drinking pleasure. What they won't do is age like more expensive Cabernets do, but on all other scores they deliver. And, the key with wines like this is, if their tannin level strikes you as oppressively high when you open the bottle, you have it in your power to fix that with aeration, either by pouring the wine into a decanter, or just into a large-bowled glass at least thirty minutes prior to serving. One final note about style: it's my preference, and my understanding of most Cabernet fans' collective palate that I encounter, for black rather than red fruit, and for some degree of tannic intensity. There are perfectly good tasting, moderately priced, red fruited, medium-bodied Cabernets on the market, but to me other grape varieties offer more consistent value in that mode, so I've left them out of this review. As usual, the following are listed in ascending order of preference.
MONTES ALPHA CABERNET SAUVIGNON,
COLCHAGUA VALLEY, 2017
Pound for pound and peso for peso, it's hard to beat Chile for Cabernet value. A generally consistent climate, sunny and dry but with ample water for irrigation from the Andes snow melt, the country's classic districts (Maipo and Colchagua at the top of the list) continue to churn out Cabernets with character at hard to beat prices. Aurelio Montes, godfather of the Chilean wine Renaissance, always produces quality at whatever the price range. This has a rosemary, mint leaf aromatic profile, with tart juicy black cherry fruit and moderate tannins. A delicious starter Cabernet for those who might be a little afraid of the grape. AVAILABLE FROM Classic Wine Imports and Horizon Beverage Company.
ANCIENT PEAKS CABERNET SAUVIGNON,
PASO ROBLES, 2016
My first experiences with Cabernet from this Central Coast AVA, located halfway between San Francisco and Los Angeles, were not encouraging, but there's been a lot of learning in the past few decades, and now more often than not Paso is turning out well-balanced, medium weight, approachable Cabernet that is right on the money. This has a boysenberry and smoke aroma, the fruit is dark, with admirable intensity, and excellent ripeness. Supple and round, it's very satisfying, if not complex. A style that I'm coming to associate more and more with Paso Robles based on releases I've tasted in the last five years. AVAILABLE FROM Boston Wine Company.
STARMONT CABERNET SAUVIGNON,
NORTH COAST, 2017
North Coast means the grapes can originate anywhere in Napa, Sonoma, Mendocino or Lake Counties, but at this price range there's probably only a little of the mix from Napa. This wine's all about texture: soft and silky, but with a considerable payload of polished tannins. The fragrance is an appealing mélange of blueberry compote, plum, cedar, mint, and green pepper. Extracted and layered, with a soft lingering echo of toast in the finish. AVAILABLE FROM Boston Wine Company and Carolina Wine & Spirits.
SANTA CAROLINA CABERNET SAUVIGNON,
MAIPO VALLEY, 2016
Saying Maipo in Chile is like saying Napa in California: it's the classic district. Cabernet is accorded a special place of reverence in the Chilean wine pantheon, and although it's the most widely planted red, it's also given the highest respect for quality. Santa Carolina is one of those very large companies (the others being Concha y Toro and Santa Rita) that definitively disprove the "big is bad" myth. This beauty is opaque, with dark violet, plum jam aromatics, and hints of licorice. On the palate: chocolatey, lush, rich and velvety, with a bit of a leathery tannic bite. AVAILABLE FROM United Liquors.
BRAAI CABERNET SAUVIGNON,
WESTERN CAPE, 2018
South African Cabernet Sauvignon has yet to establish itself as a go-to category on the US market, and the moderately priced examples I have tasted over the years are often spotty in terms of quality, with too many that are excessively herbaceous, but this is a real winner in the 2018 vintage, as it was in 2016. Interestingly enough the 2017 tasted a year ago was a bit less structured, but the current vintage has admirable weight, and intensity. Like many of its South African brethren there is a Bordeaux-like note of tobacco, earth and cedar, with some luscious black currant fruit notes on the palate, and some red berry notes as well. AVAILABLE FROM MS Walker.
FROG'S LEAP CABERNET SAUVIGNON,
RUTHERFORD, 2016
This Central Napa standby sits on the northern borderline of "budget" but I thought I'd include it because it's so impressive, and still a tremendous value compared to other wines from its neighborhood. Big and bold, with a perfume of molten chocolate and dark black cherry, it occupies a satisfying mid ground between very strong extraction and soft elegance. There are intriguing mocha and espresso notes on the palate to add a bit of an edge to the round juiciness. This is a wine with undeniable grip, authority and opulence. AVAILABLE FROM Carolina Wine & Spirits.
J. LOHR "HILLTOP" CABERNET SAUVIGNON,
PASO ROBLES, 2016
Somewhere it was written that Cabernet Sauvignon and fish are a "bad match." Try this with a grilled tuna steak and let's talk. This is my ultimate moderate priced Cabernet in the most current round of blinds. It's another example, as with some of the Chileans, of how big wineries can focus and make excellent wines. Smoky, jammy, ripe and rich, this has an excellent expression of blackberry fruit and dark chocolate, to go along with its medium, beautifully balanced tannins. Lingering on the palate and impressive! AVAILABLE FROM Ruby Wines.