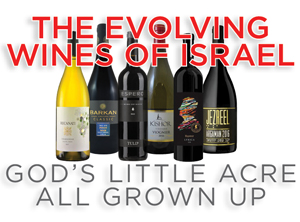 THE EVOLVING WINES OF ISRAEL-GOD'S LITTLE ACRE ALL GROWN UP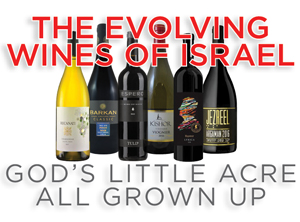 by HARVEY FINKEL
Wine production in the Holy Land has been on a 4OOO-year slow roller coaster. Biblically renowned, reputed as of premium export quality before the Common Era, Israeli wine hit low points under various external dominations, especially during the 1,2OO years of mostly Islamic control, ending in a rebirth in the nineteenth century, and a return to the world stage in the late twentieth. French know-how and grape varieties and Rothschild generosity played midwife to the rebirth. Moving the viticultural focus to slopes at higher elevation, a California-inspired vinification technology that shot to the forefront, and an exuberant dining culture fueled the transformation back to widespread interest and respect.
Located at the eastern end of the Mediterranean, Israel is, like so many other places, nearly the size of New Jersey. Its population is nine million, 21 percent mostly abstemious Arabs. The climate is Mediterranean, temperature and humidity decreasing and wind increasing with elevation. Rain is limited to winter. Israel was early in the use of drip irrigation. Soils are volcanic in the north, sandy in the coastal lowlands, chalky limestone in the central hills. The delineation of officially registered wine regions is marginally informative. Its 55OO hectares of vines destined for wine production produce 55,OOO metric tons of wine grapes, 4O million bottles annually (65 percent red).
While Bordeaux varieties have been most successful heretofore, emphasis in the vineyards and wineries is shifting to Mediterranean and even local varieties that thrive without strain in Israel's climate. Look for more development of such varieties as Carignan, Syrah, Marsanne, and Argaman. Rare is the wine that resembles the traditional sweetened American kosher syrup that our grandparents may have known. In fact, only 55 percent of Israel's wineries are kosher, but they produce 95 percent of Israel's wines. In my experience, the kosher wines generally do not taste distinctly different from non-kosher wines. Many of both have been lauded by the international press. The country contains 7O commercial wineries and more than 25O boutique wineries of various size. Twenty percent of production is exported, mainly to the U.S., France, the UK, Canada, Poland, Germany, and eastern Asia.
First are three wines of international varieties (which means French) selected from a large eligible group to illustrate the current state of the art. All three are available in Massachusetts, distributed by Ruby Wines.
CHARDONNAY 2O17, RECANATI WINERY $16
Recanati was founded in 2OOO by Lenny Recanati, a native Israeli of Sicilian parentage, and Uri Shaked. Chief winemaker Gil Shatsberg trained at UC Davis, and incubated in Sonoma, Napa, and Israel. Winemaker Kobi Arviv grew up professionally at Recanati. Recanati produces nearly one million bottles annually of an array of twenty-first century wines, including local and Mediterranean varieties, from sources through much of Israel.
This Chardonnay was grown in a single vineyard in the Upper Galilee, the forested, steeply hilly north of the country. After fermentation in stainless steel tanks, half the wine was allowed to lie sur lie for six months in French oak barrels. Half remained in the tanks. Fragrant. Medium weight. Nice fruit and long finish. Some complexity; a touch of oak. Well-made wine, and a good buy.
CLASSIC PINOT NOIR 2O16, BARKAN VINEYARDS $15
Founded and named for the Friedman family in 1899. After further ownership changes Barkan was reestablished and renamed (for the winery site) in 199O by Yair Lerner and Shmuel Boxer, two of its major growers, and vinously upgraded. Now Israel's second largest producer, more than twelve million bottles annually, it draws grapes from selected sites around the country. The head winemaker is Ido Levinson, who trained at the University of Milan, and gained experience in Tuscany, southern France, Tasmania, and Israel, at Recanati.
Grown in the high desert (Negev), where, in addition to the aridity, the growers must contend with marauding camels dining on the vines, roots included. Light, though with sturdy structure. Faint hint of strawberry, and good finish. It could use more fruit, or is it just in that shy, reserved stage?
ESPERO 2O16, TULIP WINERY $37
Tulip was established by Roy Itzhaki in 2OO3 in the northern village of Kfar Tikva ("Village of Hope"), many of whose residents, adults with developmental and emotional disabilities, work at Tulip. Tulip farms two cool vineyards. David Bar-Ilan, background Australia and Israel, is the winemaker. Production is 1OO,OOO bottles.
Espero ("hope" in Esperanto) is composed of Syrah 55 percent, Merlot 3O, Cabernet Franc 15, grown in cool vineyards in the Galilee. The wine was aged 12 months in French oak. It is dark, has deep smoky, ashy, oaky fruit. Reminds of some Graves. Tannic still, but soft and chewy. Good future.
Next, we sample three wines that may foretell the future, reflecting the location of Israel, especially in this age of climate change. Two are products of established Mediterranean grape varieties, the third of a local Israeli grape. None of the three is yet distributed in Massachusetts, though a glance at the packaging and prices, each being sold for upwards of $3O, $4O, and $5O, respectively, per bottle, and cognizance of the focus and care lavished upon them leaves no doubt of the prestige they enjoy.
VIOGNIER 2O16, KISHOR VINEYARDS
This winery is located within Kibutz Kishorit, a community for adults with special needs, some of whom work for the vineyards/winery. The vines were first planted in 2OO7 by Richard Davis and Itay Lahat. Davis, South African by birth, learned winemaking in Israel. Lahat, educated in Israel and Australia, also heads the Cellar Master Program at Tel-Hai University. They produce more than 5O,OOO bottles per year.
This wine is grown at 5OO meters in the western Galilee. After fermentation, it is aged sur lie for five months in French oak barrels. It contains 3 percent Sauvignon Blanc. Faint aromatic bouquet. Viscous, fruity, long. Maybe hints of peach, then nice twist of lemon in the finish, probably from the Sauvignon. Rewarding texture and fruit.
LYRICA GSM 2O16, HAYOTZER WINERY
Hayotzer, founded in the old city of Jerusalem in 1847 by the Shor family, is managed in its contemporary iteration just outside the city by the seventh and eighth generations. It was the first recorded winery of the modern era in Israel, and now ranks fifth in production (5OO,OOO bottles). Hayotzer means "creator," an image of whom is artfully depicted on the label. The creative winemaker is Philippe Lichtenstein, born and trained in France (Montpelier University and vineyards of southern France), with further extensive experience in Israel.
This is the time-honored Rhônish triad: Grenache 4O percent, Syrah 35, Mourvèdre 25. Stands in the middle of the color and body-weight spectra. Tasty complex of fruit at home on any Mediterranean table. Long finish.
ARGAMAN 2O16, JEZREEL VALEY WINERY
This biblically eventfully located boutique winery was established in 2O12 by Jacob Ner-David and Yehuda Nahar, aiming to enhance the Mediterranean style and nurture indigenous grape varieties. Winemaker Nahar was trained in Israel. Production is 8O,OOO bottles annually.
Argaman is a variety developed in Israel by crossing Carignan with Sousão, seeking a grape to improve the color of red blends. It was first planted in 1984. Now, when grown for low yields in cooler areas, it is finding increasing favor as a single-varietal source. The shifting Hebrew meaning of the name, Argaman, can generate a long debate. In brief, it can be taken to mean deep red or crimson, or reddish purple, "the color of fresh bull's blood." This wine was grown in the Givat Nili Vineyard (elevation 1OO meters) in the coastal area. It was aged for 18 months in 3OO-liter French oak barrels, 3O percent new. It's very dark, of purplish mien. Dark berry fruit, with accents of leather, reminding of Mourvèdre. Good acidity and finish. Not too tannic.