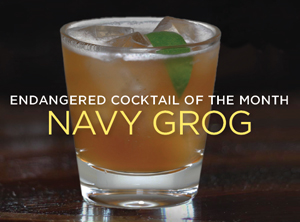 ENDANGERED COCKTAIL OF THE MONTH – NAVY GROG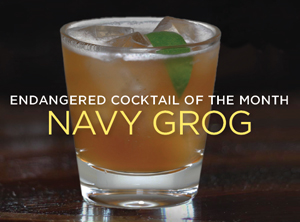 by PINK LADY
The trope of the drunken sailor is a time-honored one, and we owe many of our oldest classic cocktail formulae to its real-life incarnation. The Gimlet, Gin & Tonic, Dark & Stormy, to name just a few, were born on the high seas, where a daily ration of alcohol was compulsory in the British Royal Navy.
Originally, British sailors were entitled by law to a daily ration of a gallon of beer or a pint of wine when beer was unavailable. As sea voyages became longer, the problems of spoilage and the considerable cost of keeping seamen in suds morphed this daily ration to the more readily available and shelf stable option of half a pint of spirits. Officers famously sipped gin, but the enlisted sailor's ration or "tot" was rum: half a pint per day, always high enough proof to still ignite if spilled on gunpowder, at least 57% ABV, known as Navy Strength.
All that strong rum taken all at once could go right to the head, especially in the hot tropical climates of the Caribbean. To resolve the problem of sailors falling out of their riggings, Admiral Edward "Old Grog" Vernon ordered in 174O that daily rations be mixed with water in a 1:4 rum to water ratio, and taken twice a day, once before noon and again at the end of the work day. Citrus juice such as lemon or lime was later added to the equation as an effort to stave off scurvy, though it could also have been a simple effort to make the beverage taste better. Sailors named the drink for "Old Grog" Vernon, after the wool-silk blend of the coat he was known to wear, called grogham.
The daily ration tradition continued in the British Royal Navy until 197O, when the Admiralty Board's concern for the sailors' safety operating "complex, and often delicate, machinery and systems on the correct functioning of which people's lives may depend" outweighed obligations to quench their daily thirst. July 31 of that year was known as Black Tot Day, the last day for daily rations. It was marked by sailors wearing black armbands, tot burials at sea, and a mock funeral procession at the HMS Collingwood training camp, complete with a black coffin, drummers and pipers.
This July marks 5O years since Black Tot Day, and what better time than now to mix up a Navy Grog, raise a glass, and thank this drink for its service?
GROG
1 OUNCE of Dark Navy Rum
4 OUNCES of Water
1 OUNCE of Fresh Lime Juice
1 TEASPOON of Brown Sugar –
or a 1/2 OUNCE of Demerara Syrup
Half a spent Lime Shell
ADD sugar, lime juice and 1 ounce of the water into a cocktail shaker and STIR until the
sugar dissolves. ADD rum, remaining water,
and SHAKE with ice. STRAIN into a rocks glass filled with crushed ice, or Tiki mug and
TOSS in spent lime shell.
Cheers Mate!