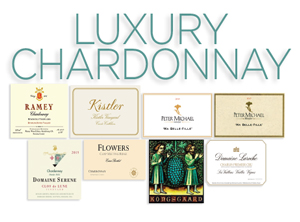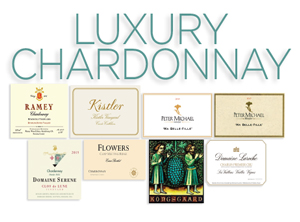 by SANDY BLOCK, MW
In times of crisis we tend to gravitate to what is reassuring and familiar. In wine terms, this means trusted brands and categories that need no elaborate introduction are favored over new discoveries. So, in our current circumstances, the fact that Chardonnay has not been considered cutting edge for decades would appear to be a commercial plus.
Perhaps after all these years as the tried and true reigning superstar varietal in a market now dominated by red wine, it would be helpful to review what made Chardonnay so popular in the first place, and what's sustained its leading market position for so long. It's easy to say, easy to grow, easy to drink, and therefore easy to sell. So, plus-plus-plus for all links on the chain from production to consumer. It's a chameleon, adapting well to a wide variety of climatic and terroir conditions, but it can also precisely reflect terroir differences if yields are restricted. It can be made in a variety of styles, from crisp and lean to rich and luscious, from pleasant and mild to aromatic and concentrated. It's most often ready to drink upon release, but some examples can age remarkably well. And, it can adapt to stainless steel or all imaginable barrel aging protocols.
In other words, what's not to like? Or, more precisely, there's a Chardonnay for almost every taste and budget. The reasons so many professionals, and now consumers, dismiss Chardonnay is because it's been too popular, and also because the style which still leads the market by default is formulaic and exaggerated: very ripe, tropical, honeyed, acidified, high in alcohol, overtly oaky. So, Chardonnay backlash is real, despite the fact that many commodity producers have backed off on the wood and over-ripeness today, and are emphasizing minimally wooded styles.
There is an undeniable sameness to many Chardonnays, a boring flatness, even heaviness that turns a lot of wine drinkers, myself included, off. This, of course, can be true of all varietals, but because Chardonnay is so ubiquitous, it tends to stand out: the feeling that I've had this before. In my experience though, even the most jaded and vehement detractors, those who cast aspersions on the grape as clumsy and unfashionable, can be introduced to Chardonnays that they enjoy, particularly if they experience them in a blind context where the varietal identity is concealed.
The following are what I consider stellar Chardonnays that I've tasted blind recently. They reflect a decidedly higher price point than average. Most are from California, and most have bottle age, but will repay further cellaring. To me they're exciting, distinctive, artisanal wines that match up in quality with those of any other grape variety, and would be a real treat for Chardonnay lovers who want something special to savor during this period when so many people are looking for affordable luxuries.
ROCHIOLI "ROCHIOLI VINEYARD" CHARDONNAY, RUSSIAN RIVER VALLEY, 2O15
From an estate producer and vineyard renowned for Pinot Noir, this is a wine in the creamy, super-butterscotch inflected style, but very dry and complex in aromatics. There is a touch of reduction in the nose that adds interest for me, but the primary notes are caramel, stones and mushroom. On the palate the fruit is very low key, and the outstanding mineral saltiness balances and adds complexity to the wine's omnipresent richness. Bring on the lobster, hold the butter, please! AVAILABLE FROM United Liquors.
KISTLER "KISTLER VINEYARD" CUVÉE CATHLEEN, CHARDONNAY, SONOMA COAST, 2O15
Every Chardonnay Kistler fashions strikes a distinctive note, and to me this one expresses more low key and subtle spicy mineral notes, but with a super-sensual borderline phenolic texture. Just short of gold in color it has a multi-faceted aromatic profile, lightly smoky, with lemongrass, chamomile, candied lemon, and marzipan. With great underlying structure, Cuvée Cathleen unfolds in layers and even at 4+ years old now its full fruit personality is a bit concealed. Decanting for an hour helps and is definitely recommended to bring out more of the delicate spice. AVAILABLE FROM Classic Wine Imports.
PETER MICHAEL "MA BELLE FILLE" CHARDONNAY, KNIGHTS VALLEY, 2O15
Perched at very high elevations this rocky vineyard produces an intensely structured wine with prominent fresh apricot, thyme, ripe apple and mint leaf fragrances. Very enticing. On the palate it's also a bit closed but the superb mineral expression shines forth, as does the concentration. Bone dry, its most significant feature at this stage is the brilliantly long lemon-accented finish. A wine for raw shellfish now, and dover sole in years to come. AVAILABLE FROM Boston Wine Company.
PETER MICHAEL "MA BELLE FILLE" CHARDONNAY, KNIGHTS VALLEY, 2O17
Same wine, two vintages later, identical in quality, but it's got a more floral, pear-like and nectarine personality on the nose, with hints of ginger. The elevated mineral and apple character echo the 2O15. This younger vintage still shows a bit of graphite from the barrels (like the 2O15 it spends eight months in oak, then finishes in stainless), but is ultra-saline, with lime blossom on the palate rather than lemon. Ultimately this strikes me as a wine with a shorter life span, but we're talking 12 to 15 years instead of 18 to 2O. AVAILABLE FROM Boston Wine Company.
DOMAINE SERENE "CLOS DE LUNE" CHARDONNAY, DUNDEE HILLS, 2O15
From a vineyard with soils that are primarily volcanic and clay rich, this wine reflects the warmest earliest harvest, up to that point, in Willamette Valley history. Despite 2O15's intense daytime heat, the nights were cool, and the wine's structural profile is considerably leaner than its California counterparts. It's also a few shades lighter in color. With floral, delicate pineapple, and tea-like aromas, the prominent flavor on the palate is peach pit. There's strong volcanic minerality, but it veers toward chalkiness. Very crisp. AVAILABLE FROM Classic Wine Imports.
FLOWERS "CAMP MEETING RIDGE" CHARDONNAY, SONOMA COAST, 2O15
A wow wine in every way, this is deep, almost gold in color, with exotic nutmeg, vanilla custard and clover honey aromas. It might be too much if not for the brilliant interplay of fruit, oak and spice, and the tremendous concentration, both in the mid-palate and in the finish. Intense, and yet delicate and supple at the same time, this strikes me as a Chardonnay that is ready to drink, but whose opulence will carry it for another 5 to 7 years minimum. I hate to use the word, but Burgundian comes to mind. As in Chassagne, mid-slope Premier Cru. AVAILABLE FROM Classic Wine Imports.
KONGSGAARD CHARDONNAY, NAPA VALLEY, 2O15
Yes, Napa makes great Chardonnay too! From higher elevation vineyards near Coombsville, this is a wine that is strongly marked by new French oak, but has so much layering and concentration that it impresses with its superb overall balance. The aromas are an intriguing melange of tropical, citrus and apple blossom, with earth and mineral grace notes. Round in texture, ripe, and very full bodied, with a lavish infusion of grilled almonds, the powerful spice notes knit this Chardonnay together seamlessly. A definite for those looking for something at the extreme luscious end of the stylistic spectrum. AVAILABLE FROM Carolina Wine & Spirits.
DOMAINE LAROCHE "LES VAILLONS VIEILLES VIGNES," CHABLIS PREMIER CRU, 2O17
For something completely different, this is a sleek wine that is so taut and racy that it could well be from a different varietal, but that's Chablis at the Premier and Grand Cru level. Leafy, herbal, with strong lemony apple scents, it's refreshingly chalky on the palate. Notes of hazelnut, meyer lemon and chalk dominate the palate. Surprisingly forward, it has at least a five year life span, its precise flavor profile and acid structure probably able to sustain it for ten years. AVAILABLE FROM Classic Wine Imports.