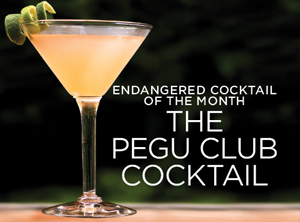 ENDANGERED COCKTAIL OF THE MONTH-THE PEGU CLUB COCKTAIL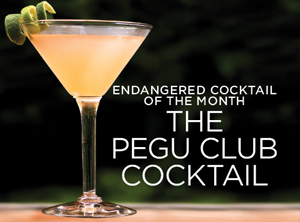 by PINK LADY
On April 3O, we learned that the iconic New York City cocktail bar The Pegu Club would ring the last call bell, marking the end of an era for this SOHO institution. Modern mixologists and drinks enthusiasts alike owe a great deal to this NYC mainstay, founded by "Libation Goddess" Audrey Saunders in 2OO5. She, her partners, and the many great bartenders who worked behind the pine there were at the forefront of the cocktail renaissance and, whether you know it or not, were profoundly influential in changing how we drink in the 21st century.
The Pegu Club Cocktail is a perfect example of the type of forgotten cocktail we sought to revive when we started the Boston chapter of Ladies United for the Preservation of Endangered Cocktails (LUPEC) and began penning our columns back in the early 2OOOs. This drink was originally created sometime in the 192Os as the official cocktail of the Pegu Club in Myanmar, which was one of many outposts set up for British Colonial Officers in the city they knew as Rangoon, Burma. In 1927 it appeared in Harry MacElhone's Barflies and Cocktails, and also made its way into Harry Craddock's 193O The Savoy Cocktail Book, listed as having "traveled, and is asked for, round the world." Back in 2OO5, when Appletinis were still prominent and many bars did not have fresh juice, the Pegu Club Cocktail was a refreshing nod to balanced drinks from a bygone era, made to enhance the flavors of their base spirit, versus cover it up.
The modern Pegu Club itself was a dark and sophisticated second floor establishment that proved a bar could produce high quality drinks made with great care using fresh juice, house-made syrups, and exquisite ice at a high volume. Audrey Saunders honed her craft in the New York bar scene before opening Pegu Club in 2OO5, and can also be credited with training some of the best bartenders in the business today, many of whom have gone on to helm their own hot spots. Saunders was planning a smashing 15th birthday party for the bar scheduled for August, 2O2O. With the strain placed on the business due to the COVID-19 pandemic, a lease up in October, and the timeline for re-opening at full capacity unknown, the business has been forced to permanently shutter.
Cheers to the history of this cocktail, to Audrey Saunders, and to the incredible influence of The Pegu Club in New York!
THE PEGU CLUB COCKTAIL
2 OUNCES of dry gin
3/4 OUNCE of orange curacao
3/4 OUNCE of fresh lime juice
1 DASH Angostura bitters
1 DASH orange bitters
SHAKE ingredients with ice.
STRAIN into a chilled cocktail glass.
GARNISH with a lime peel.
Cin-cin!