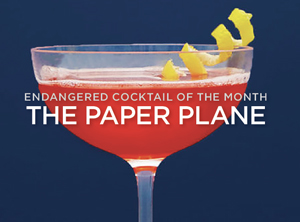 ENDANGERED COCKTAIL OF THE MONTH-THE PAPER PLANE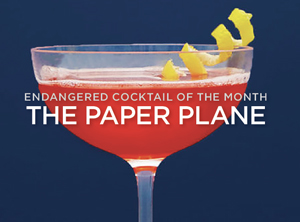 By PINK LADY
What a difference a month makes! In the space of a few weeks — nay, a few days — we went from a schedule packed with casual martinis among friends at the Boston-area's ever expanding list of cocktail hot spots to quarantinis at home with literally whomever will pick up our FaceTime calls. There has never been a better time to hone your home bartending skills than the unprecedented moment that is the spring of 2O2O.
Allow us to introduce you to a modern classic drink in equal parts format, the Paper Plane. We're throwing it back to 2OO7 this month, with a drink created by bartender Sam Ross, who earned his stripes at NYC's hottest early 2OOOs enclave, Milk & Honey. This spot was the first in a trend of modern-day speakeasies, requiring a password to enter, a reservation to stay and drink, and an atmosphere like no other. Much like cutting your own hair or planning your cat's quinceanera during a 4+ week quarantine, it made a whole lot of sense at the time. Many of the best drinks we know from the 21st century can be traced back to that small Lower East Side bar. Today it is reimagined as Attaboy, and you can drink there with no reservation required. Once we are allowed back in New York, you should go!
The Paper Plane was created by Ross for the opening menu of a bar called the Violet Hour, where he never actually worked. It is his "second most well-traveled drink" after the Penicillin. The name comes from the song by the same name by M.I.A., which was a real song of the moment in 2OO7. The best part of this drink is that it follows that barely believably workable Last Word formula of equal parts, in 4 parts. We're not totally sure how it works – but it makes a delicious drink that is sweet, tart, refreshing and herbaceous, and also rosy hued and gorgeous to look at.
A paper plane is the only kind of plane we'll be getting down with for who knows how long, so have a sip as you think of all the rosy sunsets you'll be able to take in someday soon and keep on keeping on.
PAPER PLANE
BY SAM ROSS
3/4 OUNCE of bourbon
3/4 OUNCE of Nonino Quintessentia amaro
3/4 OUNCE of Aperol
3/4 OUNCE of fresh lemon juice
COMBINE all the ingredients in a cocktail shaker three-quarters filled with ice. SHAKE until chilled. STRAIN into a coupe glass.
Cin-cin!