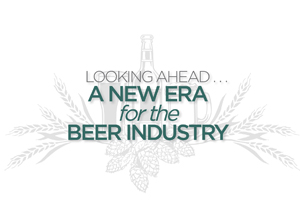 LOOKING AHEAD…A NEW ERA for the BEER INDUSTRY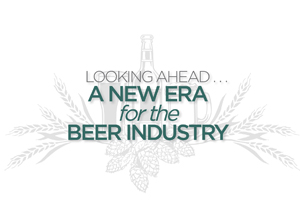 By Andy Crouch
Craft beer has long been defined by change but the beer industry has never seen anything like the early days of the COVID-19 pandemic. Bars, restaurants, and other on-premise locations remain shuttered across most of the United States and throughout the commonwealth. Public officials are pleading with people to stay indoors and practice social distancing, a phrase that was hardly in our collective lexicon only a few weeks ago. Hundreds of millions of people have retreated from society and are maintaining vigil in their homes, leading to an explosion in the off-premise sales market in recent weeks.
With tap rooms closed, thousands of breweries around the country no longer have a source of income. Most do not have their own canning or bottling equipment. They don't have relationships with distributors or bars, restaurants, or off-premise stores. They never saw the need to diversify their operations because nothing could ever shut off their money maker, the customer at their own bar. They sustained themselves on the margins they saved by not selling their beer outside of their four walls. And things were good. While overall beer industry growth has slowed to a trickle, the thousands of new breweries open and thousands more planning to do so have thrived. Then COVID-19 dropped like a bomb on their business model. These will be dark days for many breweries around the country. Without the option of being open to the public, many have scrambled to setup online sales portals, offer limited can sales with shops manned by a single employee, or even to secure distribution. The online or self sales model, while offering some revenue for owners, is not enough to sustain much of a staff let alone justify continuing to brew once their existing tanks run dry. Many will likely close up shop and hope for insurance or governmental assistance when the crisis subsides. Others are trying to decide whether to shutter their operations, hopefully on a temporary basis, until they are allowed to reopen their tap rooms.
In the interim, the COVID-19 virus has managed to bring brewers back together. In these tough times, almost every brewery is in the same boat. Brewers and other craft beer industry players are banding together, often under the leadership of state guilds, to lobby their representatives for assistance. They're talking with one another to share ideas and survival strategies. In this, COVID-19 has managed to do what little else could: bring together disparate and competitive players under one shared umbrella. For many larger craft brewers, the ones that long heralded the community spirit of craft, recent events have completely upended their operations in an oddly positive way. These breweries, which produce between 5O,OOO and a million or more barrels of beer a year, were once cast aside and left for dead in the local tap room movement rush. They were large organizations with massive off-premise packaging capabilities, even relying on bottling lines, all while beholden to decades old flagship beers, things that seemed ill-fitted for the new new.
Now these breweries are among the only ones well-positioned to meet the surging demand for off-premise beers. These breweries have long-standing and well-developed relationships with distributors across the country. They operate substantial and largely automated bottling and canning operations and packaging lines that do not require the many hands on deck models that smaller craft operations employ. They can manage their production, scale back to a small selection of well-known beers, and get those beers to specific target markets to meet rising consumer demand. As one brewer told us, while others have had to close, they've been overwhelmed by demand lately and are kicking ass right now. What was once unthinkable now appears likely to be true for the foreseeable future: flagship beers are back and local is dead or at least dying.
When Nielsen released data for the week ending on March 14, 2O2O, compared to the same period a year earlier, "dollar sales for beer, wine and spirits grew a lot. Beer/flavored malt beverage/cider category sales nearly doubled compared to the previous week, up 14% versus a year ago. Wine and spirits sales experienced even bigger jumps, with wine up 28% and spirits up 26%," wrote Danelle Kosmal, Vice President of Beverage Alcohol at Nielsen. While draft beer sales have fallen to near zero, off-premise sales, at least in the weeks before and following when state and local governments issued stay at home orders, have been robust. Whether that will continue once people have stocked up on a few weeks or months of beer during their initial shopping bursts remains to be seen. Removing FMBs and hard seltzers from the picture, total beer category sales grew at 8.1% during the early March weeks. Craft sales saw a huge 14.7% spike. Consumers are looking for larger 12 and 24 pack sizes, eschewing smaller individual bottles and six packs. 12-packs were up 26%, largely driven by hard seltzers.
Retailers should be looking to stock these larger pack sizes and focus on larger brewery flagship brands, which are selling well. And you should prepare for a drop in sales once the initial rush for home sales has subsided. The industry is also discussing the ramifications of loosening rules regarding self-distribution, shipping alcohol directly to consumers, or even home delivery of beer, cocktails, and wine. If the crisis lasts months and consumers get used to having direct access to these items in their homes, bypassing the retailer and middle tier completely, there may be calls to permanently change the way we distribute alcohol in this country.
As the outlook for the COVID-19 virus appears to rest in months not weeks (if not longer), the face of craft beer is going to change for now. The vibrancy accompanying the small brewery movement has receded while major manufacturing breweries appear best equipped to adapt to the new reality. When we get past this pandemic, the long term effects of all of this are unknowable. The only truth is that the craft beer community will look different yet again.