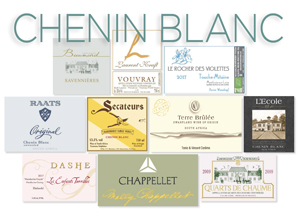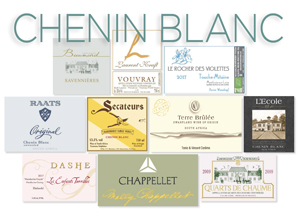 By SANDY BLOCK,MW
Among the first places I check on a restaurant wine list: where's the Chenin Blanc? And, no, it's not primarily because I don't want to spend a lot of money, although that's part of the equation. It's more an acid test, no pun intended. If I'm seeing Encruzado, and Gruner, and Verdejo, and Cataratto and Vermentino on the page, but no Chenin Blanc, I have to question why. The grape may not be fashionable, but for me Chenin's a natural, often electrifying, choice before dinner, and it's also an incredibly versatile all-around complement for food. Chenin Blanc's gracefulness reflects its bright acidity, sharply delineated fruit and hints of spice. Due to its firm structure it also ages especially well.
There's an element of confusion inherent in Chenin Blanc's versatile personality because, like Riesling, it's a chameleon capable of expressing a variety of styles on the spectrum from bone dry (or actually sparkling) to medium dry, to perceptibly sweet, to luscious dessert nectar. And, also like Riesling, it's not always immediately clear from information on the label where each bottling stands on this continuum.
The grape originates in the Loire Valley, where its presence has been documented since the 9th Century. Known locally as Pineau de la Loire, and in South Africa (where a more Chenin acreage is currently planted than the rest of the world combined) as Steen, it was until fairly recently the majority white grape in California. Its former ubiquity there was due to its success in retaining acid in a warm climate, and compatibility with a variety of soil types, as well as its reliability, if allowed to grow unpruned, in generating huge crop loads. At a time before the California industry "premium-ized", Chenin Blanc was therefore a main component in white jug wine blends. The following are all highly recommended in a diversity of styles and points of origin. What they all reflect is thrilling flavor and terrific value price rapport.
DOMAINE DES BAUMARD, SAVENNIERES, LOIRE, FRANCE, 2O16
This appellation from Anjou in the Loire is always bone dry Chenin. Baumard is a family estate whose owners have been working these rocky soils since 1634! The vines are situated behind cliffs on southeast-facing slopes that drop steeply to the Loire; yields are naturally low. The wine's bracing and minerally with piercing lime, herb, pear and almond aromas, and a long stony finish. Like other Savennieres the Baumard ages beautifully, and is actually a bit closed at present, although it opened nicely with a diver scallop. Tasted alongside a 2OO8 recently was like going from black and white to color. AVAILABLE FROM Classic Wine Imports.
LAURENT KRAFT VOUVRAY, LOIRE, FRANCE, 2O18
From vineyards in Touraine due east of Savennieres, this 7th generation producer makes a wine that's vibrant and more honeyed, but a bit gentler. It's aged identically unoaked, on the yeast, and the minerality reflects Vouvray's limestone "tuffeau" soils, which impart a refreshingly clean chalky salinity. There's just a touch of balancing sugar; great with Thai cuisine. AVAILABLE FROM Classic Wine Imports.
ROCHER DES VIOLETTES, MONTLOUIS SEC "TOUCHE MITAINE", LOIRE, FRANCE, 2O17
This is one of those appellations that is adjacent to a more famous place (in this case Vouvray), and because of its relative obscurity is often a great value. The 1O acres of vines here in Montlouis are old, imparting good concentration, with clay, silex, and chalk each contributing a mineral expression. It's a combination of old cask and stainless vinification, so there's vibrancy, as well as weight. The main expression is chalky and tangy, with a dry apple and searing lemon flavor influence. Terrific with smoked fish. AVAILABLE FROM Ruby Wines.
RAATS "ORIGINAL" UNWOODED CHENIN BLANC, STELLENBOSCH, SOUTH AFRICA, 2O17
Bruwer Raats from Stellenbosch is one of South Africa's most accomplished Chenin masters. From grapes grown on potassium-rich sandstone and decomposed granite soils the wine tastes crisp and fleshy, with juicy peach, citrus and nutmeg spice notes. Broader on the palate, drier and softer in texture than the French original, this wine's supple fresh juicy flavors are complementary to vegan dishes incorporating grains, sweet potatoes, and roasted root vegetables. AVAILABLE FROM MS Walker.
BADENHORST "SECATEURS" CHENIN BLANC, SWARTLAND, SOUTH AFRICA, 2O18
For another take on South African Chenin, Adi Badenhorst crafts a bright wine with exotic aromas from pure granite soils in Swartland's Paardeberg Mountains. This wine sees 7 months of lees contact, and is mellow and soft, but with very deep flavors: apple, honey, citrus, and floral, strung together with brilliant pure acids. A wine that enlivens simply prepared seafood dishes. AVAILABLE FROM Ruby Wines.
TERRE BRÛLÉE CHENIN BLANC, SWARTLAND, SOUTH AFRICA, 2O18
This wine, also from Swartland, is truly a marriage of French tradition with New World fruit. Vincent CarÐme of a famous Loire Valley domaine, produces it from dry farmed, unirrigated bush vines averaging 4O years old, grown on shale and decomposed granite at high elevations. It's creamy and round, with classic Anjou pear and citrus, but very finely etched mineral structure. Layered and lingering, it works well to elevate light to medium textured fish, like Arctic Char in a beurre blanc. AVAILABLE FROM MS Walker.
L'ECOLE NO.41 CHENIN BLANC, COLUMBIA VALLEY, WASHINGTON STATE, U.S., 2O18
Washington State doesn't have a lot of Chenin acreage, but the wines tend to be delicious and are a great bridge from South Africa to California, stylistically in the middle. This is made from vines planted between 4O and 5O years ago. The grapes benefit from the cool evenings to help them retain structure, and hot days with impart bright frutiness. This is clean and bracing, with tangerine, grapefruit, and peach notes. Bone dry, it's full of charm and strikes me as an ideal quaffing wine. AVAILABLE FROM Ruby Wines.
DASHE CELLARS "LES ENFANTS TERRIBLES" CHENIN BLANC, CLARKSBURG, CALIFORNIA, U.S., 2O17
Most of California's remaining Chenin Blanc acreage is grown in the Sacramento Delta area's Clarksburg AVA, an inland region of clay loam soils influenced by cooling Bay breezes. Fermented on native yeasts for 4 weeks in egg-shaped concrete vats, this expresses the full range of Chenin fruit essences, along with a stony fruit minerality. It's got fresh pear, lemon, apricot and nectarine, with a finish of nutmeg and cinnamon. Excellent choice with chicken and apricots. AVAILABLE FROM Boston Wine Company.
CHAPPELLET "MOLLY CHAPPELLET" CHENIN BLANC, NAPA VALLEY, CALIFORNIA, U.S., 2O18
The Chappellet family had some great old vine Chenin planted on their Pritchard Hill estate when they bought it in the mid-196Os, that they decided to uproot in the 199Os because the market for the grape had collapsed, and their red wines were becoming too highly sought after for them to continue devoting acreage to this unremunerative white variety. Today there's fewer than 2O acres in all of Napa (whereas it exceeded Chardonnay as recently as 1980), but Chappellet is back in the Chenin business with a rich, toasty, pear like, dry and lush Chenin Blanc laden with honeysuckle and stone fruit notes. A major league velvety-textured wine, ideal for grilled salmon with a hoisin sauce. AVAILABLE FROM United Liquors.
DOMAINE DES BAUMARD QUARTS DE CHAUME, LOIRE, FRANCE, 2OO9
Still a baby, this dessert wine is to me one of Chenin's finest expression. Originating in a zone where rainfall is less than elsewhere in the Loire, these vines grown in proximity to a tributary named the Layon experience noble rot (because the Chenin bunches are tight, it's susceptible to botrytis) , while winds coming off the river valley reduce the possibility of other more harmful molds. The name Quarts de Chaume (which is a special sub-zone of the larger Coteaux du Layon) refers to the region's history when the peasant farmers who worked these slopes rented vines from the monks of Ronceray, and paid them with the choicest one quarter of the harvest. The high limestone content of the soil balances the ultra-sweet honeyed flavors. With amazing purity and a creamy texture, it's a tropically flavored wine (mango, pineapple and crème brûlée) that is magical with blue cheeses, or an apricot tart. AVAILABLE FROM Classic Wine Imports.