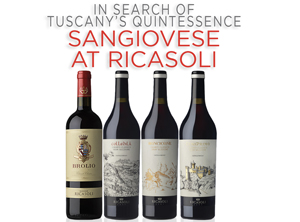 IN SEARCH OF TUSCANY'S QUINTESSENCE-SANGIOVESE AT RICASOLI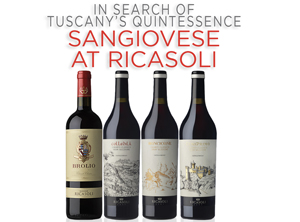 By HARVEY FINKEL
The iconic grape of central Italy is undoubtably the Sangiovese, which reaches its apogee in central Tuscany. But it was not ever so, nor is it everywhere. So variable is the variety, depending on clone, conditions, and treatment, that we can pick out a few foci of excellence where the wines of this difficult and generous grape come nearest to expressing their theoretical ideal. Brunello di Montalcino, Carmignano, Chianti Classico, Chianti Rufina, Vino Nobile di Montepulciano, and a number of what have come to be called "Supertuscans" qualify. Notice they are all neighbors. Sangiovese merits superstardom nowhere else in the world. Even among this elevated company, the character and quality of the wines continue to be refined.
The Ricasoli family has long stood in the forefront of Tuscan viticulture, recorded at least since 1141 in possession of Brolio Castle and its vineyards. Barone Bettino Ricasoli, the second prime minister of a recently united Italy, brought order to the anarchy of the original core of Chianti Classico, in 1872 codifying its recipe and crowning Sangiovese as king. After distinguished decades of leadership, followed by disappointing relationships with Seagram's, then Hardy's, the firm, again under total control of the Ricasolis since 1993, has been rejuvenated as a vinously progressive force. Francesco Ricasoli, the 32nd Barone, is at the helm.
The 12OO-hectare Ricasoli estate is located in the Chianti Classico township of Gaiole in Chianti, centered at Brolio Castle, just northeast of Siena. It contains 24O hectares of vines, 26 of olive groves. The castle contains what is said to be the oldest working winery in Italy, second-oldest in the world. It is, of course, now technically thoroughly modern. Most of the vineyards lie between 22O and 5OO meters of elevation, on slopes facing south or southwest. The climate is Mediterranean: hot and dry in summer; mild in winter; modest rainfall in spring and fall. Soils vary. Each plot is harvested and vinified separately, before entering its aging and blending, if any, process.
The complex influences and interactions of microclimate, soils, elevation, vineyard structure, clones, rootstocks, vine density and orientation, and other factors are being studied. Microclimate, elevation, and soil composition especially are being observed. One result of this research has been the development of a group of three Sangiovese Crus – the Ricasoli Raritas – that have achieved a sufficient quality level and distinctiveness to join the exclusive and elite echelon, Gran Selezione. They are small-production, single-vineyard wines, each 1OO percent Sangiovese. Vine plantings in these vineyards were between 1998 and 2OO2. They are matured for 18 months in 5OO-liter French-oak tonneaux, 3O percent new, 7O percent second passage. To get an idea of the general Ricasoli style, I also tasted, perhaps unfairly, the house flagship, Brolio Chianti Classico, a much less expensive, less glitterattian wine, composed of Sangiovese 80 percent, Merlot 15, Cabernet Sauvignon 5, grown in stony vineyards at between 29O and 5OO meters of elevation and with different exposures. Blended for consistency from estate sources, it is aged nine months in second- and third-year French-oak barrels, and 3-6 months in bottle.
Ricasoli's Sangiovese Crus are: COLLEDILÀ, a vineyard of 7.62 hectares , at altitude of 38O meters facing southeast. The soil is predominantly calcareous clay. Vine density 66OO per hectare of Sangiovese clones VCR23, VCR5, and Brolio clones on rootstock 11OR. Colledilà means the "hill over there." Production is 15OO-16OO cases; RONCICONE, 1O.87 ha at 32O meters faces southeast. Soil is marine sediment with sandy deposits and rocks, clay at deeper levels. Vine density is 6OOO of the same clones on rootstock 42OA. The name, Roncicone, refers to a small plot in the Leccione subarea. Production is 6OO-8OO cases, and CENIPRIMO, a vineyard of 6.35 ha lies at an elevation of 3OO meters facing southwest. It was geologically deposited from river and lake, forming silty soil, with ample clay. Sangiovese clones VCR23, VCR5, and R24 are planted 5952 to the hectare on 42OA rootstock. CeniPrimo, is the first selection of the Ceni Vineyard. Production is 6OO-8OO cases.
Thus far, the main finding of the research has been that there are 19 distinct soil types within the Brolio vineyards, five principal soil substrates, three of which are exemplified by the three Raritas vineyards as described. According to Ricasoli, the soil at Colledilà, called Monte Morello, limestone or Albarese, characterized by high levels of calcium carbonate, rocks, and clay, is ideal for sangiovese, giving "wines of excellent structure, body, and persistence with soft tannins"; the ancient marine sediments with sandy deposits and rocks and organic matter at Roncicone produce wines "that are fresh, with spicy notes, elegant acidy and distinct minerality"; and the fluvial-lacrustrine deposits leaving unstructured silt and abundant clay at CeniPrimo yield wines with "a complex range of aromas, are well-structured, and still have high tannin, body, and length."
In the words of Technical Director Massimiliano Biagi: "The zoning [and clonal] research has allowed us to identify different terroirs (soil, climate, altitude, exposures) that greatly influence the organoleptic characteristics of Sangiovese. The three soils of the Raritas are: limestone for Colledilà, altitude 39O meters above sea level, facing southeast-southwest; marine deposits for Roncicone, 32O meters above sea level, facing southeast; ancient river terrace for CeniPrimo, 3OO meters above sea level, facing southwest, but the most important result obtained is the awareness of the potential of Sangiovese in our terroirs and the possibility of making them express in the fullness of their elegance."
Now let's taste the wines, and see whether we agree.
WINE NOTES
BROLIO CHIANTI CLASSICO,
RICASOLI, 2O16 $21
Dark. Forefront of appetizing acidity on a good basic structure of fruit. Soft tannins. Pleasant finish. Nicely integrated. Will last a good while.
COLLEDILÀ CHIANTI CLASSICO GRAN SELEZIONE, RICASOLI, 2O15 $7O
The color saturations get slightly lighter as we proceed. Little nose. Forward fruit, balanced. New oak still evident. Long finish. While has some elegance, not yet an integrated "one."
RONCICONE CHIANTI CLASSICO GRAN SELEZIONE, RICASOLI, 2O15 $85
Suave well-balanced fruit. More intense. Very long. I foresee excellent future.
CENIPRIMO CHIANTI CLASSICO GRAN SELEZIONE, RICASOLI 2O15 $85
Richer. Lower notes: a cello to the preceding violins. Tannin in very long finish. Also has excellent future.
Ricasoli wines are distributed by the Horizon Beverage Company.