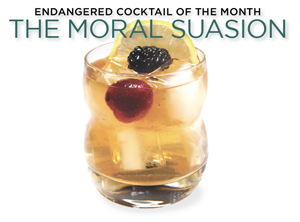 ENDANGERED COCKTAIL OF THE MONTH-THE MORAL SUASION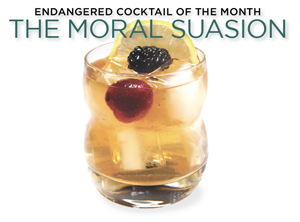 By PINK LADY
While we love to bend the elbow, kick back with a cold one, sit crooked and talk straight over a sip, we're not just here for the cocktails. It's the colorful stories that have kept us in this game, and we love a cocktail story that begins here in Boston, and most especially if that story contains a good burn. We are pleased to introduce to you the Moral Suasion, a story that comes to us by way of David Wondrich's IMBIBE!.
"Moral suasion" is an appeal to morality in the effort to influence behavior. Before the 19th century Temperance movement resorted to the law to curb our national thirst, this was their chosen methodology. In 1842, temperance crusader Dr. Charles Jewett took up the cause in Peter Brent Brigham's Boston establishment in the recently remodeled Boston Concert Hall. It was remembered by a newspaper of the day as a "gentleman's gorgeous and neat saloon.
A list of "fancy drinks" was a feature in Brent's saloon, one of the first in the city, and it was scathingly reviewed by Dr. Charles Jewett in his JOURNAL OF THE AMERICAN TEMPERANCE UNION: "How can you for paltry gain destroy the peace of families, the hopes of parents, the health and lives of your favorite citizens, and the souls of men?" How best to respond to being panned in a temperance paper, awarded a scathing 1-star review on the teetotaling Yelp of yesteryear? Brent developed a new drink list, of course. It was bigger, better, longer, and the Jewett's Fancy in Jewett's honor, and a drink named to lampoon the entire movement, the Moral Suasion. The list was widely publicized, with some of the drinks making their way to other lists in the U.S. and across the pond in Europe.
The Moral Suasion recipe itself was not recorded until 1873 in a NEW YORK SUN article, where it was attributed to Edward Barry of New York's Everett House, "in consultation with one of his customers". Barry was born too late to have been bartending during the drink's 184O's heyday, but his regular was most likely hanging around then. Their approximation, with the help of our modern drinks luminary David Wondrich and the good folks at IMBIBE magazine, is below.
Have a sip and remember this story next time you sit down to write a Yelp review. If your name does end up on a cocktail list someday, let's hope it's honored with a drink as tasty as this one.
MORAL SUASION
From IMBIBE MAGAZINE
2 OUNCES of peach brandy
1 TEASPOON of Luxardo maraschino liqueur
1 TEASPOON of orange Curaçao
1 TEASPOON of honey syrup (1:1)
2 TEASPOON of fresh lemon juice
1/2 TEASPOON of rosewater
1/2 OUNCE of Cognac or Armagnac (VSOP or XO)
TOOLS shaker, strainer, barspoon
GLASS tumbler
GARNISH lemon wheel, half an orange wheel and a few berries, in season
COMBINE all ingredients in a shaker with ice and SHAKE
until chilled. STRAIN into a small tumbler full of cracked ice. FLOAT Cognac or Armagnac on top. GARNISH. To float the brandy, hold a barspoon bowl-side facing down, with the front edge of the bowl touching the rim of the glass just at the surface of the drink. Slowly and gently POUR the Cognac over the back of the spoon. ROTATE the glass to let the layer spread.
Cin-cin!