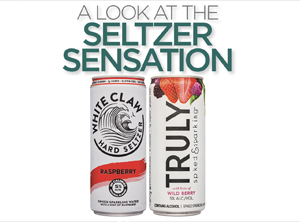 A LOOK AT THE SELTZER SENSATION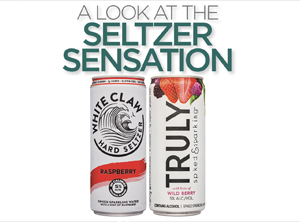 By ANDY CROUCH
Hard seltzer has taken the beer world by force. Not spirit or wine based but also not beer like in character, these flavored malt beverage (FMB) products—ranging from colorless and near flavorless in nature to cloyingly sweet and neon hued—have long existed around the periphery of the beer industry. Once derided as malternatives or alcopops, FMBs have experienced many highs and lows in terms of popularity over the years. Each new succession of FMB would ebb and flow into the drinking consciousness of younger consumers before fading into the back drop of light beer sales. And that trend continued until the rise of seltzer.
The category of slightly effervescent and clear beverage alcohol in a 12-ounce packaging trends back to the release of Zima by Coors in 1993. The brand offered a vaguely flat Sprite experience, with lemon-lime-like characters and little else to offer. Departing from the light beer script in play at the time, Zima stood apart as the outlier it was. Consumers were often confused by the brand, while comedians and others poked endless fun at its differences. Zima chugged along until 2008, when it was discontinued. More than 20 years removed from the launch and decline of Zima, hard seltzer sales started ramping up in 2016 with the release of multiple popular brands. Similar to Zima, these new hard seltzer products offer flavors and aromas ranging from decidedly muted to artificially overblown. The modern advent of hard seltzers is defined by a perceived purity, alcohol without any filler or needless pomp and circumstance.
What the products lack in flavor or aroma compared to craft beers, however, they make up for in pure sales prowess. The numbers behind hard seltzer's rise are hard to believe. Industry analysts put hard seltzer sales somewhere around $1.5 billion in 2019, compared to $37 billion for beer. But this marked an increase of more than 200 percent over the previous year. And industry analysts project 2020 sales will more than double again, to top $4.3 billion. This amount would match all of independent craft beer sales in 2019. The category is presently dominated by two titans that jumped into the marketplace early. The industry leader is Mark Anthony Brands (MAB), maker of Mike's Hard Lemonade, and its virally potent White Claw brand. The challenger is Truly from the Boston Beer Company. White Claw controls about 60 percent of the hard seltzer market, with Truly making up a good portion of the remaining market. MAB released White Claw in 2016, where it eventually grew to include six different core flavors, including Black Cherry, Ruby Grapefruit, Natural Lime, Raspberry, Mango, and an unflavored Pure Hard Seltzer. Each White Claw brand is gluten-free, contains 100 calories per 12 fluid ounces and clocks in at 5 percent alcohol by volume. The brand will receive an infusion of three new flavors in 2020, including lemon, tangerine, and watermelon. The success of White Claw in the category relates as much to its success in viral marketing (or even pure luck) as it is from entering the category early. In the summer of 2019, calls of  "Ain't no laws when you're drinking Claws" and "White Claw summer" rang out on every social media app and site. The organic marketing done by White Claw drinkers propelled the brand, and the hard seltzer category, into triple digit growth rates. Truly also first hit the market in 2016, eventually releasing thirteen flavors. From the beginning, Truly has not enjoyed the popular success or viral consumer support of White Claw. Boston Beer has long enjoyed diversity in its beverage alcohol offerings, including Twisted Tea and Angry Orchard hard cider in addition to its original Samuel Adams line of beers. After hearing criticism of its flavors, Boston Beer decided in 2019 to reformulate every one of its 13 brands in an effort to make them "crisper and more refreshing."
Some industry analysts predicted that hard seltzer brands would experience a substantial downturn once the weather started cooling. While sales have slowed compared to summer months—which is typical across the broader beer industry as well—the winter slump never occurred. Hard seltzer appears poised to remain a player in the beer industry for years to come. And MAB is betting heavy that the category will continue to grow. The company is building a $250 million production facility in Glendale, Arizona, as well as allocate another $135 million to build a new plant in New Jersey.
While seltzer sales continue to boom, it is unclear which competitors are being impacted. Sales of macro light lagers continue to fall and big players, including Anheuser Busch InBev, are extending their brands, such as Bud Light and Natural Light, to include new seltzer offerings. Hard seltzer appears to be a stand in for vodka tonic drinkers but with some pealing off of light beer drinkers as well. And the transition to the lightly bubbly and clear product is understandable. There is something to be said about the simplicity and ease of the product. When done well, hard seltzers are light, bubbly, refreshing, and also offer some alcohol. Seltzer does not require a lengthy and boring explanation of the brewing process. It does not require a particularly sophisticated or experienced palate to enjoy. It's cold, wet, lightly effervescent, and Instagram ready in crushable, slim and tall 12-ounce skinny cans. Hard seltzer drinkers also do not divide across gender lines as happens with most other beverage alcohol products. Instead, both men and women enjoy the drink at roughly equal numbers, further cementing the importance of a less alcoholic, less caloric, and more lifestyle and even athletic-friendly beverage.
I recently participated in a massive blind tasting of 36 hard seltzer products at the Craft Beer Cellar outlet in Belmont. With a diverse panel of judges, ranging in age, gender, and experience level with seltzer and the alcohol business in general, the results were both surprising and unsurprising. Much of the seltzer we tasted was pretty innocuous, even boring. A lot of it tasted very artificial, with flavors ranging from bland to over the top excessively sweet. At the end of the tasting, the revealed winners mirrored the larger consumer marketplace. Truly Pineapple took top honors. The drink is clear (which was not always the case for the hard seltzers in the tasting) and with light effervescence. The aroma is lightly of pineapple and sweet citrus but avoids being cloying. The flavor is mild, moving from quick tropical notes to coconut, ending like a watered down pina colada. There is a slightly acidic kick mid-palate before transitioning to a longer, dryer finish. No alcohol is perceptible and the drink is less artificial tasting than most others in the competition.
The next two top finishers are among the most popular individual brands on the market, with White Claw Raspberry and Truly Wild Berry coming in second and third respectively. These drinks offered clean aromas and flavors, both strongly of sweet berries. Those in attendance who regularly drank hard seltzer were confident that they had enjoyed these products before. And it turns out they were correct. In the blind tasting, brands from smaller upstarts, including Night Shift, and larger breweries, including Anheuser Busch InBev's Bon & Viv, did not fare as well against the well-established brands of White Claw and Truly, even in a blind tasting. These two operations have established the playbook. The only question remaining is whether they can continue to execute in the quarters and years to come.