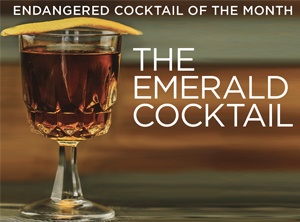 ENDANGERED COCKTAIL OF THE MONTH-THE EMERALD COCKTAIL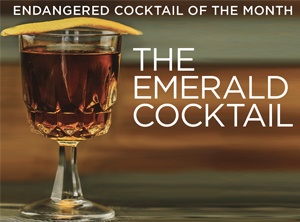 By PINK LADY
Here in Massachusetts, where 21.5% of the population claim Irish ancestry, St. Patrick's Day is a month-long holiday. It is a bibulous moment to be sure, with many revelers reaching for anything green to wear, Guinness by the gallon, and as many green-hued libations and sweet treats as they can snap up.
We've done our due diligence to share with you the few vintage Irish cocktails that aren't horrible of which we are aware, but we've never shared the Emerald, which will be the simplest to add to your cocktail cannon. The drink is not green at all, but rather a Manhattan variation that works for the same reason its cousin does: because whiskey and sweet vermouth is a winning combination. We spare you, for at least one more year, "Everybody's Irish" from Harry Craddock's The Savoy Cocktail Book, made with creme de menthe, green Chartreuse, Irish whiskey and a green olive that, "suspended in the liquid, looks like a bibulous moon."
The Emerald swaps rye for Irish whiskey and replaces Angostura bitters with orange bitters, perhaps as a nod to the orange segment on the Irish flag. Harry Craddock notes in Savoy, the Manhattan is "Named after the Island on which New York City Stands," and similarly this drink is named for Ireland's poetic nickname. It's a classy and simple libation that you can probably make with ingredients you already have at home, which might be where you want to stay this St. Patrick's Day, avoiding the crush of the crowds and toasting the old country in style.
THE EMERALD
2 OUNCES of Irish Whiskey
1 OUNCE of sweet vermouth
2 dashes of orange bitters
STIR ingredients with ice in a mixing glass.
STRAIN into a chilled cocktail glass.
GARNISH with orange or lemon peel.
Sláinte!