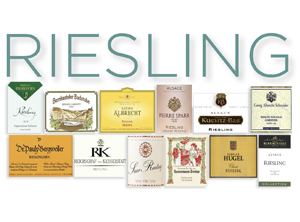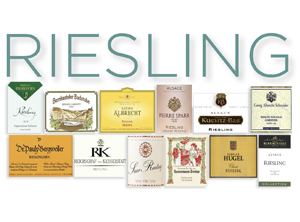 By SANDY BLOCK, MW
As recent years have seen a vast increase in people following a vegan discipline, the question often arises: Which wines taste best with this dietary alternative? Pairing vegan dishes is uncharted waters for many wine pro's. In my experience though, it's as inaccurate to suggest one wine category will fit all plant-based food options as it is to recommend one to suit all meat or fish dishes. What are the dominant flavors, including seasonings, what is the weight of the dish and the wine, are we looking for harmony or fireworks? Having said that, when push comes to shove, the broadest range of vegan dishes that I've experienced share a clear affinity for Riesling, the chameleon noble white varietal that tastes reliably fruity, but otherwise expresses a full rainbow of styles, from bone dry to ultra-sweet. Most Rieslings tend to be moderate in alcohol, redolent of floral herb garden aromas, and vibrantly tart, all characteristics that balance and add savor to a variety of vegan dishes. These same attributes also make Riesling an ideal complement for many light and medium textured fish and poultry dishes, particularly those with spicy flavors.
It should also be noted that Riesling remains as astonishingly under-valued, overlooked and misunderstood by the public at large as its red counterparts, Grenache and Syrah. The same might be said for a lot of wine professionals. This is especially perplexing on restaurant wine lists, where a lot of love is shown to Gruner Veltliner, Fernao Pires, Verdejo, Cataratto, or Sauvignon Blanc, for that matter, but Riesling remains inexplicably underrepresented, given the grape's known compatibly with so many diverse food preparations. It's always the first variety I search for on a restaurant list because, to me, the extent of Riesling's presence is an acid test (no pun intended) of what's to follow. The grape reflects terroir differences as faithfully as Pinot Noir does; also like Pinot Noir, it's fussy about where it's grown, and it makes wine capable of long aging.
Where do we encounter Riesling?  Wherever it will ripen.  It's the unquestioned white grape of choice to plant on steep rocky sun-facing hillsides in cool climates. When I do Riesling blind tastings there's usually an embarrassment of riches.  It's not a question of finding one winner, but of eliminating all the really good ones that just don't quite make it.  While the Finger Lakes, Eden and Clare Valleys, Marlborough, Trentino Alto Adige, the Wachau, coastal Chile, and several other zones are capable of making outstanding Riesling, the following all originate in Germany or Alsace and are listed in ascending order of preference. They are all very moderate in price.
DR. HEYDEN OPPENHEIMER RIESLING KABINETT, RHEINHESSEN 2O18
Dr. Heyden is a reliably good producer of bargain priced Riesling year in and year out. This Kabinett is delicately herb-scented, with aromas of apple blossom, sweet herbs and peach nectar. Textbook Rheinhessen: pale, light in body, with crisp, peach pit and stone fruit flavors. Refreshing and clean, a wine with a soft impression of sugar for current consumption. AVAILABLE FROM Carolina Wine & Spirits and Horizon Beverage Company.
DR. H. THANISCH ESTATE RIESLING KABINETT, MOSEL 2O17
Lovely vintage in Germany, this is made by another Doctor (all you have to have in Germany is a baccalaureate degree to use the title "Doctor") at an historic family estate in my favorite region, the Middle Mosel. More tightly structured than the softer, gentler Rheinhessen wines, this is brilliantly perfumed with white flowers and fresh apricots. It's quite tart, and a bit aggressively mineral-like, with stony lingering apple flavors. AVAILABLE FROM MS Walker.
LUCIEN ALBRECHT RIESLING RESERVE, ALSACE 2O17
If Riesling is under-represented on the US market relative to its quality, that goes double for Alsace Riesling, most of which is quintessentially dry. Situated in the southwest corner of the Rhine River's Rift valley, Alsace is a major crossroad with a long history marked by French, Germanic and Roman influences, and has been a noted wine producer since Medieval times. It's France's driest region so the harvest often extends well into November, which the Riesling grape likes. Albrecht's 2O18 has a baked apple, cinnamon aroma, with distinctive yeasty, toasty tones. Juicy, ripe and nicely balanced. AVAILABLE FROM Classic Wine Imports.
PIERRE SPARR RIESLING GRANDE RESERVE, ALSACE 2O18
The only problem with this wine, and other Alsatians from 2O18, is that it was a somewhat short vintage due to adverse spring weather, so there isn't a lot to go around. It's tangy and clean, with fresh lemon and ripe Granny Smith apple notes. A middle weight wine with precise structure and a persistent, steely finish that would serve as a beautiful aperitif. AVAILABLE FROM Classic Wine Imports.
KUENTZ-BAS RIESLING "TRADITION" ALSACE 2O17
I've yet to experience a Kuentz-Bas wine that I didn't think was stellar and that didn't bowl me over with its price value rapport (check out the Pinot Blanc). This Riesling has a smoky, earthy, toasty expression from lees aging. It's round and earthy, with baked pear and honey notes, although it's also completely dry. A great introductory wine to people who think they don't like Riesling because they've been led to believe they are all unbalanced and too sweet. AVAILABLE FROM Carolina Wine & Spirits.
GEORG ALBRECHT SCHNEIDER NIERSTEINER RIESLING
"VOM KALK" TROCKEN, RHEINHESSEN 2O18
Bone dry, tart and deliciously zippy, this wine is grown on chalky limestone soil. It's also a perfect illustration of which German wines remain so undervalued: unless you know how to pronounce its seemingly endless multi-syllabic name, odds are you may shy away from buying it. Today well over half of German Rieslings are produced in the Trocken, or Halb-Trocken (meaning half dry) style, but the US continues to import a majority of Riesling with noticeable residual sugar on the palate. This is lively, citric and strongly mineral on the finish, with slightly fuller body than most Rheinhessen Rieslings you may encounter. AVAILABLE FROM Carolina Wine & Spirits.
DR. PAULY BERGWEILER DRY RIESLING, MOSEL 2O18
A freshly scented delicate Middle Mosel Estate Riesling with melon and apple pie aromas, tart clean and subtly fruity. Very graceful on the palate, with baking spice notes and textbook Mosel structure. This is a contemporary style Trocken style with beautiful fruit, no discernible sugar and balancing acids. It's subtle, but with great staying power, despite the bargain price tag. AVAILABLE FROM Horizon Beverage Company.
REICHSGRAF VON KESSELSTATT, RIESLING "RK" MOSEL 2O18
One of Germany's great estates, usually a producer whose wines need time to age for a long time, this is perfectly forward and ready to drink. Slightly sweet, with juicy pineapple, floral and lusciously honeyed fruit, it's beautifully balanced with acid and stone fruit essences. A great selection for slightly spicy Asian fare and, again, a ridiculous bargain. AVAILABLE FROM Carolina Wine & Spirits.
VON VOLXEM RIESLING, SAAR 2O18
From a tributary of the Mosel that produces very steely, sometimes austere wine, this is quite charming. Delicately fragrant, it has a dry, green apple-like, fresh fruit flavor, with citrus peel, savory spice and a yeasty mineral note in the finish. Dry and bright, with electric acids that continue into the finish. For Sauvignon Blanc lovers who have not yet discovered Riesling. AVAILABLE FROM Classic Wine Imports.
BASSERMANN JORDAN, GEHEIMER RAT RIESLING TROCKEN, PFALZ 2O17
This has a heady aroma of white peach, acacia flowers and tarragon. It's very tart and assertive on the palate, with strong lemony, mineral and pecan-like notes. A concentrated beautifully structured wine that strikes me as having potential for a good evolution of at least three to five years. AVAILABLE FROM United Liquors.
HUGEL "CLASSIC" RIESLING, ALSACE 2O17
One of the great negociant houses of Alsace, Hugel's quality standards are high across the entire varietal range. The Rieslings are consistently fleshy and round. This vintage is reliably dry, as usual, with mushroom-like, baked pear and apple notes, undertones of honey, white pepper, fennel and baking spice. A superior effort, showing the concentration of the 2O17s. AVAILABLE FROM MS Walker.
CAVE DE RIBEAUVILLE "COLLECTION" RIESLING, ALSACE 2O17
Most impressive, especially for a cooperative. The Alsatian coops have very high standards. With aromas of dried green herbs, lime, peach and toast, this is a bracingly dry Riesling that has serious weight and almost oiliness. Quite minerally and chalky, with a crystalline structure, it's a very satisfying wine that, like most of its counterparts listed above, is seriously underpriced. AVAILABLE FROM Horizon Beverage Company.