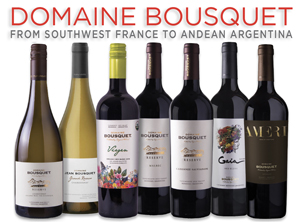 DOMAINE BOUSQUET-FROM SOUTHWEST FRANCE TO ANDEAN ARGENTINA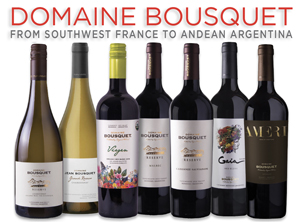 By HARVEY FINKEL
High, dry, and sandy. But Jean Bousquet visualized vines when he first visited the then-desolate Gualtallary Valley of the Tupungato District of the larger Uco Valley in western Argentina's Mendoza Province thirty years ago. Told he was crazy, that he was buying a beach, "all sand, no sea," Bousquet nevertheless liquidated his holdings near Carcassonne in southwestern France to plant Domaine Bousquet. Tucked up against the towering, snow-capped Andes on a high — very high – desert, the place had few people, no roads, no water, no electricity. He was joined by his son-in-law, Labid al Ameri, a well-traveled trader with Fidelity in Boston, in 2OO5, then by his daughter, Anne, an economist working in Boston, in 2OO8. The firm flourished. Jean sold the business to Labid and Anne and Anne's brother Guillaume in 2O11, to operate a small adjoining vineyard and restaurant. He still makes a little wine. Labid and Anne apportion their time in the western hemisphere. Guillaume attends to sales in Europe. Rodrigo Serrano has been chief winemaker since December, 2O17.
Domaine Bousquet now farms 667 acres of vines, all organically. Another 37 acres are being planted to Grenache and Cabernet Franc. The vineyards lie on slopes between 3OOO and 45OO feet of elevation, depending on the varietal. With annual rainfall only eight inches, water, flowing underground from the high mountains, is obtained from deep wells, and distributed via drip irrigation. Warm days and cool nights give ample sugars and acidity, and thick skins. Constant breezes from the Andes to the west, the elevated slopes, and the well-drained sandy soil are just right for the fruit, bathed in sunshine 36O days a year. A small proportion of the vines are ungrafted. Paved roads, schools, and other wineries have been built in the area. Local residents have advanced from menial jobs to positions of high responsibility.
Several series of wines are produced, all at attractive prices. Those of the Varietal Series are fresh, fruit-driven, unoaked, made from estate and purchased Uco Valley grapes. They cost $12 per bottle retail. Virgen is a red blend, no sulfite added, no oak aging. It costs $1O. See tasting note. The Reserves are estate-grown in low-yield plots, more concentrated, aged in wood and in bottle. They cost $17. We'll taste the Chardonnay of this line. Grande Reserves are harvested late from the original home vineyard, and matured in oak. They cost $2O-$25. Gaia White ($17) and Gaia Red ($19) are blends of selected lots, aged in French oak. We'll taste the Red. Ameri ($36) is made from selected clusters of late-harvested red grapes grown in a very high single vineyard. See tasting note. Also made are sparkling wines, both Charmat ($12) and classical method ($18), and a sweet red Malbec Dulce ($18). Production now is 35O,OOO cases annually, of which 97 percent is exported, a good thing in the face of Argentina's steep inflation. More than a third comes to the US.
WINE NOTES
DOMAINE BOUSQUET CHARDONNAY RESERVE 2O16
Made from a Chablis clone. Spent 3-4 months on lees in neutral oak. Floral nose. Delicate fruit.
DOMAINE BOUSQUET CHARDONNAY GRANDE RESERVE 2O16
Fermented in 5OO-liter oak barrels. Thick, oaky, more Californian in style. Needs rich food as company.
DOMAINE BOUSQUET VIRGEN 2O18
Blend of Malbec and the two Cabernets. Simple fruit. Hollow.
DOMAINE BOUSQUET MALBEC RESERVE 2O18
A historically fine vintage. Excellent fruit and finish. Some tannin. The center holds.
DOMAINE BOUSQUET CABERNET SAUVIGNON RESERVE 2O18
Fragrant. Balanced, complex, long. A winner.
DOMAINE BOUSQUET GAIA RED 2O17
Malbec 5O percent, Syrah 45, Cabernet Sauvignon 5. Suave and seamless.
DOMAINE BOUSQUET AMERI 2O15
Malbec 65 percent, Cabernet Sauvignon 2O, Merlot, Syrah, Cabernet Franc 5 each. Made only in very good vintages. Very good fruit. Balanced, tasty, complex. Long finish.
Domaine Bousquet wines are distributed in Massachusetts by the Boston Wine Company.