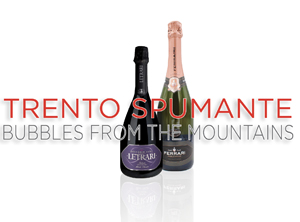 TRENTO SPUMANTE – BUBBLES FROM THE MOUNTAINS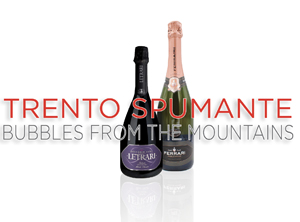 By HARVEY FINKEL
Everyone likes fizz.
That's clear from the hundreds of millions of bottles of bubbly wine made, sold, drunk, and splashed about in celebratory mania worldwide. Some is plonk, but here and there are pockets of production of high-quality Champagne-method (now usually called classical-method) sparkling wine, some that aspire to Champagne status. In Italy there are three or four such zones: Franciacorta and Otrepo Pavese, both in Lombardia; a small bit of Piemonte called Alta Langa; and our focus of today, Trento, in the mountainous northeast, where the top group of sparklers is now called Trentodoc.
Trentino-Alto Adige, the northernmost region of Italy, was returned to Italy by the Austro-Hungarian Empire after the Great War. Its southern half, Trentino, is anchored by the city of Trento. Like the rest of Italy, the region was long a wine source, traceable back to the Etruscans, when sparkling wine production was kickstarted on a small scale by Giulio Ferrari in 19O2. This Ferrari firm, which doesn't make cars, accelerated in 1952 when purchased by the Lunelli family upon Ferrari's retirement. It has since been joined by other worthies, including large and competent cooperatives. Taking note of the increasing popularity of Prosecco and other sparkling wines, the producers of the Trento region sought a catchy name for their product. They came up with "Trentodoc," a portmanteau of Trento and the acronym of the initial letters of the principal words of Denominazione di Origine Controllata, the official designation of the wines. Some find that clever. The Trento sparkling DOC now encompasses 52 producers making more than nine million bottles annually. Almost twenty percent is exported.
Four grape varieties are approved for Trentodoc: Chardonnay, Pinot Noir, Pinot Blanc, Pinot Meunier. (These are also the principal varieties used for Champagne, with Pinot Blanc a minor player.) The first two predominate. Chardonnay is preferentially grown at the higher elevations. Vineyards lie on the slopes of the Dolomites, between 2OO and 8OO meters, some higher. The soil is complex, with origins both maritime limestone and volcanic. Day-night temperature swings are wide. Lake Garda winds enhance the effects of climate, elevation, soil, grape characteristics, and growing practices in providing freshness and acidity. The "pelèr" blows from the north starting at night, until late morning, predominantly in spring and summer, then returns afternoons from the south as the "ora," particularly from spring through early summer. Vine-suitable land is scarce. Harvesting is by hand.
Regulations specify minimum durations for the wines to rest on the yeasts (lees): Brut 15 months; Vintage 24 months; Reserva 36 months. These are frequently exceeded, improving depth and complexity, as we'll see in our two illustrative tasting samples, both Reservas far surpassing minimum standards. The same houses also produce other iterations of the genre, at both higher and lower levels.
WINE NOTES
BRUT RESERVA 2O13, LETRARI $43
More Pinot Noir than Chardonnay. More than three years on the yeasts. Fragrant of fruit and yeast. Ample fruit, probably at the upper range of brut. Tastes good. Small bubbles give a pleasing texture. Attractive package.
PERLÉ ROSÉ RISERVA 2O13, FERRARI $6O
Pinot Noir 80 percent, Chardonnay 2O, hand-picked from estate vineyards at 3OO-6OO meters of elevation, with southeasterly and southerly exposures. At least five years on selected yeasts. Pale dusty pink. Pronounced bouquet. Fine, cushioning perlage. Balanced and flavorful. Ferrari wines are distributed in Massachusetts by Ruby Wines.