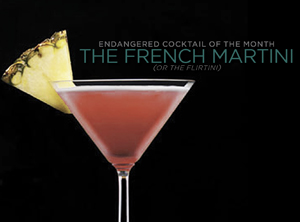 ENDANGERED COCKTAIL OF THE MONTH – THE FRENCH MARTINI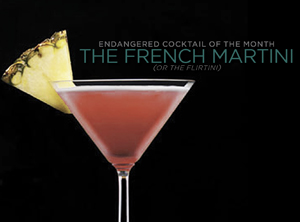 By PINK LADY
Here we are in February, the longest short month on the New England calendar. If you've been abstaining for dry January, welcome back! We'll usher you into the fold with an easy drinking classic from the Sex in the City era, the French Martini, a.k.a. Flirtini – why not?
Much snobbery came along with the cocktailian attitudes of the 'aughts, but one could argue we may never have found our way back to drinks like the Last Word and the Aviation if we hadn't met the Cosmo, Appletini, or our guest of honor this month, the Flirtini. All are vodka based and served in conical stemware typically associated with the Martini, leading to Fruity Martini lists abounding from coast to coast and the mistaken impression that a Martini is a category, not a cocktail. Go ahead, ask your favorite cocktail bartender about this. They will most likely have many opinions!
The French Martini was invented in the Big Apple during the late 198Os at one of restaurateur Keith McNally's hip spots. According to author and cocktail bar critic Simon Difford, the drink appeared on the menu at the renowned Balthazar in SoHo in 1996, and made its way across the big pond, where London's legendary barman Dick Bradsell made him his first at Quo Vadis in 1997. He wrote about it in his U.K. publication, CLASS MAGAZINE, speculating that the French Martini "looks set to be the hit cocktail of 1998." Difford eventually leveraged the main ingredients, vodka and raspberry liqueur, to secure ad sponsorship from Absolut and Chambord that helped establish the magazine.
In a world that grows more complex by the minute, we suggest embracing the simplicity of the late 199Os, when any drink served with fresh juice in conical stemware was enough to make a guest feel elegant and fashionable. Also, the flavor is fruity the hue is a lovely reddish purple, and it's sometimes called a Flirtini, making it a nice choice for a Valentine's Day libation. After having one, you might want three, which could be the perfect balm for a lonely heart, sipped among friends at your local, this season.
THE FRENCH MARTINI
Difford's Guide version
2 OUNCES of vodka
1/2 OUNCE of raspberry liqueur
1 1/2 OUNCE of fresh pineapple juice
SHAKE ingredients with ice.
STRAIN into a martini glass.
GARNISH with a pineapple wedge.
Cin-cin!