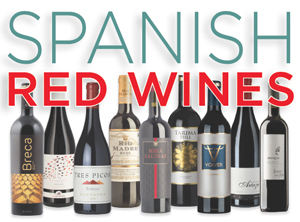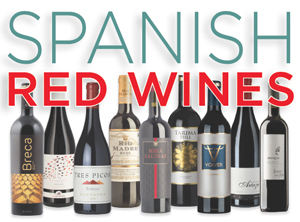 By Sandy Block, MW
Spanish red wine is not an easy sell. The grape varieties and the denominations of origin remain mostly unfamiliar, but in a market where retailers and restaurateurs are looking to differentiate themselves, they are an obvious choice to feature because of the price value rapport and how good so many of the wines taste with food. What makes Spain stand out? In a nutshell: old vines. Travelling throughout the mountainous country it's not uncommon to see 6O-, 8O-, even 1OO-year-old vines sparsely planted en vaso (as untrained bushes, or stumps). In hilly, rocky, dry farmed vineyards throughout Spain's 66 denominations of origin, these low yielding old vines produce incredibly concentrated and intensely flavored grapes. So even though most of us in the US don't recognize the names on the label, we're drawn to keep buying more Spanish wine every year.
The country has over 3OO indigenous grape varieties, and as the market has shifted to searching out true regional authenticity (whether from Spain, Portugal, Greece, or southern Italy) instead of the homogeneity imposed by a handful of superstar international grape varieties, Spain offers a range of uniquely flavored reasonably priced red wines. The following are all winners.
BRECA "OLD VINES" GARNACHA, CALATAYUD, 2O16
Confession: I'm a Garnacha fanatic. Yes, the same grape known in France and elsewhere as Grenache, but it originates south of the Pyrenees in eastern Spain, where it thrives in the hot dry Mediterranean climate. From very high elevation mountainside, dry-farmed vineyards in Calatayud, just south of the French border, the old vine Breca is round-textured, with delicious cherry blossom, smoky, and mineral notes. Its silky, ripe flavors are juicy and beautifully balanced, with grace notes of cinnamon and savory herbs. I've never seen anything like this vineyard before: the stiff wind, the steepness of the slopes, over 3O degrees, the old stumpy vines and the clay. AVAILABLE FROM Boston Wine Company.
EMPORDALIA 'PASSERELL' GARANTXA NEGRA, EMPORDA, 2O17
Note the difference in the way Garnacha is spelled here in Catalonia. These grapes are grown in one of the world's most beautiful coastal regions, Emporda Costa Brava. The wine has a delicate sweet herbal and berry perfume. It's chewy on the palate, with a hint of coffee mocha, and some lively spice on the finish. Supple and round in a way that is Garnacha's signature. AVAILABLE FROM Horizon Beverage Company.
BORSAO TRES PICOS, CAMPO DE BORJA, 2O15
This region in Aragon, a mountainous zone in northern Spain not too far from Calatayud, is one of the best kept secrets in the wine world. It's very dry and desert-like, although when I visited it rained. It's also super windy. This silky old vine Garnacha (planted in the early 198Os) is made from grapes grown in the shadow of an extinct volcano at average elevations of 23OO feet. Tres Picos, refers to the three peaks that form Mount Moncayo, which dominates Campo de Borja. The soils are gravelly with a high iron content. This is delicate and supple, with red cherry fruit and a hint of peppery spice in the finish. There are also notes of toasted almond and a hint of leather. AVAILABLE FROM Boston Wine Company.
RIO MADRE GRACIANO, RIOJA, 2O17
This is Rioja with a difference. The rare, aromatic Graciano grape, very sparsely planted in this marquee (less than 1% of the mix), plays a starring role in this wine. It's a delicately perfumed thin skinned red varietal that is subject to rot if there is moisture, so it's only here near Alvaro where it's dry enough to make a 1OO% Graciano Rioja. This features spicy wild blackberry fruit with coffee mocha, rosemary, tobacco and mineral accents. AVAILABLE FROM Boston Wine Company.
MIRA SALINAS MONASTRELL, ALICANTE, 2O16
Known in France as Mourvedre, the thick skinned Monastrell thrives in Alicante's hot arid southern climate where 5O degree swings are not uncommon between night and day in the summertime. It's also grown in nearby Jumilla in the same conditions. This is an easy drinking red with rich dried cherry, black pepper, dried savory herbs and dark chocolate flavors. AVAILABLE FROM Classic Wine Imports.
TARIMA HILL "OLD VINES" MONASTRELL, ALICANTE, 2O16
These Mourvedre vines are grown at 2OOO-25OO feet, where they're influenced by the Mediterranean Sea and the nearby continental plateau of La Mancha. Soils are mostly limestone and chalk with fossilized limestone chunks, blended with clay and sand. The wine has smoky aromas and a gamey complexity after aging for 2O months in French oak barrels. A big wine: full and rich on the palate, with very ripe blackberry, dried fig flavors, and a touch of clove in the finish. AVAILABLE FROM Boston Wine Company.
VOLVER "SINGLE VINEYARD" TEMPRANILLO, LA MANCHA, 2O16
Tempranillo is Spain's most widely planted red grape, but it has a different name in virtually every region: Tinta Fina, Tinta del Toro, Cencibel, Ull de Llebre, etc. This comes from the vast arid sun-drenched plateau in the center of Spain known as La Mancha. It's the world's largest single wine region with over 4OO,OOO acres planted. This originates from almost 6O-year-old vines at higher elevations of over 2OOO feet. It's opaque in color, with wild black fruit and licorice aromas, soft tannins and a peppery edge. AVAILABLE FROM Boston Wine Company.
SANTA CRUZ DE ARTAZU, NAVARRA, 2O12
This is from a region in northern Spain located between Rioja and the French border. Winemaker Juan Carlos López de Lacalle a Rioja native who began the winery in the town of Artazu in 1996, using vines planted at 165O feet, subject to the influences of both an Atlantic and Continental climate. Unlike Garnacha from elsewhere in Spain, or other parts of Navarra, the vines are grown on alluvial clays with a very chalky limestone subsoils. This is very dense with black fruit, mint, chocolate and round but substantial tannins. AVAILABLE FROM Horizon Beverage Company.
BODEGAS MAS ALTA "ARTIGAS", PRIORAT, 2O15
This is a denomination in Catalonia, not far from Barcelona, renowned for its unique soil: a loose granite-like black slate called "llicorella." In these steep mountain conditions, vine roots need to penetrate to extraordinary depths through cracks in the rocks searching for water. A blend of 6O% Garnacha, 35% Carinena, and 5% Cabernet Sauvignon, the ultra-concentrated wine is florally scented, with a velvety texture, blackberry fruit and notes of dark chocolate. A definite candidate for aging, up to a decade. AVAILABLE FROM MS Walker.