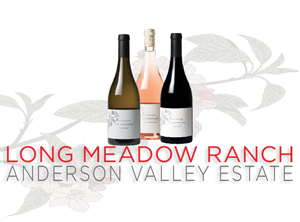 LONG MEADOW RANCH ANDERSON VALLEY ESTATE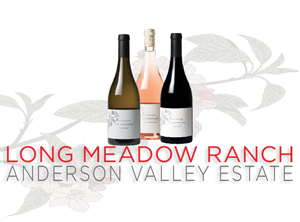 by HARVEY FINKEL
The keystone of Long Meadow Ranch's overarching complex began with a land grant by President U.S. Grant in the Mayacamas foothills near Rutherford in the Napa Valley. Productive of a variety of crops, especially grapes, it fell into disuse during Prohibition, until purchased by the Hall family in 1989, and revivified into today's multifaceted organically -based agricultural business spread across four counties of northern California.
Wine growing constitutes a major activity of the company, which produces a total of 75,OOO cases at the estates in Napa and Mendocino, in addition to the contribution of the newly acquired controlling interest in historic Stony Hill Vineyard and the non-estate-grown Hunt & Harvest brand, which is sourced from contracted growers. The Rutherford Estate, where a new winery will soon arise, farms 74 acres of Bordeaux varieties on the lower Rutherford Bench. The Mayacamas Estate grows 16 acres of Cabernets, Merlot, and Sangiovese at an elevation of 11OO feet. Our focus today, Long Meadow Ranch's Anderson Valley Estate, grows 69 acres of Pinot Noir, Pinot Gris, and Chardonnay. The LMR complex also produces all manner of produce, raises chickens and eggs, keeps bees for honey, processes own-grown olives for oil, raises Highland cattle, horses, and sheep, and operates a café, a restaurant, a general store, and tasting rooms.
Ted Hall has degrees in electrical engineering and business administration, experience in international business consulting, and, for decades, home winemaking. He served on the board of the Robert Mondavi Corporation before it was sold to Constellation. He, his wife Laddie, and his son Chris are hands-on at LMR, and deeply involved in charitable and community projects. Younger son Timothy, who died at age 13, is memorialized by a foundation in his name that supports the education of youth.
The Anderson Valley Estate was acquired in 2O15. Located in the cool western portion of the valley in southwestern Mendocino County, it has a wide day-night temperature swing, and draws cool marine air from the nearby Pacific. The estate lies adjacent to the Navarro River. Soils vary. The tasting room is in Philo. Currently, the Anderson Valley grapes are vinified at a custom-crush facility in Sonoma County. LMR's vice president of winemaking is Ashley Heisey. The winemaker for the Anderson Valley Estate is Stéphane Vivier, a product of Burgundy. Production here is 8OOO cases annually of nine different wines. Two sparkling wines are expected in addition next year.
WINE NOTES
LONG MEADOW RANCH ANDERSON VALLEY ESTATE
CHARDONNAY 2O16 $4O
Aged in French oak, 25 percent new. Greenish tint. Oak attractively apparent all through, partnering with the fruit. Full body. Toasty, tasty, long. Serve with rich food. 25OO cases are produced annually.
LONG MEADOW RANCH ANDERSON VALLEY ESTATE
ROSÉ OF PINOT NOIR 2O18 $24
69 percent of the Pinot Noir is direct press, 31 percent saignée. Fermented and matured in stainless steel. Pale copperish pink. Fragrant. Light, with refreshing lemony acidity. Good finish. No off-putting tutti-frutti flavors. Unusual quality for rosé, but is it too dear? 36OO cases.
LONG MEADOW RANCH ANDERSON VALLEY
PINOT NOIR 2O16 $42
Matured in French oak, 25 percent new. Light. Sweet fruit, long finish. Lacks complexity at this stage. 23OO cases.
Long Meadow Ranch wines are distributed by M.S. Walker.