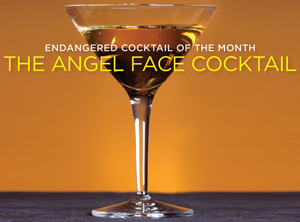 ENDANGERED COCKTAIL OF THE MONTH – THE ANGEL FACE COCKTAIL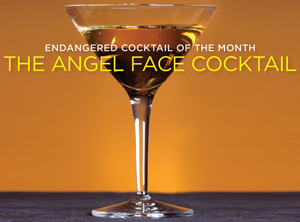 by PINK LADY
Many of us start the new year full throttle with resolutions, often including a non-alcoholic spell, and if you are teetotaling this month, we salute you! When the time comes to return to a winter warmer by the fire, classic cocktail style, we recommend the Angel Face cocktail.
We are such fans of three-ingredient-cocktails, especially when they are of the equal parts variety. The Angel Face was first printed in Harry Craddock's Savoy Cocktail book in 193O, which could mean he invented the drink, or just amassed over the course of his career and saw fit to include it in his massive, 75O-recipe tome. Harry Craddock, a British-born bartender, came to his post at the famed Savoy Hotel via a stint in the U.S., where he honed his craft at hotels like the Hollenden Hotel in Cleveland and the Knickerbocker Hotel in New York City. Craddock even became naturalized as an American citizen, and there is lore that he shook the last legal cocktail in the U.S. before Prohibition began.
Prohibition prompted Craddock to return to England in the 192Os where he began his famed post at the Savoy Hotel, and ten years later published the iconic Savoy Hotel Cocktail Book. Original copies of the book today sell for a pretty penny, with a rare inscribed first edition going for $95OO through AbeBooks in 2O12. The Angel Face Cocktail combines gin, Calvados, and apricot brandy in equal parts. While we typically recommend stirring straight spirits drinks, Craddock's recipe instructs to shake this one, so you do you. He passed away on January 25, 1963, so you can kick back with one of these to celebrate his life later this month. And to learn more about the legendary Craddock himself, grab a copy of Deans of Drink by Jared Brown and Anastasia Miller, a biography of two great barmen Harry Johnson and Harry Craddock. We can't wait to sit down by the fire with one ­­— or several — of his iconic creations and crack the spine.
ANGEL FACE
1/3 Dry Gin
1/3 Apricot Brandy
1/3 Calvados
SHAKE well and
STRAIN into a cocktail glass.
Cin-cin!