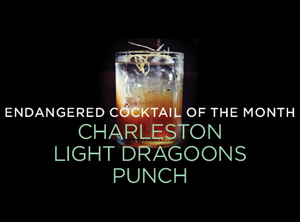 ENDANGERED COCKTAIL OF THE MONTH – CHARLESTON LIGHT DRAGOONS PUNCH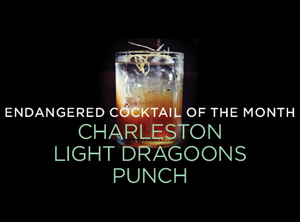 by PINK LADY
We LUPEC gals enjoy gathering around the punch bowl at literally any time of the year, but there is something extra special about a punch party at the holidays. Any cocktail can be made into punch if you build it big enough, so live your life. However, there are many vintage recipes out there that are worth a sip, and would be a great conversation starter for any history buffs who might breeze through your winter solstice soiree this year.
The Charleston Light Dragoons were a volunteer militia that formed in 1792. Unlike line militia, volunteer ones were an elite group, and the Charleston Light Dragoons seemed to embody this. Almost all were well to do, Episcopalian, and related through lineage or marriage, and spent a good amount of time honing their skills of drinking and conviviality. The Civil War brought more serious activity for the group and a tragic end, but in the early days, we can only assume that a nice big bowl of this punch helped fuel their parties.
The drink is a popular tipple at Husk in Charleston, South Carolina, a must visit if you should escape the winter doldrums with a trip to the south in 2O2O. "It's very pure and well balanced, like a nun on a tightrope," says bar manager Justin Simko. 'It's a 24Oish year old recipe that, with some tweaking, has become our bestselling cocktail and a reason many join us at the bar." A perfect addition to your holiday cocktail party menu. As we roll into winter, give a quick nod to our friends in the south in Charleston by serving this at our festive gatherings and welcoming guests with a little southern hospitality!
CHARLESTON LIGHT DRAGOONS PUNCH
from Heritage by Sean Brock • Serves 20
2 quarts of water
7 BAGS/teaspoons black tea
2 CUPS of sugar
1.5 CUPS of fresh lemon juice
12.7 OUNCES of brandy
12.7 OUNCES of rum
6.4 OUNCES of peach brandy
2O LARGE ice cubes
2.75 CUPS of soda water
2O THIN slivers of lemon peel
• Bring the water to a BOIL in a medium stainless steel saucepan over high heat. ADD the tea, remove the pan from the heat and STEEP the tea for 20 minutes.
• STRAIN the tea through a tea strainer or a fine-mesh strainer into a 1-gallon container. ADD the sugar and stir until completely dissolved. Let the mixture cool to room temperature, about 20 minutes.
• ADD the lemon juice, brandy, rum and peach brandy to the tea mixture, COVER, and REFRIGERATE until cold. (Tightly covered, the punch base will keep for up to three days in the refrigerator.)
• To serve, LADLE 3 ounces of the punch base into each punch cup. ADD an ice cube, top off with 1.5 ounces of soda, and GARNISH with a sliver of lemon peel.