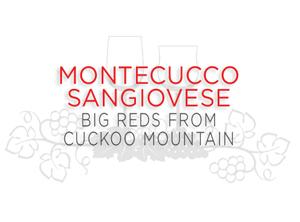 MONTECUCCO SANGIOVESE – BIG REDS FROM CUCKOO MOUNTAIN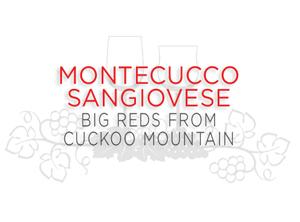 by HARVEY FINKEL
What's on offer today? How about big, juicy, multifaceted, ageable reds that you may never have heard of, that are less costly than their neighbors, that are bidding to imminently materialize in the American market?
Montecucco, in the northeastern corner of Tuscany's Maremma, immediately south of more renowned and more pricy Montalcino, is the site of recorded wine production since the Etruscans of the eighth century BCE. Its wines were awarded the DOC in 1998. One category, Montecucco Sangiovese, became a separate DOCG in 2O11. The most valued vineyards are located on the southwest slopes of the Apennine's rolling foothills at between 5O and 5OO meters of elevation, in the lee of Mount Amiata. This dormant volcano shelters the vines from storms arising in the nearby Tyrrhenian Sea. The climate is moderate, with favorably wide day-night temperature swings, much like neighboring Montalcino. Soils, which vary, show a strong volcanic presence. I could find no one who could explain why the zone is called Montecucco, "cuckoo mountain." Might the area be infested by cuckoos?
The same Sangiovese Grosso clone used for Brunello next door makes up 6O percent of Montecucco's wine production. (Despite its name, neither the berries nor the bunches are large.) The other indigenous red variety is Ciliegiolo (probably a parent of Sangiovese). "International" varieties include Merlot and Cabernet Sauvignon. Vermentino and Trebbiano Toscano are the dominant white varieties, supplemented by Grechetto and Malvasia. The DOC's 153 hectares produce about 72,OOO cases in a typical year, including the signature Sangiovese red and its riserva, Vermentino, Bianco, Rosato, and Vin Santo. The DOCG encompasses 144 hectares, giving about 23,OOO cases, all low-yield Sangiovese. In addition, less restricted IGT wines are produced. Much of the production comes from small family holdings, and is locally consumed.
We would naturally focus on Sangiovese-based wines, DOC and DOCG, and, because it is becoming available and can nicely fill a slot, the Vermentino. Montecucco Sangiovese DOCG, il primo of the zone, must contain a minimum of 9O percent Sangiovese. Its normale must age at least one year in wood, the riserva at least two. Montecucco Rosso DOC is required to contain a minimum of 6O percent Sangiovese. Its riserva must spend no less than one year in wood. Montecucco Vermentino DOC needs at least 85 percent of that grape.
WINE NOTES
MONTECUCCO ROSSO RISERVA 2O15 DOC,
CASTELLO CALLEMASSARI $12
Sangiovese 😯 percent, Ciliegiolo 1O, Cabernet Sauvignon 1O, grown at 3OO meters. Vines 14-49 years old. Naturally fermented, long maceration, then aged 18 months in vats and tonneaux. 17O,OOO bottles produced. Good color and bouquet, toothsome in mouth. According to Internationally respected chef Thalia Monteverdi, "Converts a peasant meal into a gourmet experience."
MONTECUCCO SANGIOVESE RISERVA POGGIO LOMBRONE 2O15 DOCG,
CASTELLO CALLEMASSARI $33
Two steps up from one of the largest and oldest of wineries in the zone. All Sangiovese, from a single vineyard. Aged 36 months in 4O hectoliter Slavonian oak barrels. 2O,OOO bottles produced. More reserved in bouquet and fruit, containing more acidity and tannin. Clearly needs and will benefit from more bottle aging. Nevertheless, enjoyable already, especially with suitable food. With airing, velvety lush black cherry fruit.
Castello CalleMassari wines are distributed by Boston Wine Company
and Ruby Wines.