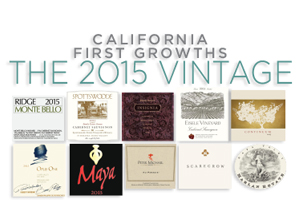 CALIFORNIA FIRST GROWTHS THE 2O15 VINTAGE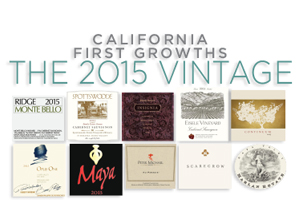 by SANDY BLOCK, MW
Any attempt to delineate California "First Growths" is by nature subjective, but there are a finite number of Cabernet-based wines that by reputation, track record, and the price they command should be in the discussion. Trying to narrow it down is a pointless exercise. Each of the ten 2015s reviewed below, however, should make everyone's short list. They're not easy to evaluate because each is typically approached with the degree of reverence due an icon. Blind tasting is the only way I've found to accurately assess the qualities of such wines. It's the great equalizer, a practice that I've incorporated into my professional studies since preparing for the practical section of the Master of Wine exam, which requires accurately describing the quality level, geographic origin, grape variety, production methods, and vintage of 36 unidentified glasses. Since attaining the certification I've used the blind tasting discipline to assess wines as a wholesale distributor, an importer, a wine judge, a reviewer for various publications, and to choose our wine lists at Legal Sea Foods. It always provides surprises.
The 2015 vintage was another in a series of drought years in Northern California, although the spring was cool, and the crop load lighter than average, meaning a smaller number of clusters per vine and lower yields in general. The one generalization that I could make applying to all of the wines I tasted is that they are very well structured, with significant levels of tannin and acid. Alcohol levels, on the other hand, seem a bit more reined in than in the preceding few vintages. And, tight as the wines are at this young stage of their development, they were all marked by complex, intriguing aromatics. This strikes me as a promising vintage for cellaring. The following are listed in ascending order of my preference, and it should go without saying that even the wines I ranked at the bottom of the group show outstanding promise.
WINE NUMBER 1O Deep ruby, with a bluish rim. Aromas of raw cocoa bean, blueberry, violets, black raspberry, and sage. Medium to high acids, a bit sharp, with still hard medium high tannins, mineral and earth-driven flavors, and moderate alcohol. Great structure, but lacking charm at this stage, a bit austere and even showing some green notes.
IDENTITY RIDGE "MONTEBELLO" SANTA CRUZ MOUNTAINS, 2015; 77% Cabernet Sauvignon.
AVAILABLE FROM Classic Wine Imports.
WINE NUMBER 9 Deep ruby. A bit closed initially, vigorous swirling revealed leafy herbs, currant, chamomile and vanilla. This has a mouth-coating, creamy texture, a bit heavy, with tart boysenberry flavors, and high acids. Fruit definition is a bit masked and seems too closed at this point to balance the strong acids and tannins. This constituted a major surprise, since in most recent vintages this wine ranks at the top in my tasting notes, from a style and preference perspective.
IDENTITY SPOTTSWOODE CABERNET SAUVIGNON, NAPA, 2015; 90% Cabernet Sauvignon.
AVAILABLE FROM Carolina Wine & Spirits.
WINE NUMBER 8 Medium deep ruby. This wine has a touch of volatile acidity mixed in with the floral, red berry compote, and beet root aromas. The fruit tastes extremely ripe, on the verge of being baked and a touch pruney. Compact and dense on the palate, with medium acids and medium tannins, the texture is a bit hard and unyielding at this point. Another surprise, as this is one of my perennial favorites.
IDENTITY JOSEPH PHELPS "INSIGNIA" NAPA, 2015; 81% Cabernet Sauvignon.
AVAILABLE FROM Carolina Wine & Spirits and Horizon Beverage Company.
WINE NUMBER 7 Medium deep ruby, shading into mahogany at the rim. Full cedar aroma, hints of oregano, a touch vegetal and weedy. This has firm acids and spice, with a particularly notable clove note on the palate. Supple and round, there's an appealing mineral vibrancy underlying the red and black fruit flavors. Strong tannins and spice notes carry through to the finish, which is lingering and a bit drying.
IDENTITY EISELE CABERNET SAUVIGNON, NAPA, 2015; 95% Cabernet Sauvignon.
AVAILABLE FROM MS Walker.
WINE NUMBER 6 Deep, blue black ruby. Delicate blue fruit aromas, with complex earthy notes, coffee grounds, leather, molasses and smoke. This is very luscious and sensual on the palate, with strong smoky oak notes, and dark berry notes, verging on but not quite overripe. Extracts and alcohol are high, acids reined in and tannins notable, but well-integrated. A big rich wine that could use a bit more nuance and subtlety perhaps, but very satisfying.
IDENTITY CONTINUUM, NAPA, 2015; 46% Cabernet Sauvignon, 31% Cabernet Franc.
AVAILABLE FROM Classic Wine Imports.
WINE NUMBER 5 Medium, medium deep ruby with a bluish rim. Floral tobacco-like aromas, blueberry and black olive, strongly marked by toasted oak. Very supple, with moderate integrated tannins and firm acids. The fruit notes are deep and dark red berries, with hints of red pepper. A beautifully nuanced wine built to age, charming and compact with everything in balance.
IDENTITY OPUS ONE, NAPA, 2015; 81% Cabernet Sauvignon.
AVAILABLE FROM Carolina Wine & Spirits.
WINE NUMBER 4 Medium deep ruby. Showing a bit of volatility and hints of brett, with earthy balsamic notes, herb accents and fresh game, this is smooth, perfectly ripe and velvety. On the palate it has great presence, with hints of mocha and dark layered black fruit. Harmonious, with mellow acids, persistent spice and fruit definition, the tannins are long and soft.
IDENTITY DALLA VALLE "MAYA" NAPA, 2015; 50% Cabernet Sauvignon, 50% Cabernet Franc.
AVAILABLE FROM Carolina Wine & Spirits.
WINE NUMBER 3 Medium deep ruby. A nose of the garden, with sweet herbs, violet and wild berry. Silky in texture with great dark fruit intensity and just sufficient acid, this has strong mineral notes and significant, although layered tannins. Very satisfying, with moderate alcohol, it's a wine of balance rather than power. There's flavor intrigue, hints of spice and herb, and a strong likelihood of long ageability.
IDENTITY PETER MICHAEL "AU PARADIS" CABERNET SAUVIGNON, NAPA, 2015; 76% Cabernet Sauvignon.
AVAILABLE FROM Boston Wine Company.
WINE NUMBER 2 Medium deep ruby. This has a classic Napa Cabernet nose, with dusty black currant, bell pepper, floral and medicinal herb notes. There's also a slight hint of volatililty. The fruit is lush and edgy, with compact and rich flavors of black and red berries. Acids are soft, fruit extraction ultra-high, tannins soft but substantial and strong alcohol. The wine shows excellent tannin management and sharply defined fruit. Very sensual.
IDENTITY SCARECROW CABERNET SAUVIGNON, NAPA, 2015; 100% Cabernet Sauvignon.
AVAILABLE FROM Carolina Wine & Spirits.
WINE NUMBER 1 Deep to medium deep ruby. Lifted aromas of crushed ripe black currant, cocoa, mushroom and leafy herb, lively and charming. Round and creamy, with chocolate and clove-accented dark fruit. Acids are medium, extraction high, tannins medium high, but really soft. This is a lush ultra-concentrated wine, very compact and intense that promises to age beautifully, but is amazingly forward and delicious now. Complete and persistent on the palate.
IDENTITY HARLAN ESTATE, NAPA, 2015; Unknown varietal mix.
AVAILABLE FROM Horizon Beverage Company.