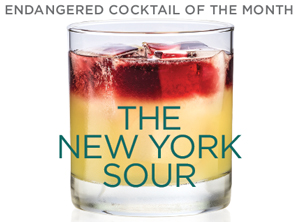 ENDANGERED COCKTAIL OF THE MONTH – THE NEW YORK SOUR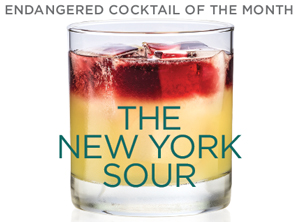 by PINK LADY
As New Englanders don sweaters and light coats suiting up for crisp fall temperatures, many drinkers among us will pivot away from the gin & tonics and White Claw that captured our fancy as summer porch pounders, back towards brown spirits. Welcome back, whiskey!
Ease your way in with a heftier styled sour drink: the New York Sour. This libation is believed to have been invented in 187O by a bartender working in Chicago, and was called by several other names — Continental Sour, The Southern Whiskey Sour, and the Claret Snap to name a few. Most likely the drink migrated to the Big Apple, and was popularized there, and the name New York Sour stuck.
The Sour is one of the most important categories of drinks around, evolved from the large bowls of punch we were wont to gather around in early American pubs. As David Wondrich notes in IMBIBE!: "From roughly the 186Os to the 196Os, the Sour, and particularly its whiskey incarnation, was one of the cardinal points of American drinking." The New York Sour is among the more basic recipes that abounded through the 187Os & 188Os, and were typically understood by their base spirit (Brandy Sour, Whiskey Sour, etc). By the 189Os, recipes dolled up with fancy ingredients like Sloe Gin, other juices such as pineapple, and fruity liqueurs began to emerge, as well as imaginative toppers like ice cream.
The sour even demanded its own style of glassware, which is a footed glass slightly deeper than a cocktail glass. The rules for which sours went into what glasses seem to have been played fast and loose however, so no sour glass, no problem — pour that New York Sour into a Solo cup if needed and get on with it — you've got fall things to do!
THE NEW YORK SOUR
2 OUNCES of rye whiskey
1 OUNCE of fresh lemon juice
1 OUNCE of simple syrup
1/2 OUNCE of red wine (try something fruity)
SHAKE all ingredients except the red wine in a
cocktail shaker with ice. STRAIN over ice in a
rock glass. LAYER red wine over the top of the drink by pouring it over the back of a spoon as a float.
Cin-cin!