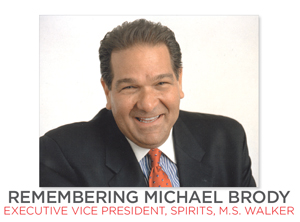 REMEMBERING MICHAEL BRODY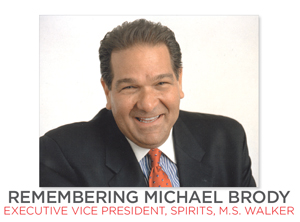 By Kirsten Amann
The Massachusetts beverage industry lost one of our brightest innovators and boldest leaders in June with the passing of Michael Brody, Executive Vice President, Spirits for M.S. Walker. Michael was a 46-year veteran of the industry who spent his career shaping the company and culture at M.S. Walker, with influence that extended throughout New England and beyond, as a champion of the company's spirits wholesale operations and national spirits brands distributed nationwide.
When Michael began his career at M.S. Walker nearly half a century ago, he "took charge of our mighty team of 13 sales reps in Massachusetts," remembers Senior Vice President Doug Shaw. The two worked closely together, with offices next to each other, literally working side by side for almost 40 years. Their partnership was symbiotic and dynamic as the two worked to help grow M.S. Walker into one of the leading wholesale distributors in Massachusetts. "Michael concentrated on building our sales team and spirits portfolio and I concentrated on building our wine business," says Doug. "We were inextricably linked in a shared vision of how the company's wholesale business could flourish." Today, that sales team has grown substantially in number, and the company is one of the three largest distributors in the Northeast. "Michael played a huge role in M.S. Walker's success over many years," Doug notes.
Michael possessed an innate business acumen, bolstered by his love for sales and a passion for the wine and spirits business. "He had a keen business sense and was determined to build out our sales organization in a methodical yet aggressive manner," says Shaw. "He was extremely organized and wouldn't take no for an answer. It was always interesting and exciting working to build something special alongside Michael, and you would be crazy to do anything but jump on board with him when he set his mind to a task."
Organized and methodical in his work, Michael will be equally remembered for putting "spirit" into the spirits business. "Mike's enthusiasm for the business was infectious," says Bill Livingstone, Senior Vice President of M.S. Walker, "and he used that enthusiasm as a motivating tool to all that had the privilege of working with him." He blended enthusiasm with the skillsets of poise, pragmatism, and preparation and was "the consummate sales person," says Doug Shaw. "Always confident, succinct in his delivery, and with the hard close in mind."
Equally magnetic was Michael's relentlessly positive attitude: "Michael epitomized the meaning of optimism," recollects Scott Allen, General Manager of M.S. Walker. "He consistently demonstrated over his career that anything is possible. He always looked for the positive in people and believed that if you worked hard and demonstrated a high level of compassion that you would be successful."
This best-practice of listening with compassion is a hallmark of good salesmanship and a cornerstone of M.S. Walker's stellar reputation for forging strong customer relationships. "Michael was a very good listener," Scott says. "He would say that you have two ears and one mouth – that you can learn so much by just listening. He was a phenomenal sales person with so much energy and compassion. He truly loved selling!"
Michael had a special ability to connect with colleagues and business associates in a personal way. "When I think of Michael it is not so much the business side of my knowing him but, most importantly, it was all about family," remembers Michael Shapira, President of Heaven Hill Distillery. "First of all, Heaven Hill has had a 70 plus year relationship with M.S. Walker, one of the longest and most enduring relationships we have in the industry. All during that period, I have had the pleasure of working with and knowing five generations of family members who have worked continuously with our three generations. Michael, as part of that long quintessentially family relationship made it all worthwhile. Sure, it was about business as well and Michael always brought the greatest sense of professionalism to work every day and he did it with the highest sense of integrity. In this day and age that combination is often lost on us. He reflected only the highest of values with everyone with whom he came in contact. The industry will long remember his insight, counsel and advise, and passion all of which will be sorely missed."
Michael had memorable quirks that aligned with his upbeat attitude and strong work ethic. "Michael was notorious for his out-of-the-box voicemail messages," remembers Livingstone, "as well as favorite catch phrases like 'plan your work and work your plan.'" When asked how he was doing, he was known to reply: "I'm just working my way through life." Given the zest with which he approached his work this may have been quite literally the case – his passion for his work making working life a pleasure.
Business calls became a 360-degree experience, which Michael's longtime partners grew to cherish. "I could call Michael for a quick phone call on any issue, but there was no such thing as 'quick' and those 'business calls' (which he always assured me would work out great) became long discussions on family, fun, a little gossip and those interesting aspects of what makes life so precious and interesting," recalls Shapira. "That is what we will truly miss."
Great leaders are often wonderful mentors, and Michael is remembered this way by colleagues and family alike who worked alongside him at M.S. Walker. "Michael was like a brother to me," remembers Doug Shaw, "and someone that I had great respect for both personally and professionally. He took me under his wing at an early stage and helped me develop my business skill sets." Over time the two forged a partnership that would take M.S. Walker to new heights: "We made a great team pitching our company to prospective supplier partners across the country in order to develop a viable portfolio of products to sell." Today, M.S. Walker is known for its broad range of spirits offerings, the division of the business that Michael Brody championed.
"Not only was Michael my brother-in-law, he was my mentor," recalls M.S. Walker General Sales Manager Russell Allen. "Working with family can be difficult at times, however Mike always made it easy. He wasn't afraid to let me make mistakes along the way, and would have an uncanny way of turning my errors into teachable moments." Despite their familial ties, Michael's tutelage remained serious: "Even though we are all family, Michael made sure we all learned the business the right way! We'll all miss his leadership and motivation dearly."
As strong as Michael's passion was for the wine and spirits industry, it played second fiddle to his devotion to his wife Lisa, children Craig, Dana, and Jessica, and their grandchildren. This is "the thing we all admire most about Michael," says Livingstone, "as this was his true legacy."
As the younger generation of Brody leadership at M.S. Walker, Michael's son Dana Brody will continue to look to his father as his greatest mentor, and inspiration. "There is not one person that helped to shape my professional career more than my father," he says. Dana joined the business with plans to emulate his father in sales, but his path took him a different way; today he is Executive Director of Operations. "Although my path in our organization was different than that of my dad, I was always able to use his experiences in our industry to help push myself and my team. Many of my professional strengths have come from watching him lead throughout our organization. He was always decisive and never second-guessed his business decisions. He was charismatic while leading his sales teams and in sales meetings. But most importantly, he was empathetic to those around him. I have and always will admire his leadership skills but am most thankful for having the opportunity to watch him lead by example."
Michael's legacy will live on in the sales teams he helped build, structure and cultivate, the spirits brands he championed, and the best practices he instilled as core competencies for his teams. "Michael's successes are rampant but nothing is more meaningful than the sales teams that he built here at M.S. Walker, "says Doug Shaw. "He was a big thinker and risk taker – and we reaped the benefits of Michael's tenacity as it related to building out a great team of sales reps and managers that continue to carry on his good work."
For Michael Brody, building the business at M.S. Walker was "more than just work, it was a way of life," remarks his son Dana. "His business partners were his family, his customers became his friends. He enjoyed and cherished every moment of his time at M.S. Walker, even until the very end. His passion for his work can never be duplicated and M.S. Walker will always be a better organization because of the footprint that he helped create."
Unparalleled in so many ways, Michael Body will be remembered as a luminary, whose near half decade of leadership shaped the company of M.S. Walker and the beverage industry as a whole, in Massachusetts and beyond.